There are hundreds of thousands of NFTs currently on the blockchain. As skilled artists and beginners are free to spread their art, exceptional collections are mixed with average digital art pieces.
That said, have you ever wondered why some NFTs are worth millions of dollars, whereas others are worthless? It depends on various factors, such as the creator, its scarcity, market trends, creativity, attributes, and rarity, among other factors. All that combined is reflected by NFT's rarity score.

But What Is Rarity NFT and how is it determined? Let's find out now!
What Is NFT Rarity?
Just like paintings or sculptures, NFTs are unique pieces of art. In this sense, it's very challenging to determine which factors contribute to the asset's value.
If a famous artist designs their own NFT, that token is likely very valuable. But what happens with NFT collections and digital art pieces that are not popular?
This is when NFT rarity enters the scene.
NFT rarity indicates how rare a non-fungible token is.
This rarity is useful to set the value and the final price of NFTs.
How is NFT Rarity Calculated?
There are four calculation methods to calculate the rarity of non-fungible tokens. All of them are used throughout the industry, but each platform selects the proper method. The three first are the most common, while the last one is gaining popularity in ranking NFTs.
Trait Rarity Ranking
This method is straightforward. Platforms assign a rarity rank to an NFT based on its rarest trait. In other words, this system only ranks on the rarest trait. This method could be better since it only focuses on the rarest trait and does not delve into other traits.
Average Trait Rarity
As its name indicates, this method calculates the average rarity of all traits together. Platforms that use this method sum each trait's rarities and divide them by the number of traits. For example, we have two traits. One trait has a rarity of 50%, and another trait has a rarity of 10%. Then, ([50% + 10%] / 2) = 30%. This method only focuses on the overall trait rarity.
Statistical Rarity
This method is similar to the above and calculates the rarity of an NFT by multiplying all the individual trait rarities together. The value of individual NFTs may be overemphasized, but many platforms utilize this method for determining the value of assets. To exemplify, we use the same example above. Two traits, 50% and 10%, correspondingly. Then, [50% * 10%] = 5%.
NFT Rarity Score
The NFT rarity score method considers both overall traits and single traits. Through this method, platforms will determine the score of each trait individually according to the following formula:
[Rarity Score for a Trait Value] = 1 / ([Number of Items with that Trait Value] / [Total Number of Items in Collection])
Then, platforms sum up all the individual scores to calculate the overall NFT rarity score. The higher the number, the more valuable and rarer the NFT is.
If you want to learn How to Check Rarity of NFT, you need to read this article. Here we mention everything about rarity calculation and how it defines NFT's worth.
What Are the Best NFT Rarity Tools on the Web?
Now we mention the most recommended NFT rarity tools you can currently find online. Most of them feature the most recent collections and put emphasis on rank scores.
Rarity.tools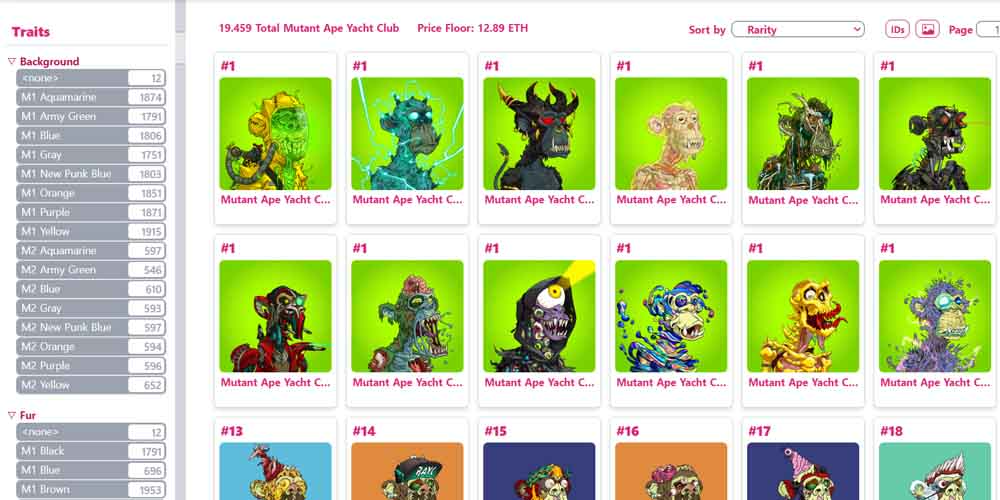 Rarity.tools is likely one of the most popular and exciting platforms to calculate and evaluate rare traits in famous and not-so-popular NFT collections. This NFT rarity tool allows you to use any of the four methods to calculate rarity but also lets you check any trait used in the collection separately. Rarity.tools helps you to understand what makes an NFT unique and rare and teaches which elements you should consider to evaluate rare NFTs.
Website: rarity.tools
MoonRank
MoonRank is a tool that establishes NFT rarity rankings for the Solana Blockchain. Just like Rarity.tools, MoonRank gives you the possibility to filter NFT according to traits, such as background, body, clothing, face, and hat.
This platform uses a statistical rarity methodology that scores any trait according to the number of times the attribute appears. In this sense, MoonRank ranks non-fungible tokens by keeping in mind that score. For instance, MoonRank gives the most rarity to Friendly Frog #58 of the Friendly Frog project you can see in the image above, due to all its traits having 1/1 rarity, i.e., it's the only art piece with these traits.
Website: Moonrank.app
OpenSea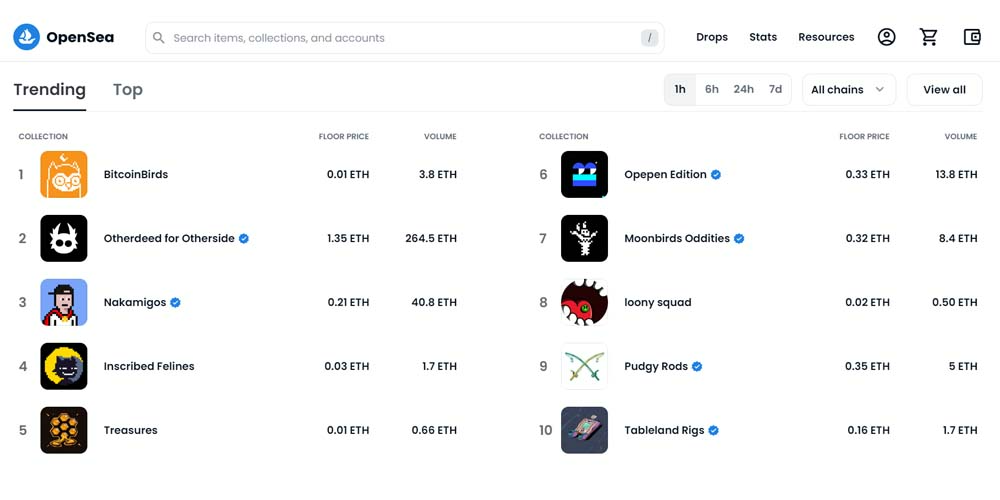 OpenSea is the biggest NFT trading platform in the world. NFT rarity rankings are facilitated on this platform based on volume, floor prices, quantity, and other factors. You can easily browse through popular collections, such as cool cats or Bored Ape Yacht Club, and check the rarity of any individual NFT.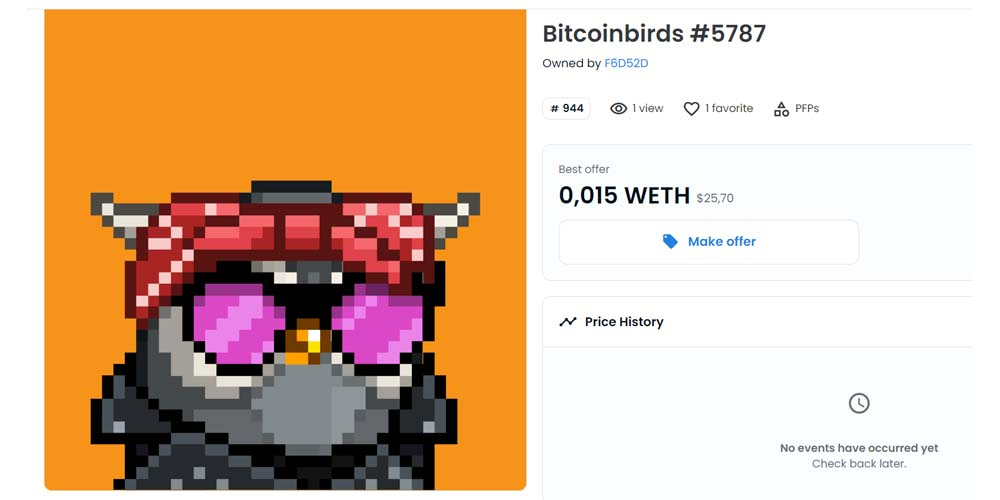 In this pretty straightforward platform, you can see all the NFT traits and their rarity simultaneously, but the overall rarity is unavailable. Regardless of this downside, real-time ranking facilities are crucial to make good decisions when buying an NFT. So, if you're interested in checking the prices of a given collection, OpenSea is an excellent platform.
Website: opensea.io
Rarity Sniper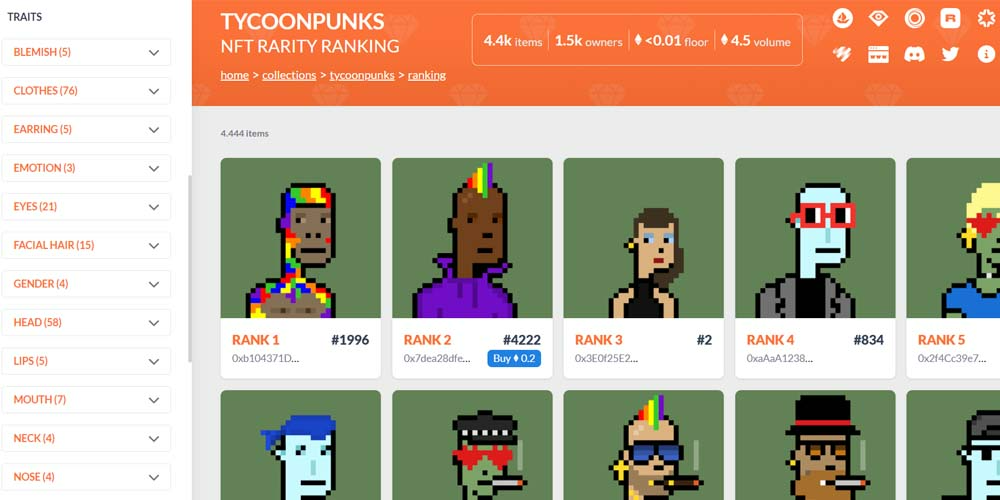 As we mentioned above, the rarity of an NFT depends on its traits' scarcity. In this regard, Rarity Sniper is one of the most robust platforms to calculate NFT rarity since it has over 15 categories (attributes). Besides, Rarity Sniper lets you know the rarity scores of any trait and how many occurrences it has.
Finally, it sums up all the scores of any NFT trait and gives you a final rarity score and the rank of the token. This is great when you enter an NFT platform to check digital assets for buying and understand the token's price.
Website: raritysniper.com
Rarity Sniffer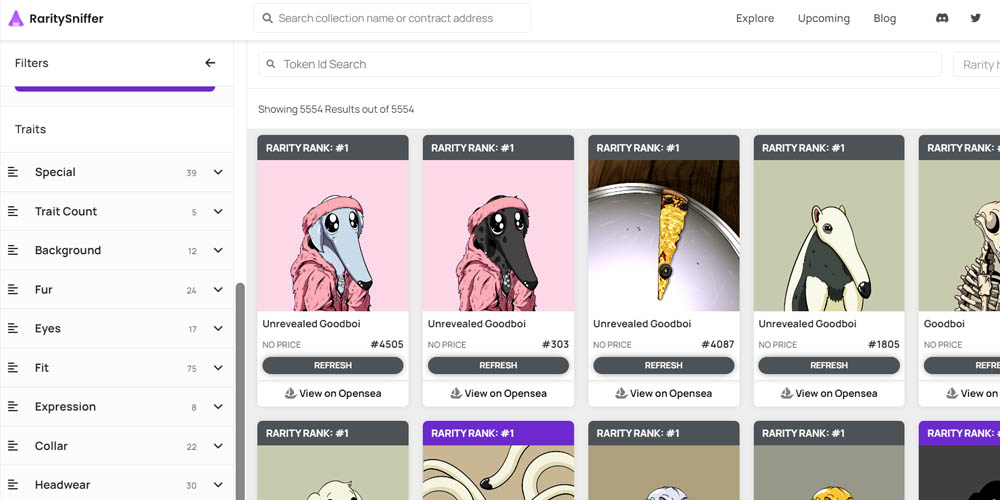 If you're looking for the latest NFT collection in the NFT market, you'll likely find it in Rarity Sniffer since most recent projects are available in its free version. This NFT marketplace is also an excellent tool for calculating the most up-to-date rankings of NFT projects based on their NFT's rarity.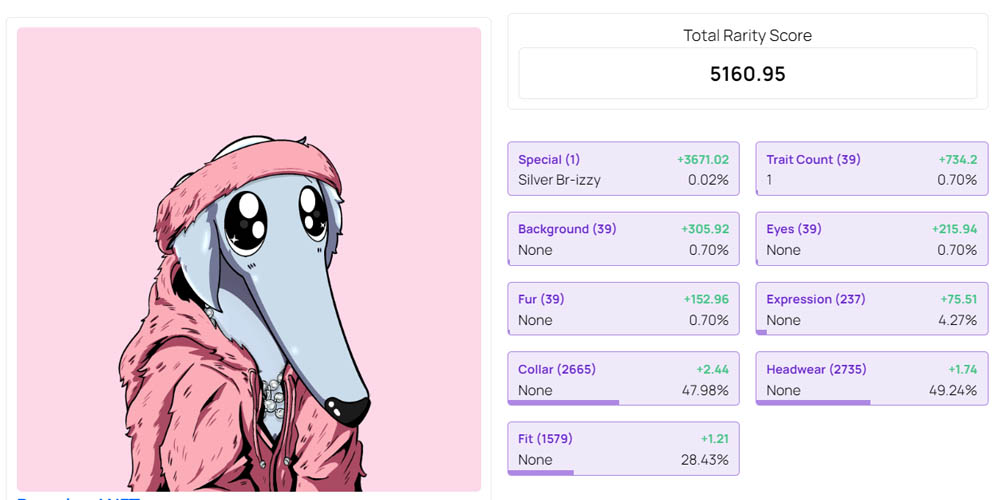 Rarity Sniffer provides a good insight regarding the token's overall rarity by indicating the percentage of art pieces in the collection with that trait. Rarity Sniffer also has a Discord channel for NFT enthusiasts, giving holders access to the NFT rarity rank of new NFTs before the launch.
Website: raritysniffer.com
Icy.tools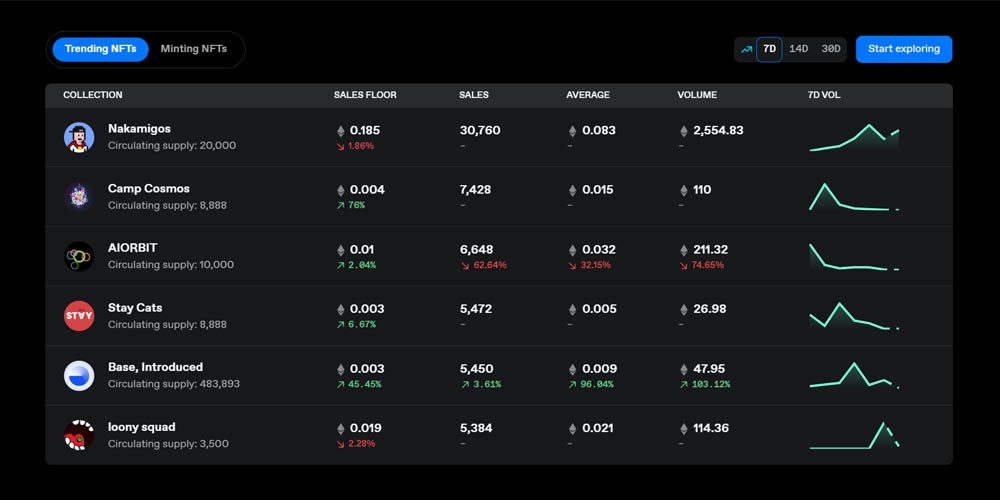 Icy-tools is an NFT rarity scoring platform based on Ethereum but also an analytic environment of stock movements related to digital assets. It's designed for NFT traders who want to learn more about investments and make better decisions according to supply and demand and the NFT rarity ranking.
In Icy.tools, you get detailed data about any listed rare NFT, i.e., sales history, floor price, caps, and more! It extracts data from OpenSea and the Ethereum Blockchain, so it's an excellent platform for NFT collectors needing more reliable information about tokens.
Website: icy.tools
DappRadar
Just like Icy.tools, DappRadar is a good source of NFT information where you can monitor the performance of current and upcoming NFT collections. DappRadar boasts an attractive portfolio tracker with the most popular NFT collections that users can utilize to track movements and NFT sales directly from the Ethereum wallets. Entering your ETH wallet, you'll get detailed information about tokens. It also provides info about the NFT ranking and the account balance.
DappRadar is also one of the most popular tools for calculating NFT prices. It provides an easy-to-use interface to calculate the estimated value of a particular token by selecting certain collections and the token's URL.
Website: dappradar.com
NFT Sniper
Rarity sniper tools that NFT Sniper offers are great for calculating the NFT's rarity ranking easily and expeditiously. This platform is based on Solana Blockchain and features more than 4,000 collectibles. It also integrates a calendar to track any upcoming particular collection might be interested in.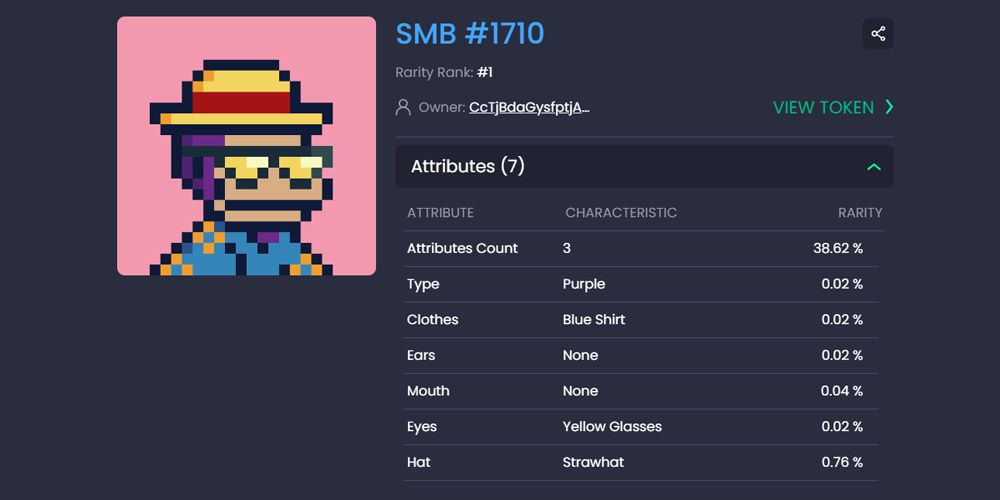 In NFT Sniper, you can check NFT's traits and understand why a specific digital token has a higher rarity score than other tokens of the same collection. NFT stats will appear in the column at the left of the screen, and the trait values will be indicated in the "Rarity" column at the right of the screen.
The only problem with NFT Sniper is that it does not provide an overall rarity score but the ranking. Still, it is an excellent NFT space to review common traits, check rarity, and even a marketplace where those NFTs are offered.
Website: nftsniper.net
RankNFT
RankNFT is a particular NFT platform that provides the total rarity score for NFTs from Polygon and Ethereum. It boasts approximately 3,000 collections, 2,500 from Ethereum and 500 from Polygon.
RankNFT provides you with detailed overall trait rarities of all the collections' art pieces. It lets you know the rank of the token, the item rarity score, the number of item traits, and items in the collection.
It also lets you know the number of tokens with the same trait and the score the token gains regarding this quantity. A high rarity score is strictly related to a low quantity of assets with the same attribute. Single rare traits receive a higher score!
Website: ranknft.io
RarityMon
RarityMon is a platform for NFT projects from Solana, Polygon, Cardano, and Ethereum and an accurate NFT tracker. It allows you to quickly check the rarity of the NFT projects within its platform. RarityMon considers multiple traits for its calculation method, over twelve, to provide an accurate and final rarity score and rank. An exciting aspect of RarityMon is that it uses the classical color differentiation of online video games, gray for common type, green for uncommon, purple for epic, and orange for legendary.
RarityMon is a friendly-user platform handy for clearly checking the rarity of NFTs, paying attention to both a specific trait and overall traits. Besides, this platform also gives you access to several NFT collections you can analyze.
Website: raritymon.com
The Bottom Line
Non-fungible tokens, like most art pieces in museums, galleries, and private collections, have different qualities, techniques, features, relevance, and value. Comparing NFTs will reveal that certain NFTs have incredible characteristics while others are not so good.
This article primarily aims to teach you What Is Rarity NFT and how to check rarity when you enter a platform to see collections. Checking rarity is the first step when you invest in non-fungible tokens or mint your collection on a platform. Whatever the case, now you know what a rare trait is and how it defines the right price of a token.
If you are interested in reading other articles related to minting NFTS, promoting tokens, or creating your own NFTs, browse our web page.