Investing in NFTs is possible since not only NFT organizations are currently creating and developing NFT technologies, cryptocurrencies, NFT marketplaces, and more. As we know, possibilities are endless. For this reason, we've created an NFT stock list that will help you decide the best choice for your investments.
This article is a segment of a more extensive piece :
What Are NFT Stocks?
NFT stocks are the same as regular stocks in which companies issue listing shares on a stock exchange. Like any other stock, NFT stocks are issued to the public; thus, all people can buy or sell them. The only difference is that NFT stocks are released by organizations or investments related to non-fungible tokens.
An NFT company that issues stocks can invest, at the same time, in different elements of the NFT industry, such as NFT games, music, collectibles, art, marketplaces, and more.
What is the Difference Between NFTs and NFT Stocks?
NFTs correspond to non-fungible tokens, i.e., digital assets that prove your ownership of a specific digital item. These digital assets are unique.
NFT stocks, on the other hand, are the stock that NFT companies and investment funds issue to the public exchange to finance their organizations and projects.
In the two cases, ordinary people, holders, or investors can buy NFT and Stocks. If you are considering buying an NFT, you should read the article on upcoming NFT projects. However, the hardest part is valuing specific NFTs and selecting profitable stocks.

Which Are the Best NFT Stocks?
Currently, hundreds of organizations and groups are creating digital services related to NFTs, marketplaces, cryptos, and more. That represents an excellent opportunity to invest in NFT stocks.
Dolphin Entertainment (NASDAQ: DLPN)
Headquarters: Coral Gables, Florida, United States
Revenue: $0.03 billion
Market cap: $33.86 million
Average volume: 221,660
YTD: -56.88%
Price: $4.29
This is a publicity, marketing, and content development company with several subsidiaries, such as Shore Fire Media, The Door, and 42West. Currently, it offers services related to digital marketing and influencer marketing in multiple social media. Lastly, the organization has started to provide digital services associated with NFT projects.
Dolphin Entertainment also has an NFT marketplace for entertainment and major sports brands. It also collaborates with external NFT organizations and cryptocurrency exchanges, such as FTX.
Dolphin Entertainment is one of the most relevant companies involved in the NFT market. Then, allocating a big part of your resources in shares of this company is a smart move from which you can expect notable profits.
Takung Art (NYSE AMERICAN:TKAT)
Headquarters: Hong Kong, Hong Kong Island
Revenue: 2.61 million
Market cap: $54.57 million
Average Volume: 3.24 million
YTD: -84.38%
Price: $3.72
Takung Art is an online electronic platform with exclusive digital collections of many avant-garde artists and free creators. It also boasts a wide range of investors putting money into high-end artwork accessible by ordinary people. All its trades rely on blockchain technology, so collection can be traced and checked if the copyright and ownership are reliable.
Takung Art also provides a secure environment for navigation and distribution, where collectors and investors can acquire shared ownership. This environment works as a marketplace that offers solutions and provides blockchain-based consulting services to consumers or people involved in NFTs.
Cloudflare (NET)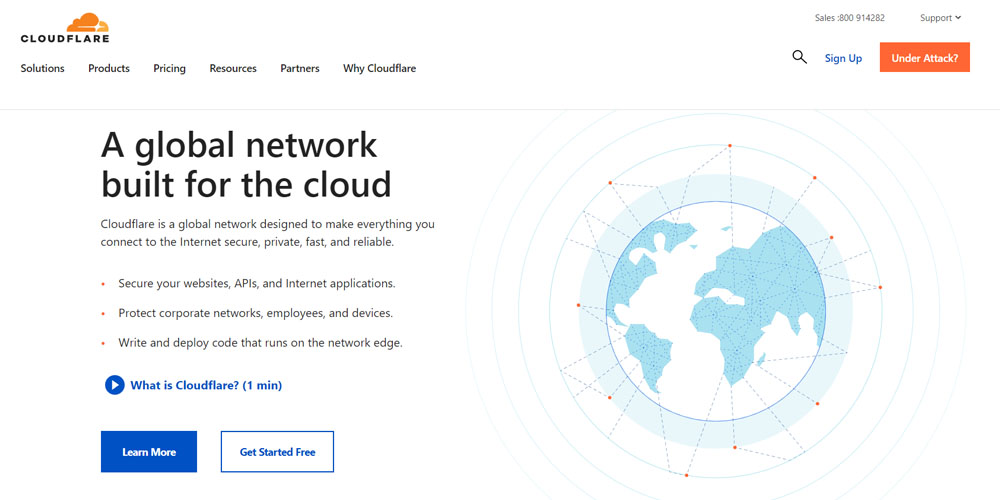 Headquarters: San Francisco, California, United States
Revenue: $656.4 million
Market cap: $35.73 billion
Average Volume: 5.95 million
YTD: 41.27%
Price: $109.64
Cloudflare is a company that provides security services to protect your Internet presence, provisioning you with APIs and applications to do business with suppliers and customers. Many investors believe in this company since the necessity for security and the requirements for better performance are increasing.
Cloudflare also provides exceptional services, such as Cloudflare Stream, which allows publications and storage of videos and NFT collections on the NFT marketplaces. Besides, this service ensures linking tokens on the platform via API, so if a digital asset is sold, royalties of NFT investors are assured.
Jiayin Group (NASDAQ: JFIN)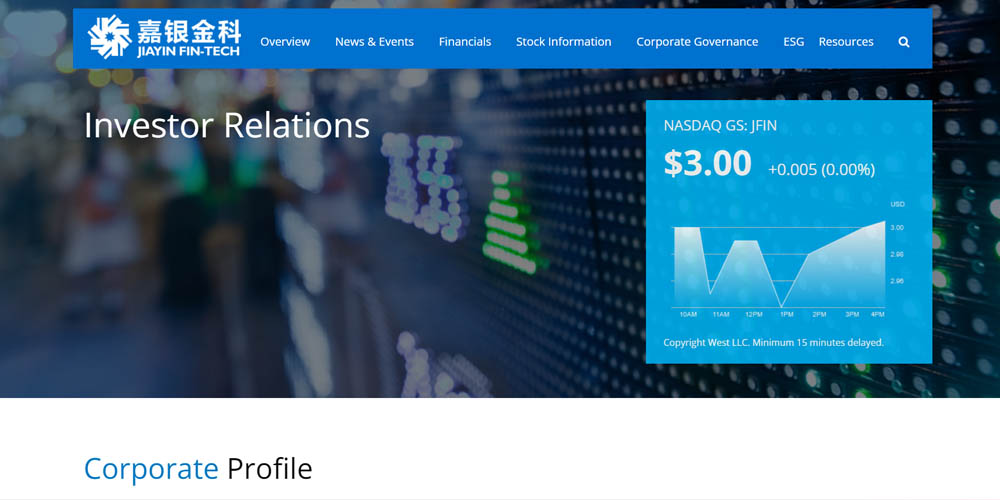 Headquarters: Shanghai, Shanghai, China
Revenue: $279.4 million
Market cap: $126.42 million
Average volume: 45,810
YTD: -65.72%
Price: $2.31
Jiayin Group was founded in 2011. It's a leading fintech company in China that facilitates connections between financial institutions and borrowers. It also operates as an online financial marketplace where interested ones can invest in several digital assets and NFT stocks. Its platform uses a comprehensive risk management system with advanced big data analytics, so investors and borrowers can assess risks.
McDonald's (MCD)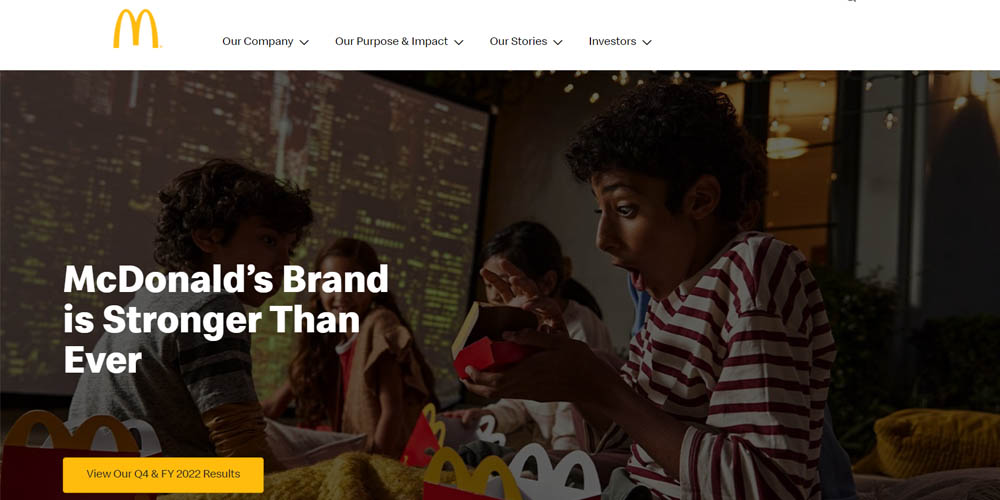 Headquarters: Chicago, Illinois, USA
Revenue: $23.2 billion
Market cap: $194.11 billion
Average volume: 2.8 million
YTD: -1.16%
Price: $263.68
Maybe you don't know this, but McDonald's is in the NFT market. McDonald's has dabbled in the NFT space and the metaverse through a series of trademark applications pending approval.
The famous American fast-food chain seeks to develop a similar space to the metaverse of Epic Games or Facebook, where people can interact, buy virtual and physical products, and acquire entertainment services. Besides, McDonald's is one of the best companies in the stock market in which to invest due to its blue-chip stock nature.
eBay Inc. (NASDAQ: EBAY)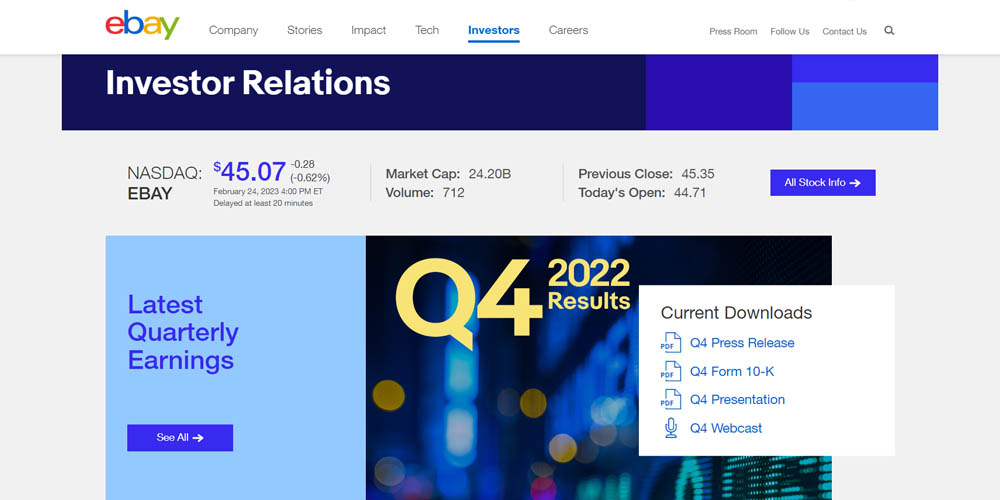 Headquarters: San Jose, California, United States
Revenue: $10.42 billion
Market cap: $32.24 billion
Average Volume: 7.23 million
YTD: -13.99%
Price: $45.07
The American giant is likely among the most relevant companies in this NFT stocks list since its e-commerce methodology continuously seeks trading commodities and digital collectibles. In this famous e-commerce company, investors can buy and sell NFT collections, images, videos, digital art, and related things.
E-Bay is also aims to allow customers to purchase goods by paying with cryptocurrencies. Holders and artists later can trade NFTs just like any other product.
Mattel Inc. (MAT)
Headquarters: El Segundo, California, United States
Revenue: $5.46 billion
Market cap: $6.48 billion
Average Volume: 2.3 million
YTD: -1.51%
Price: $18.25
Mattel Inc. is probably the oldest company on this list, founded in 1945. Since then, the company launched many of the most famous toys in history, such as Barbie, the Master of the Universe, and Max Steel. Currently, Mattel is looking beyond and understanding that the entertainment of the future is in the digital world.
This entertainment company has developed a Hot Wheels NFT Garage, where people can buy NFT collectibles without cryptocurrencies. Besides, since early 2023, collectors and investors can start with the NFT exchange on the Mattel Creation Digital Collectibles Marketplace. This peer-to-peer online trading platform looks to improve NFT sales.
FUNKO Inc. (NASDAQ: FNKO)
Headquarters: Everett, Washington, United States
Revenue: $1.02 billion
Market cap: $0.71 billion
Average Volume: 520,358
YTD: -0.62%
Price: $11.29
Who doesn't have a Funko in their home? I would say almost no one. I have my Mandalorian Funko over my desk, directly looking at me while I write this article.
Funko Pop culture has embraced everything, heroes and villains, animation and cartoons, movies and tv, icon sports, and more. For this reason, it's normal to believe that the Funko culture will reach the non-fungible token world.
Currently, Funko offers many products through various companies, such as Funko.com, FunkoEurope.com, and Loungefly.com. It also boasts two great retailers in two actual states in the USA.
But Funko is trying to attract more investors, different art collectors, and investors looking to invest in NFT products. Funko has developed an NFT marketplace allowing to purchase NFT collectibles. You can buy and sell NFTs featuring Funko's unique and stylish figures by creating an account on its website.
Funkos are in fashion, so this company presents valuable NFT stocks to buy.
Oriental Culture Holding (NASDAQ:OCG)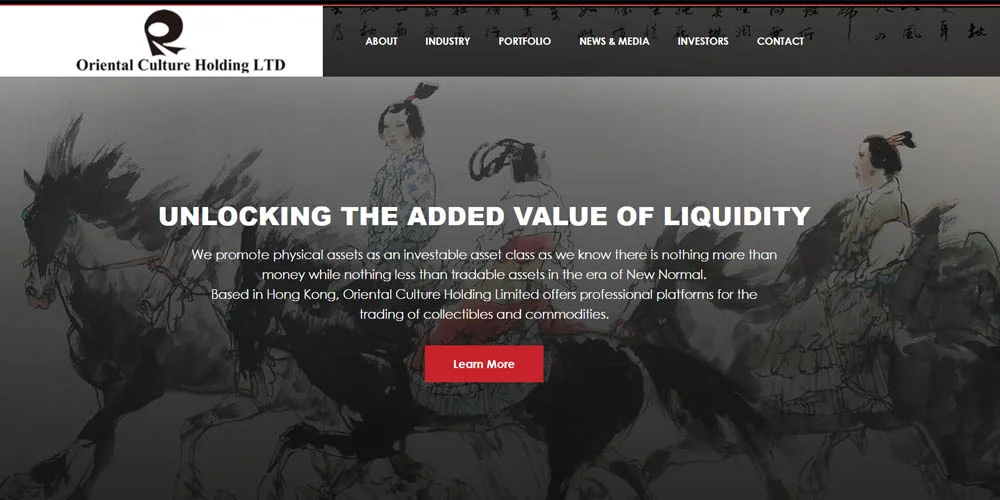 Headquarters: Nanjing, Jiangsu, China
Revenue: $43.4 billion
Market cap: $77.28 million
Average volume: 279,460
YTD: -38.49%
Price: $3.95
This holding was founded in 2018, and currently, its shares are up to 5.7%. OCG offers multiple platforms for holders and investors to trade commodities and collectibles. It also provides artwork e-commerce services to let artists, collectors, and owners access the trading market. OCG brings together collectors and investors to facilitate trade through leading online platforms.
Some platforms that Oriental Culture Holding puts at your disposal are China International Assets, Equity of Artworks Exchange, and HKDAEx.
The latter deals with virtual and physical artwork, allowing artists, holders, and investors to mint NFT collections and perform auctions, sales, and trades.
Shopify Inc. (NYSE: SHOP)
Headquarters: Ottawa, Ontario, Canada
Revenue: $2.93 billion
Market cap: $77.76 billion
Average Volume: 3.02 million
YTD: -40.75%
Price: $591.06
The case of Shopify is very similar to the case of eBay. This Canadian company provides products and services online that you can list, buy and sell through its online platform. Besides, it lets those interested in developing and creating online businesses publish their products and services. Companies can also use the Shopify platform to promote products through social channels and receive payments via legal payment methods.
But Shopify is catching up with the times. The e-commerce company lets people invest when the NFT product line launches its pieces of artwork and digital assets. On its platforms, creators developing NFT products can offer their creations and get payments straightforwardly in their digital wallets.
One of the most vital points of Shopify's services is that traders can pay for their purchases through several payment methods, including credit cards and cryptos.
Meta (NASDAQ: META)
Headquarters: Menlo Park, California, United States
Revenue: $85.96 billion
Market cap: $440.44 billion
Average Volume: 10.837 million
YTD: +0.49%
Price: $172.00
Regarding top NFT stocks, a name that must be included is Meta, the American technology and social media conglomerate. If you don't know, Meta is the continuation of Facebook after acquiring Reality Labs in 2014, a company responsible for developing the Oculus VR Headset. Since then, Facebook and Meta have gone further than just offering real-world assets and social media services. This acquisition meant the first intention for creating a mainstream metaverse.
Meta wants to incorporate NFTs in its famous social media, Instagram and Facebook. Buying and selling NFTs is possible on Instagram, which benefits creatives, such as photographers, artists, and even blockchain companies that need NFTs offered in social media to represent ownership.
Nowadays, this image-sharing social media platform supports NFTs in over one hundred countries; then, most likely META will continue investing in crypto technologies, NFTs, related accessories, and its metaverse.
Investing in NFT stocks is a sure movement when it comes to Meta.
GameStop (NYSE: GME)
Headquarters: Grapevine, Texas, United States
Revenue: $6.01 billion
Market cap: $5.83 billion
Average Volume: 7.667 million
YTD: -3.02%
Price: $18.97
We all remember the GameStop scandal in 2021. The investors, many of whom were young individual traders, organized a coordinated buying campaign of GameStop's shares, using online trading platforms such as Robinhood. This buying spree caused the stock price to skyrocket, which in turn created a "short squeeze" that forced hedge funds who had bet against GameStop's success to buy shares at increasingly high prices in order to cover their positions.
Although until now, GameStop has remained steadfast in its business model of offering retail games and electronic products, the company wants to stay current by creating its own NFT marketplace where multiple people can trade exclusive NFTs.
Among the company's portfolio ideas, we can find an excellent digital wallet, so buyers can invest in NFT artwork directly in the same environment. But still, GameStop can even go beyond and operate in other markets, contributing to the NFT ecosystem by providing cross-services with other websites and NFT platforms.
The Bottom Line
Since the release of the first NFT, Quantum, in 2014, experts have seen the future of gaming and fine art in NFTs. Numerous essential organizations worldwide are now operating marketplaces that deal with non-fungible tokens, as well as other assets and services. With the increasing value of NFTs, these groups, corporations, and businesses have capitalized, and their shares have also gained weight.
Investing in some of these organizations is an intelligent movement. Many of these companies will likely increase their value and profits over time. Besides, if you're one of the entrepreneurs diving into the NFT world or trading, you know this environment is gaining popularity. This way, being an investor of a corporation will bring you multiple benefits, as well as give you fundamental information about NFT projects. 
If you want to read other valued articles about NFTs, stay up to date with our NFTmonk blog. We're continuously uploading multiple posts discussing NFTs and cryptocurrencies.