Different voices around the globe of artists and developers say that NFTs are the eleventh art. These digital pieces of artwork involve a drawing talent, expression, design, usage of color, icons, textures, creativity, and more! Still, although NFT creation may seem complicated, you can easily do it if you know the basics about NFT! So, how to make your own NFT token? That's what we are discussing today. Let's get started!
How to Create an NFT?
Creating your own digital asset is easier than you think. Many users see the most famous NFTs in the marketplaces and say, "Wow, how did these NFT creators do that? Talent and effort are obviously indispensable, but there are also some good platforms and editors to facilitate creating the images.
Creating your NFT – Step by Step
We can divide the process of making and minting your NFT into nine main steps, which we describe below.
Be Sure of What You Want to Create
The first step before creating any piece of artwork is to think about what you want to make. This works for painting, sculpture, photography, etcetera. And NFTs are not different. You may ask yourself:
What are my real interests?
What image do I want to show in my digital assets? A character? A landscape? An abstract form?
What kind of digital artist do I want to be?
You can think about how your NFT art should look when you answer questions like these and others.
It would help if you thought about an NFT as a digital painting, where background, shape, colors, and textures are your main tools. 

Interested in creating NFT art? Check out this article for artists about creating NFT art.
Note. Remember that you can pick up any item (of course, you need to own the intellectual property rights) and turn it into a single NFT.
Join and Build Community
This second step is not mandatory, but it's recommendable to get some public and interested people in your artwork before NFT minting. You must create a Twitter account and join a Discord community to promote your work.
Connections and building community are two primordial aspects you must consider to interact with NFT artists, holders, users, and interested people.
Discord is where most NFT fanatics and creators gather to talk about non-fungible tokens and cryptocurrencies.
Build strong relationships with other community members through DM and be part of the different channels that communities put at your disposal. You expect to get the most information from these channels about new NFT collections, the NFT creation process, and how to list your digital artwork on the different platforms.
Besides, communities in which you're a vital participant will be essential to the marketing process. Discord channels and social media groups will help promote your new NFT.
Connecting and making friends can go a long way, even for artists who create a single piece of digital file. Besides, Discord friends will give you advice and help you when you need to mint NFTs or fulfill other parts of the process.
Choose the Blockchain Technology for Your NFT Collection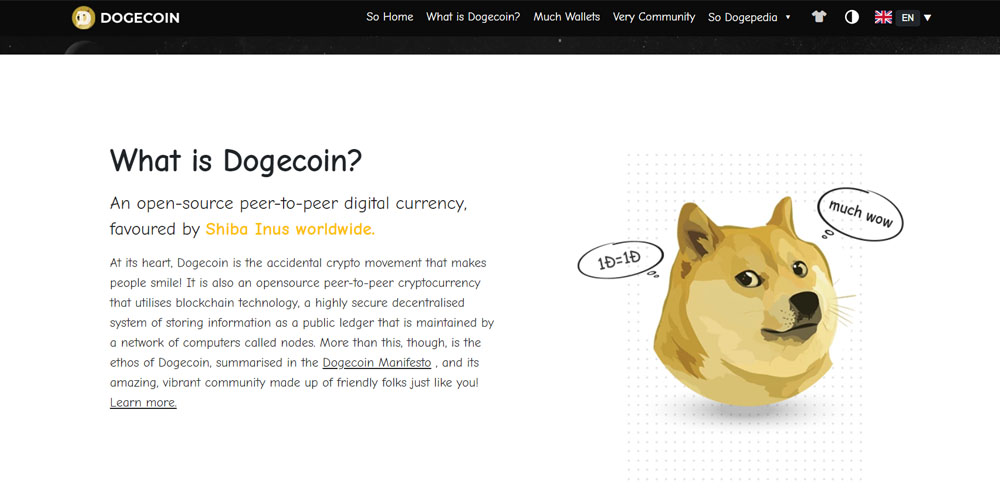 Now you know what you want to create (maybe you have a sketch or an image ready) and you're part of a great community, it's time to mint NFTs.
But what is minting?
Minting NFTs is one of the predominant steps in creating digital assets. It refers to developing and publishing your tokens on the Internet. But this is only possible by determining the blockchain technology you use for your first NFT.
At this point, the most popular is the Ethereum Blockchain technology (Crypto ETH). Still, other relevant blockchain technologies can support your own NFTs. Remember that the blockchain you choose will keep a permanent record of your non-fungible token.
Ethereum
As we mentioned before, this is the most popular blockchain technology. Currently, it hosts hundreds of thousands of NFTs. It uses the ERC-721 standard and defines security details and metadata necessary for exchanging digital tokens. If you are interested, read the article about creating NFTs using Ethereum.
Solana
Solana is the direct competitor of Ethereum, and it was designed as a lower-cost alternative to the previous one. Its transaction fees amount to $0,01 and support an increased number of NFTs. Solana boasts faster transactions than Ethereum. If you are interested, read the article about creating NFTs using Solana.
Dogecoin
Like the three previous cases, Dogecoin is a cryptocurrency based on the blockchain technology of the same name. It corresponds to open-source and peer-to-peer crypto and a highly secure and decentralized system to store data.
Flow
Flow blockchain technology was designed for decentralized gaming applications. It hosts many sports-focused NFTs; thus, many sports franchises around the globe are starting to create marketplaces on Flow.
Other blockchain technologies you can consider for your minting process are:
Chia.
Ripple.
Monero.
Binance Smart Chain.
Set Up Your Digital Wallet
Another critical step to complete upon selecting a blockchain is choosing a crypto wallet. Crypto wallets are mandatory since they support blockchain technology to store your NFT for sale.
The process of creating your own digital wallet is straightforward. First, you need to download the crypto wallet application and configure it regarding your private keys and backup data. There are several wallets available for you:
Coinbase Wallet. This wallet will store all your crypto and NFTs and protect them with industry-leading security. Coinbase wallet supports Solana NFT collections and different blockchains.
MetaMask. MetaMask is the most popular wallet in the crypto community. It allows you to buy, store, send, swap, and sell your NFT. MetaMask provides the simplest and most secure way to connect to blockchain-based applications.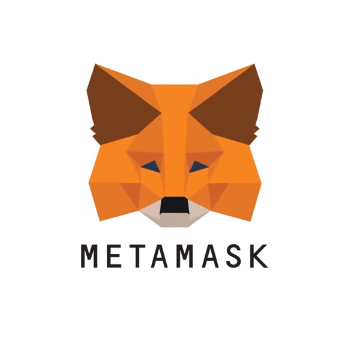 Ledger Nano X. Ledger is a secure wallet where you store your NFTs, regardless of the blockchain technology it uses. Besides, you can acquire Ledger hardware wallets to manage your crypto transactions.
Choose the NFT Marketplace of Your Preference
There are numerous NFT marketplaces on the web where you can create NFTs or mint your own previously created ones. Most NFT platforms allow the free creation of tokens and work as an excellent showcase to sell NFTs. Some of the best NFT marketplaces you can find on the web are the following:
OpenSea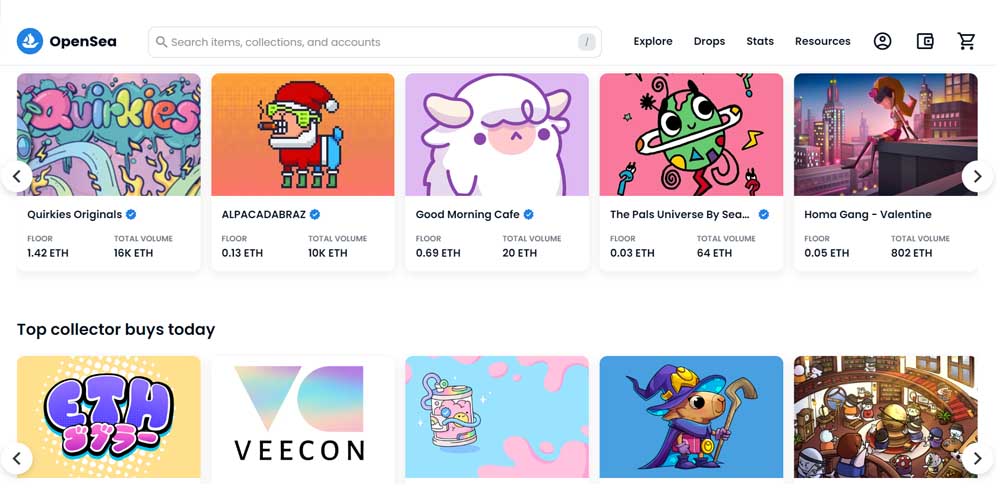 The OpenSea marketplace is a popular NFT platform worldwide and a great place where newcomers and novices can start. It allows you to explore, collect, and create digital art. In OpenSea, you can find some of the most notable collections and even unknown NFTs. Besides, creating NFTs on this platform is easy, so you should try it. All the transactions here pay a royalty percentage. These transaction fees amount to 2.5% of the amount of the sale.
Rarible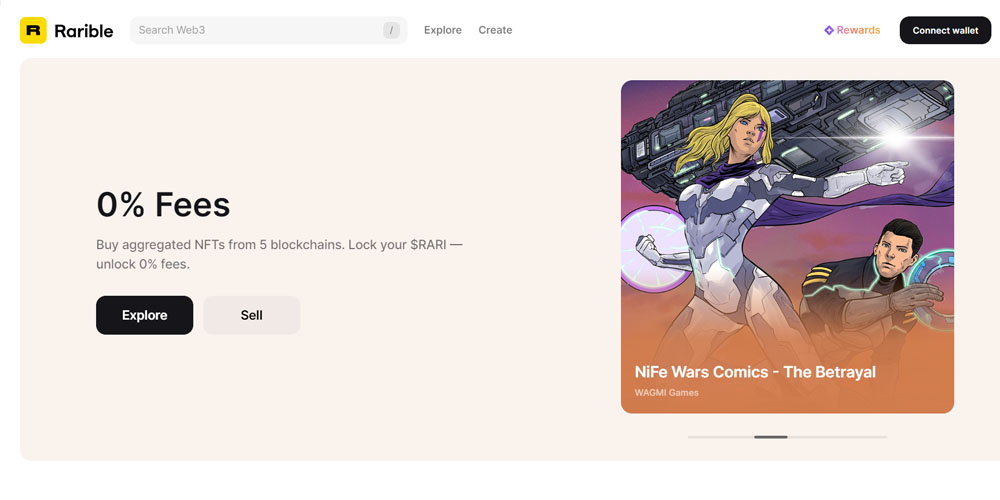 This platform is another great place to start. Rarible has some of the most popular NFTs nowadays, and creating NFTs and marketplaces for your community is very easy. You can convert any multimedia file into an NFT in a few steps. Rarible allows you to perform a "lazy minting." It's the option of creating NFTs without paying fees. Read the article on creating NFT with Rarible
SuperRare
SuperRare is an NFT marketplace that works as an art gallery. This platform is an excellent place for artists who want to become famous or sell their artworks. Uploading and minting your NFTs is very easy. Besides, you can configure a timed auction to sell your work, establish the minimum or a fixed price, and wait for buyers.
Nifty Gateway
Nifty Gateway is an NFT marketplace that looks very similar to SuperRare, which is great for experts and novices. Here you can mint the same NFT as in other marketplaces but without the hassle of gas fees or failed transactions. Here you can find popular collections, trending publishers, and curators continuously selling NFTs.
Create Your Piece of Digital Art
Now it's time to mint your previously created NFT or create a new one.
Creating NFT works very similarly in most marketplaces. To start creating your digital artwork, you will need to follow these steps:
Connect your wallet. All the marketplaces will ask you for your wallet address. This is the first mandatory step to mint and trade NFTs. This step will require you to sign a verification on your MetaMask app or whatsoever.
Start to create. Select the "create" option. Here you can either upload your work or select the NFT features, properties, and the right blockchain for your work.
Upload your artwork. There is little to say about this step. Just make an NFT and upload it to the platform.
Select the blockchain of your preference. Remember that the blockchain will be the "spot" where your NFT will reside. Ethereum NFT is the most common, so you should consider selecting Ethereum as your blockchain. Polygon blockchain is another good alternative.
Create your NFT. After finishing all the steps mentioned above, you can create your NFT by pressing "Create."
List and Mint your NFT and Share
At this point, you've already created your NFT. Now you need to list it for sale. Remember that minting NFTs could cost money, but most platforms allow you to do this for free. Marketplaces only will charge the transaction fee after completing the operation.
To list NFTs, press the "Sell" button on the platform. Next, you need to set the list price and the time you want the sale to last.
Set up the Sales Process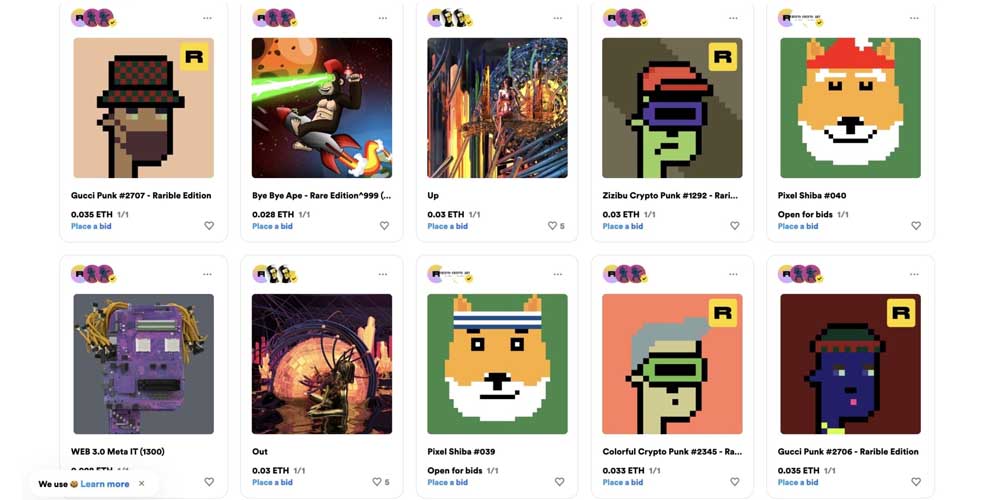 Basically, you have three alternatives for monetizing your non-fungible tokens and earning money.
Fixed price. This is the most common way of selling an NFT. Establishing a fixed price will allow any person to buy your NFT directly at the sale price.
Timed auction. With this option, you set a time limit for buyers to submit their bids.
Unlimited auction. This option does not have a time limit. You can end it whenever you want.
Whichever of the three options you choose, you need to set the minimum price for your NFT artwork and the royalties (if your NFT is sold in a secondary market) you want to receive from subsequent sales.
You must keep the transaction fees in mind before setting the price, or you can lose money on your NFT sale if the price is too low.
Besides, depending on the marketplace you use, you would pay a listing fee, a commission, and a transaction fee. Furthermore, buyers may pay a gas fee to access your auction.
Sign the Transactions in your Wallet App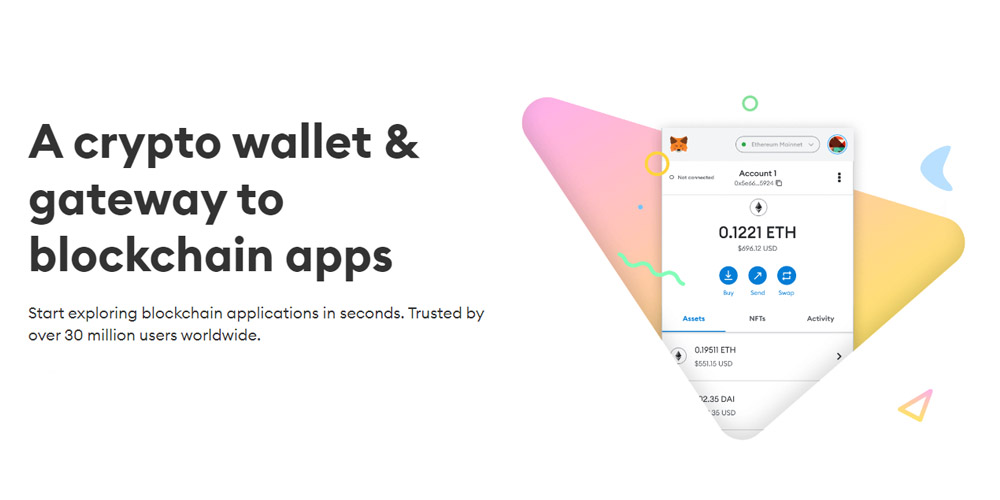 Once you create the listing, you will be prompted to sign some transactions in the compatible wallets of your choice. This operation may include some royalties on the blockchain you chose.
In general, Solana transactions are the cheapest. They're typically less than $0.01. In this regard, the Ethereum blockchain is more expensive.
Bottom Line
You don't need to be Leonardo da Vinci to create an exciting piece of digital artwork. Of course, you need his skills to create the Mona Lisa but not a good and unique digital item.
Would da Vinci know how to make a token NFT?
We're sure not. Knowledge about crypto technologies or wallet addresses is mandatory.
And learning this knowledge is now at your fingertips.
Creating a famous NFT collection, such as the Bored Ape Yacht Club collection, requires you to follow the steps mentioned here.
NFTs work straightforwardly, regardless of the art style you use to make your token. It could be graphics, music, painting, videos, etcetera, but creating and minting an NFT is similar in all cases.
Did you know that it is possible to create a physical NFT?

The concept creating of physical NFTs introduces innovative opportunities to represent real-world assets on the blockchain, enhancing ownership and authenticity tracking. This innovation can disrupt various industries, from art and collectibles to supply chain management, offering new levels of transparency and value for both creators and collectors.

We encourage you to browse our blog and read other related articles if you need more information, tips, and advice about NFTs. Our NFTmonk team continuously uploads data about cryptocurrency, tokenization, metaverse, and other exciting topics!