One of the most common types of NFT that we have seen lately on the NFT marketplaces is the 3D art genre. From Sci-Fi themes to animals with realistic fur, non-fungible tokens can be used to create many different digital assets.
It may look complicated, especially when dealing with concepts like node tree or geometry nodes. In practice, things are way more accessible than it seems, and 3D NFTs sell for a huge price at the NFT marketplaces.
Learning this type of digital art can definitely be worth it, especially considering the final price crypto art can achieve, creating a profitable opportunity for both the NFT creator and its potential investors.
What Is an NFT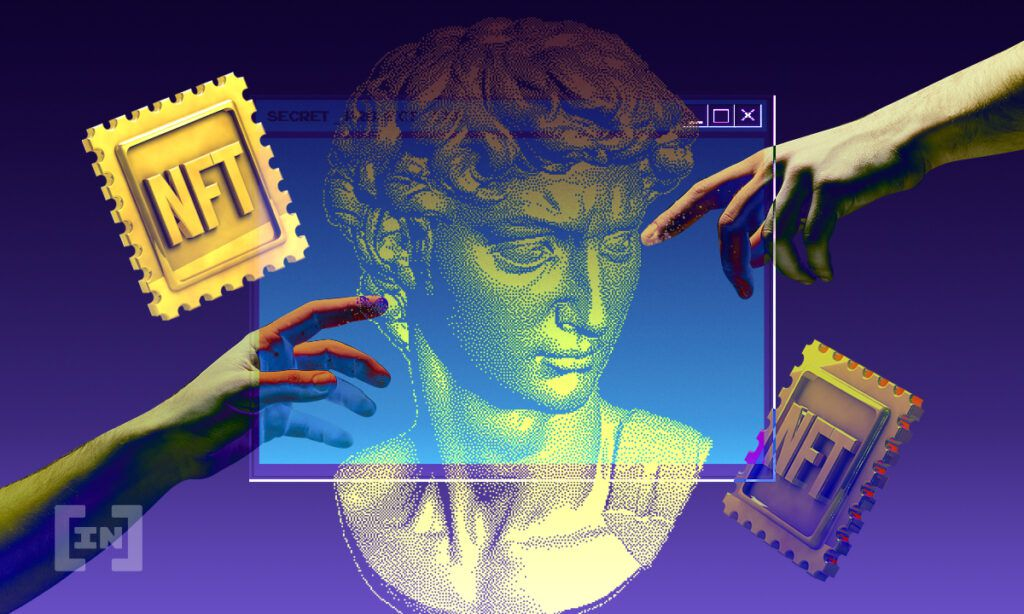 NFT stands for Non-Fungible Token. it's a one-of-a-kind token that can not be replaced by anything else. It is usually a digital asset whose security is flawless and can only be authenticated by the blockchain.
Even though you can take a screenshot of an NFT and post it anywhere, the blockchain ensures that only the person who paid for the non-fungible tokens has the ownership rights of those digital assets. They are just like a piece of physical art, with the difference that it is stored in the blockchain or the users' crypto wallets.
Difference Between Normal and 3D NFT
When talking about NFT art, most of the non-fungible tokens we see in marketplaces are flat illustrations with 2D elements. Over time, many 3D NFT artworks appeared, with eye-catching visual elements, like realistic materials and various design details.
Along with the fact that this type of art is tri-dimensional, it can also be way more attractive to potential investors. This kind of asset can also be used in other applications, like the Metaverse.
This makes the art reach a larger audience and generate more interest, making its market value skyrocket. This is why the 3D NFT world has been so attractive for digital artists and studios.
Why 3D NFT Creation Isn't for Everyone
This kind of art is not indicated for everybody who wants to create an NFT collection. There are several reasons for that, but mainly because of two problems you may face along the way.
The first reason is that this kind of NFT art demands enormous computing power. Having a computer that won't be able to run the software used for creating these NFTs can be the first challenge when trying to enter this market.
From creating the Blender file to the details of the final renders, having a powerful computer is indispensable for 3D NFT art. Be sure to check your PC specs before downloading the software.
Another reason is that, even though the computer creates it, you still need to know the basics of drawing. Body perspective, shading, and all these concepts will have an impact on the quality of your final product and its value.
If you are not that good at drawing, consider taking a course before making assets to sell at an NFT marketplace. The most important part is not to give up.
Tips on Creating 3D Art for NFT Collection Selling
If you want to enter this world and start creating your own 3D NFT collection, there are some things that you should pay attention to even before you begin downloading Blender and drawing objects. This is a really competitive market, so being ahead of the other artists is also very important.
With this in mind, here are some tips for you to create better NFTs and ensure that you will get the best profit possible from your work. Read the tips and analyze if this is the best market for you.
Take a Blender Course
When creating 3D art, not just for NFTs but for any purpose, Blender is one of the best tools, considered an industry standard. The best part of this software is that it is free to use without paying extra money for tools or features.
At first glance, you may look completely lost in its interface due to the enormous amount of tools. This is why it is highly recommended to take a Blender course before starting to shape forms and add textures to objects.
These courses will help you to understand concepts like node tree and group output node, which can be really helpful when creating a 3D NFT, especially an animated one. Having a good knowledge of the tool you are using is the first step in creating good non-fungible tokens that are ahead of the competition.
Here are some of the best Blender courses available:
Be Sure to Set Up Your Crypto Wallet
There are many different crypto wallet apps and software available throughout the internet. Be sure to check if it fits your necessities and allows you to use the token you want.
When working with NFTs, it is highly recommended to use an Ethereum wallet, like MetaMask, for example. Check out the wallet's settings and services to avoid problems with withdrawals or your passive income.
Some other examples of good crypto wallets are:
Be Original
One of the essential things when creating a collection is originality. Don't just copy someone's work with slight alterations.
Making something truly yours and showing your characteristics is the best thing an artist can do, not just in the NFTs world. Getting away from generic trends is also a characteristic of the best collections we see nowadays.
Of course, you can get inspiration from other artists and NFT collections. But remember, getting inspiration doesn't mean copying it.
Seeing that an artist's work is just a copy of someone's intellectual property can be one of the worst things for your reputation as a digital artist. Original ideas and visions generate way more fans and investors for the NFTs.
Generate Hype
Another decisive factor for your 3D NFT art's success is generating hype for it. Create video teasers and screenshots from some pieces and post them on your social media.
These are some examples of actions you can do to make people feel hyped for your collection launch. The more hyped it gets, the bigger the sales values in the marketplace.
Create Social Media Accounts for the Project
Another big part of creating an excellent 3D NFT collection is to create social media accounts for the project. It can be Twitter, Discord, Reddit, or any other platform you prefer.
This way, people will stay updated about the collection, and you'll receive feedback on your work. This helps understand the buyers' expectations and learn how to improve your collection's attractiveness.
Upload new materials to your accounts to maintain post consistency. Test how your audience reacts to different types of content – from videos to prints from the upcoming NFTs – and focus on the most effective ones later on.
Choose the Right Marketplace
There are dozens of options for choosing an NFT marketplace for your collection. Understanding their differences can be a game changer when selling your art.
Each marketplace works differently, with specific currencies, minting processes, etc. You must consider every aspect of it when thinking about the best for you and your work.
Remember that sticking with the most known and well-structured ones is highly recommended. This will guarantee safe payments and avoid future problems regarding you and your investors.
Recommended Marketplaces
Since choosing the right marketplace for your materials can be a real challenge, here are the main NFT markets where you can safely upload your works and prospect new buyers for your art pieces:
OpenSea
It is not a surprise for any NFT enthusiast that OpenSea is the best option of where to sell NFTs. Although you may face high gas fees and minting prices, the marketplace is the best website for successful collections.
From pixel art to 3D NFTs, OpenSea is the birthplace of some of the top collections available today, like Cryptopunks and BAYC. This is an excellent option for you to upload your materials.
Binance NFT
Another well-known name in the NFT world is Binance. The world's biggest crypto market also has a space dedicated to NFTs.
There you can find lots of different collections of the most various types. It is also an excellent place for meeting potential investors for your artwork.
Safety is also guaranteed. You won't have to worry about anything when doing transactions and exchanges.
Rarible
This is a great place for visually appealing collections. Rarible features some of the most beautiful art pieces of the NFT world.
The platform also has a massive number of users, including artists and collectors. If you are looking for a place to upload your 3D NFT, this place is definitely worth taking a look at.
Best 3D Art Tools Besides Blender
If you are not a huge fan of Blender or simply don't like its interface, there are many other software options where you can work with geometry nodes and create 3D art. Here are the main programs used by artists and studios all over the world:
Maya
One of Blender's main rivals is Maya. The 3D software has an interface that looks a lot like its main competitor but has more advanced tools for creating high-detailed animations. If you are a beginner in 3D sculpting, you might want to avoid using this software. It is also valid to remember that, unlike Blender, Maya is a paid software.
ZBrush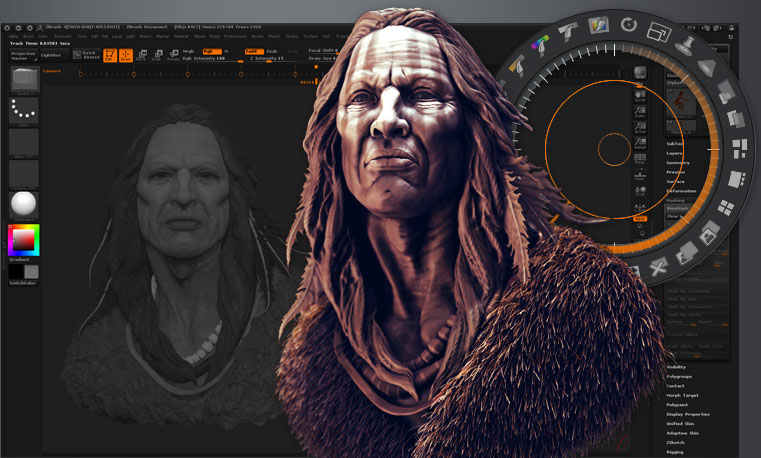 If you are not a huge fan of Blender's enormous set of tools and don't care much about its animation features, ZBrush can be the right choice. The software is way more focused on the sculpting part of the process, with lots of brushes and tools for creating the most realistic expressions you can think of.
The animation features here are way more limited. This makes it a better option for those who want to work with static sculptures without animating them.
Cinema 4D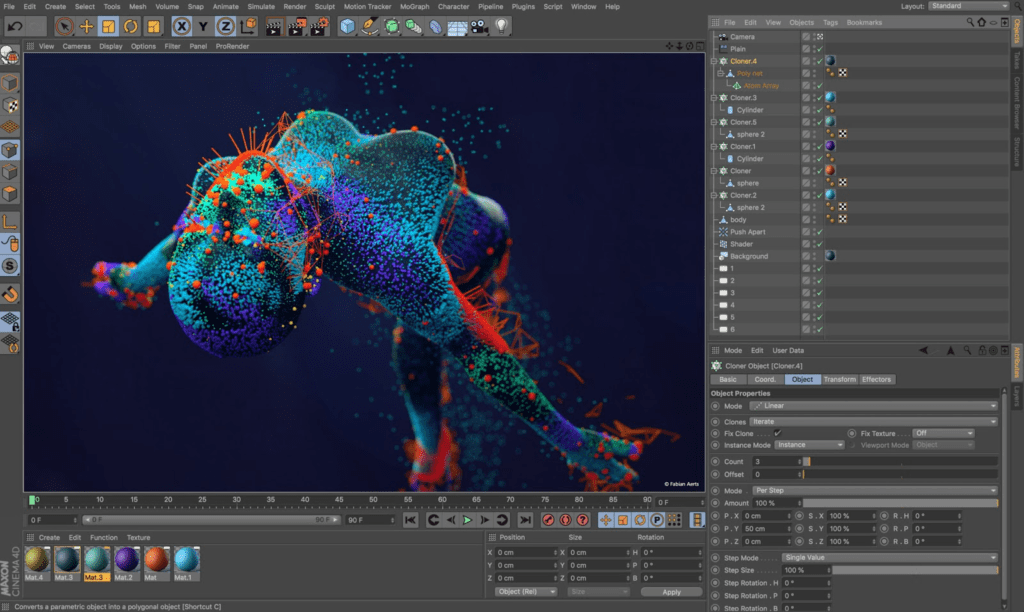 One of the industry's favorite software for 3D art and animation is Cinema 4D. The program has one of the best features you can find, making its possibilities almost infinite.
This is the perfect software for you if you want to add lots of details and create outstanding animations for your NFTs. It may look a little complicated initially, but with some practice and knowledge, it is the perfect tool.
Conclusion on Creating 3D NFT Art
The creation of 3D NFT collections may be a challenging task, but, considering the profits and that the market is growing every day, it is totally worth it. Make sure to pay attention to all the tips mentioned in the article.
From the software decision to the way you manage your social media account, everything will impact the success of your sales. Don't forget to be original and do your best in order to create a stunning design.
You can find lots of materials on how to use each of those software options online to get the best out of them. Now it's time for you to start deciding the theme of your collection and in which marketplace you will post it.