The evolution of crypto over the years has been incredible. It revolutionized many industries, from art, finance, music, and even real estate. Then, the NFTs came to give a plus to the new "Web3 craze" and the blockchain industry. It allowed people to define ownership in a digital space with proof of authenticity, and the growth of DeFi technologies enabled people to borrow and lend assets seamlessly and transparently.
Until not long ago (over a year), non-fungible tokens made their way through many media that were already related to the digital space. But some people noticed that the NFT industry has the potential to go even further, entering the world of restaurants and working together with food brands.
That's where we are going to dive in. Let's see how the idea of "NFT Restaurant" rose and transformed into reality, as many implementations have been tested since the world's first NFT restaurant opened.
How NFTs Takes Part in the Food Industry
One of the first iterations between the food industry and NFTs was after Geraldine DeRuiter described her tragicomic experience in the Bros' Restaurant in Lecce, Italy.
It went viral after one of the images was shared millions of times through social media. Soon afterward, the owners announced they would turn that iconic image into an NFT. In an interview with the "New York Times," Bros' chef Floriano Pellegrino said he saw the NFT sale as "a big opportunity" thanks to the publicity generated by DeReutier's review. They saw a big chance to gain visibility and took advantage of it.
The most common use of NFT for a restaurant is that users aquire a food outlet that allows them to access the restaurant's services by owning a unique digital asset. In simple terms, whoever holds their native token has unlimited access to its exclusive club.
Some fast-food chains like McDonald's, Burger King, and Pizza Hut tried to introduce themselves by offering fast-food collectibles as an NFT. It paved the way for more use cases of NFTs in other restaurant chains, such as Flyfish Club.
NFT Memberships
In the year 2021, David Rodolitz (Co-Founder of the Empellón Group), Josh Capon (Chef of Lure Fishbar), and Gary Vaynerchuk (also known as "GaryVee," one of the most relevant figures in the NFT and crypto industries) announced "Flyfish Club" as the first NFT restaurant in the world. Those who purchase a Flyfish Club NFT can access a private dining club in New York City.
The plan includes a cocktail lounge, intimate omakase room, fine dining restaurant, and outdoor space. They don't need to pay a monthly or annual fee to keep access. Although, the food and beverages still need to be paid apart. The owners also plan exclusive virtual and real-world events for those with NFTs in this new year.
Another notable example is "Bored Breakfast Club," paired with "Yes Plz Coffee." It is an NFT collection minted on Ethereum, featuring 5000 unique breakfast scenes. Holders are granted membership and access to the restaurant. They will have an exclusive roast when they sign up for a subscription to Yes Plz Coffee.
NFT Bottles
The case of Andrew Friedman with the Industry Spirits brand is another one of using NFTs in this industry. Friedman released a limited-edition bottling of its American-made gin and vodka as an NFT.
He partnered with Brian Wells, a café owner and photographer from Seattle. He released a series of ten bottles with custom labels in the form of NFTs. Buyers owned both the physical bottle and the digital art.
Other NFT Projects In The Food Industry
Of course, these projects aren't the only case of the success of NFTs within the food industry. Next, we will see more cases and how they work today.
Goi Rolls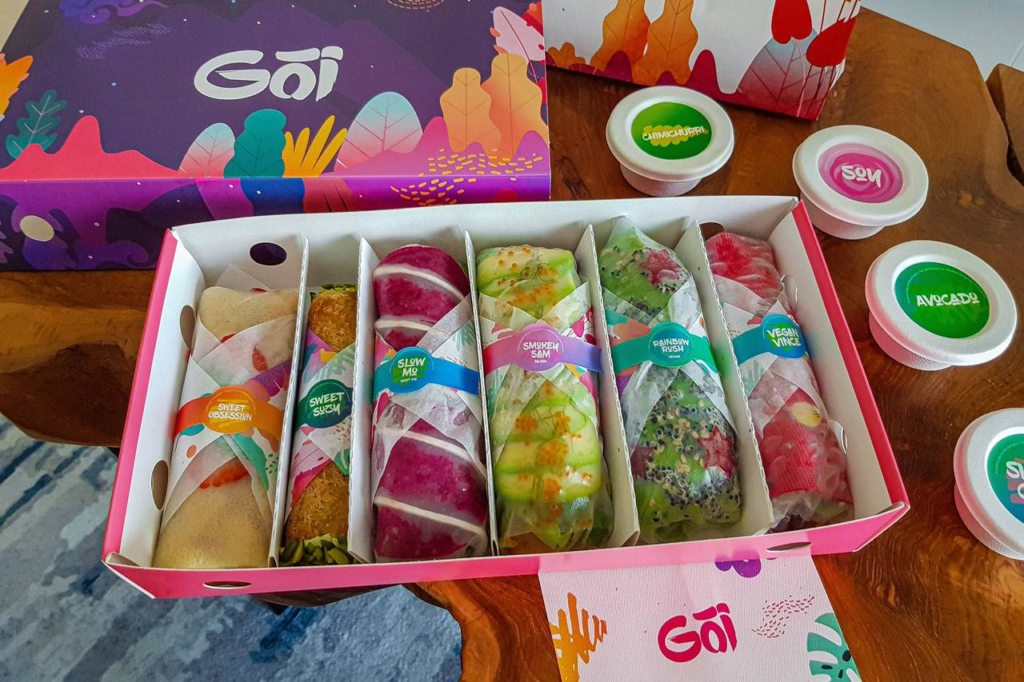 The United Arab Emirates is embracing cryptocurrency and NFTs in many real-world spaces. Goi Rolls claims to be the first restaurant in the country to create unique NFT summer rolls in its Web3 space.
Users can claim 50% of the value for each NFT minted as real-life food at their restaurant in Jumeirah. The summer rolls have their distinct names and identities. They can be viewed as NFTs, so users can identify and utilize them.
Goi is a Vietnamese-blended food concept that initially didn't have a real-world location, but its founders had to find one due to the huge demand. They have a kiosk on Umm Suqeim Road around the Ripe market Academy Park.
CamboFlare
While implementing cryptocurrencies as a form of payment has been quite slow in restaurants, some, like CamboFlare, took a step further to attract the common folk into the crypto space.
CamboFlare is an American-Asian restaurant located in Lake, Minnesota. It opened its door in November 2020 and accepted crypto payments for its meals right from the beginning. Their dishes range from native Asian to American, including grilled pork tacos and king oyster mushroom-based broth.
They don't only accept payment in Bitcoin, Dogecoin, and Ethereum. This restaurant also made its own cryptocurrency, Cambocoin, to ease the whole process of payment.
Lion's Milk Cafe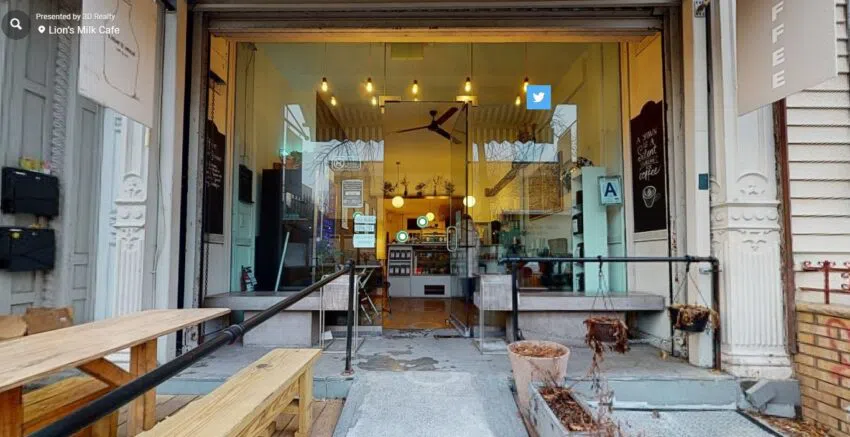 The Lion's Milk Cafe is a coffee shop that features NFT profile pictures as part of its brand, often known as PFPs. It is regarded as the first NFT cafe when, in November 2021, they displayed all kinds of NFTs during the New York City NFT display. They have hosted many events for NFTs communities and are committed to receiving crypto as payment.
The cafe is located in Brooklyn and is one of the best places for NFT-savvy customers to enjoy a nice cup of coffee.
Gourmet NFT

Ruth McCartney (digital media entrepreneur) and David Skinner (chef from the Eculent restaurant, located in Houston) created "Gourmet NFT" as a way to bring chefs into the blockchain by offering a place to sell recipes directly to the customers.
McCartney sees this opportunity as a way to give chefs royalties for cooking. She sees that the only way they could get such income is to have time to write a cookbook, but most chefs make little money from it. Therefore, Gourmet NFT is a great opportunity to support their work.
Meanwhile, Skinner sees these NFT recipes as the virtual version of a grandmother's recipe box, except now those recipes can live in a digital wallet. It also grants the ability to create a custom cookbook you own instead of getting one from a digital shop that you don't curate.
Lastly, McCartney refers to it as a "fractional cookbook," and chefs will have total control over how many NFT recipes they mint, as explained. Plus, the data will be encrypted on secure links that won't and can't be accessed by anyone without verified credentials.
Dumpling Mafia
The Dumpling Mafia project was made as a way to raise funds for charity. This NFT project featured 88 dumpling mafia bosses and was made to raise many for #StopAsianHate organizations.
In addition, anyone with NFTs of the Dumpling Mafia is invited to virtual and real-world events, which feature a preview of the forthcoming Dumpling Mafia restaurant.
How Can Smaller Restaurants Implement NFTs
The examples shown above were specially designed and done by larger businesses and restaurant chains or made by entrepreneurs that gathered a wide audience in the industry. But how can a smaller restaurant introduce itself in the Web3 and NFT industry?
First of all, you don't need to be very wealthy, have a 5-star restaurant, or be the owner of a larger restaurant chain. You can harness the potential of digital assets and non-fungible tokens anyway.
Some restaurants can use loyalty programs to know their best customers and, for example, can offer them a unique NFT. But remember that they should be limited to certain numbers, highlighting their special and unique value. Then, offer those NFT holders some preferences such as invitations to events, reservations always possible for them, special offers, etc.
Lastly, another interesting option is offering a unique experience in the Metaverse. Restaurants that want to join this new virtual world need to create different food experiences that aren't possible in the real world due to cost and distance.
What is "The Foodverse"

The food metaverse, also known as "Foodverse," is a virtual world that mixes elements of NFTs, food, and gaming on the blockchain. Dishes, ingredients, and recipes are all available as NFTs. These can all be traded or used as in-game items.
The foodverse is part of the Metaverse, a virtual world that can be accessed by a VR (Virtual Reality) headset. Currently, the Metaverse is driven by the gaming world, with its developers releasing various open-world gaming systems. It features product placements and advertising for real-world services and goods.
It is still in early development, as it looks like a game and will require expensive gear to access it. And it isn't due to the quality of such VR headsets. The Metaverse doesn't feel real yet. It may become more realistic and immersive as VR technology continues to be refined and the Metaverse keeps developing. But there isn't a certainty when that will happen. It could be next year, in the next five, or in the next decade.
Food NFTs
NFTs can be used in the food industry as a gateway to exclusive dining experiences and collectibles, such as art or recipes.
Following this concept, we have "Food Art NFTs": digital images depicting food art, often in unlikely scenarios. A good example of Food Art NFT is the Fast Food Punks collection. A parody of CryptoPunks, which features avatars of animals, humans, and aliens wearing fast-food hats.
Then, some fast-food giants like Burger King, Taco Bell, McDonald's, and Pizza Hut released their own NFT collections in marketing campaigns. For example, Taco Bell launched its collection in March 2021, featuring many illustrations of its menu offerings. Earnings that came from this sale were donated to charity.
But not only fast-food chains started to use NFTs to promote their products and brand. Beverage and alcohol brands ranging from Hennessy and Glenfiddich to Dictador and Bud Light also announced their own NFT collections. Even celebrity chefs like Tom Colicchio (judge in Top Chef) launched CHFTY Pizzas in December 2021. It's an NFT collection featuring 8,888 digital art pieces of pizza.
Food Art NFTs have become a new marketing medium for food brands to gain more recognition. Whether it's the future of marketing or not is yet to be decided.
Virtual Dining Experiences
Independent restaurants and big brands offer Metaverse digital dining experiences, including tie-ins with real-world locations.
Chipotle was one of the first major food industry names to offer such experiences. For Halloween 2021, they created a virtual restaurant using the gaming platform Roblox to give away $1 million worth of burritos. There weren't restrictions, as anyone could enter the virtual space and get a promo code, which was redeemable at any Chipotle establishment.
In Dubai, MetaTerrace offers visitors a virtual restaurant with beverages and food that merges the physical world with the digital. Customers can access the digital space in a VR room and enter a new realm to meet other crypto enthusiasts.
There are still some big names to make their "debut" in the Foodverse, offering their own unique experiences. For example, McDonald's and Panera Bread had already filed their trademark to use it inside the Metaverse.
Closing Thoughts
NFTs and the Metaverse have great potential for marketing, sale services, virtual goods, cross-promotion opportunities through blockchain technology, and virtual meet-up spaces.
Keep in mind that we are just in the beginning stages. In the next few years, many things will start to take shape in this area, and more companies will get interested and get a foothold in this new digital world.
The Foodverse will not change the fact that there still will be restaurants in our real world. But the opportunities that Web3 technology brings should be seized, and restaurants that use the blockchain can bridge the gap between the virtual and the real world.