Most NFT collections are created in NFT Art Generators. These platforms are indispensable in creating a series of digital art, especially when images are over one hundred or more. Thus, whether you're tempted to make your NFT collection, you need to know what is the Best NFT Art Generator on the Internet.
What Is an NFT Generator?
An NFT generator is a specialized software, commonly free, that allows you to easily create an NFT art collection of non-fungible tokens through a direct, straightforward process. With these generators, you can create images, videos, music, memes, video game items, digital art, trading cards, virtual fashion items, and other NFT assets.
Most NFT artists use NFT generators to create digital art by selecting a series of factors, such as color, size, motive, and combinations. Of course, these platforms are tools that do not replace talent or imagination.
What Are the Best NFT Art Generators on the Internet
To become an NFT creator, you need to learn to use one or more of the NFT generator tools we mention next. Check all of them and select which fits better with your style.
NFT Art Generator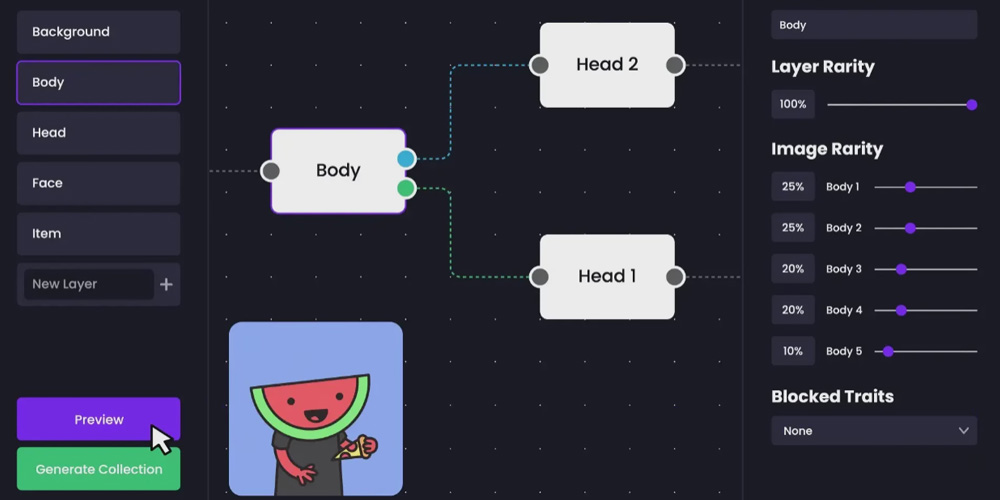 NFT Art Generator is a well-known no-code generator and likely the choice of most NFT creators worldwide. This NFT maker is a really-easy-to–use generator to create NFT art since no coding is required. You need only to import your files, such as images and videos, and the platform will generate your collection automatically in the preferred format.
This generator allows you to select the rarity of each layer and attributes to create NFT images rarer than the standard digital artwork. NFT Art Generator also lets you create entire generative NFT collections and multiple characters with the same collection.
Furthermore, with NFT Art Generator, you can create digital assets and metadata compatible with blockchain technologies, such as Ethereum, Solana, Polygon, Binance, and MultiversX.
Features.
Automatic generation of metadata compatible with Ethereum and Solana Blockchain.
Very easy-to-use interface and tools.
No account creation is required.
Note. OneMint created NFT Art Generator.
Appy Pie NFT Art Generator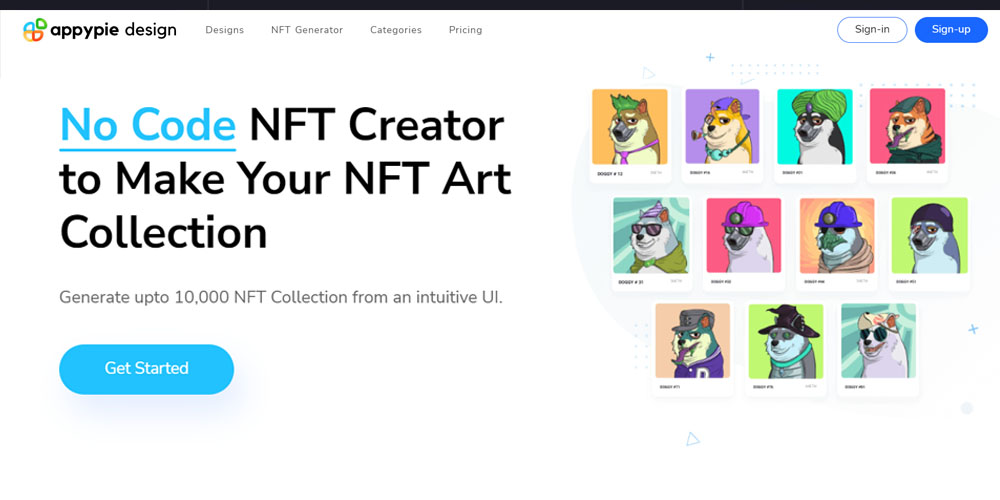 Appy Pie NFT Generator is an intuitive platform with an easy-to-use interface that allows you to generate NFT collections of up to 10,000 pieces of digital artwork.
Like the previous platform, Appy Pie's NFT builder enables you to work without coding, using NFT tools to design exciting, exquisite art styles and NFTs quickly.
Appy Pie allows you to create your NFT image using templates, adding layers, or importing graphics. Combining these three options enables you to manage thousands of NFT traits, creating unique graphics and NFT art that you cannot make with other tools.
Digital artworks in Appy Pie are easily scalable, letting you manage 10,000 NFTs without a problem. Besides, Appy Pie allows you to display your creations in the largest NFT marketplace and quickly get users for your NFTs.
Appy Pie also supports several blockchain technologies, which facilitates you in setting up your collection. It also allows you to generate tokens to increase the value of your NFT artworks and the interest of general users.
This is definitely one of the best NFT generators you should try.
Features.
Easy-to-use interface and straightforward scalability.
Servers hosted on the safest AWS servers ensure that your NFTs are protected at all costs.
A global network where it is easy to display existing art.
Hotpot.ai
Among all AI NFT generators, Hotpot contains unique tools to create NFT art in seconds. This generator has several tools to easily conceive ideas to create images and produce compelling marketing content. Hotpot AI allows you to generate NFT online by transforming your imaginations into digital assets with unique tools, such as:
An effective AI NFT photo maker;
An AI NFT enlarger;
An AI NFT Sharpener;
A collection mixer;
Hotpot AI allows you to use "NFT bulk create," a mode with which you can easily create NFT collections of 100, 500, 1K, 5K, or 10K pieces of digital art. Besides, it lets you create NFTs on websites directly and shape them as you wish. Hotpot is one of the best AI art generators on the Internet. Try their multiple tools and see the results!
Features.
Several NFT sharpening tools;
Spakwriter, a tool that helps you to generate NFT ideas.
Fotor
Fotor NFT Art Generator is a fascinating creative tool that allows you to easily and quickly create an NFT thanks to a particular algorithm and machine learning technique.
Creating an NFT collection on Fotor NFT creator is very simple. You must upload your image and apply the artistic effect you prefer to convert it into a unique digital asset.
Fotor allows you to select an NFT style art of a vast number of custom styles for the image of your preference. For instance, you can create abstractionist NFT art, Van Gogh NFT art, Dadaism NFT art, or Abstract art with a click.
Fotor is one of the NFT AI generators that is easier to use. The creative process of creating NFTs with this platform will become smoother.
Features.
No account creation is needed;
Unique art styles, from basic art effects to more complex ones;
No coding skills are required.
UniqMyNFT
UniqMyNFT is a free NFT generator that allows you to create, just like most generators, a collection of 10,000 NFTs to display in different NFT marketplaces. Creating your NFTs in UniqMyNFT is intuitive and fast, allowing you to upload the layers you need to generate images.
With UniqMyNFT, you can create collections in a matter of minutes without spending time creating your own software. Just set up the rarity of any NFT trait, layers, and attributes through a simple and clean interface.
Besides, UniMyNFT automatically generates metadata compatible with several blockchain technologies, such as Solana, Ethereum, Binance Blockchain, and more. Due to this, you can immediately mint NFTs in JSON format in some of the best NFT marketplaces, such as Magic Eden and Rarible.
Key Features.
It's free but with limited tools;
Unique traits and rarity for attributes and layers;
Preview of NFTs results.
Nightcafe.studio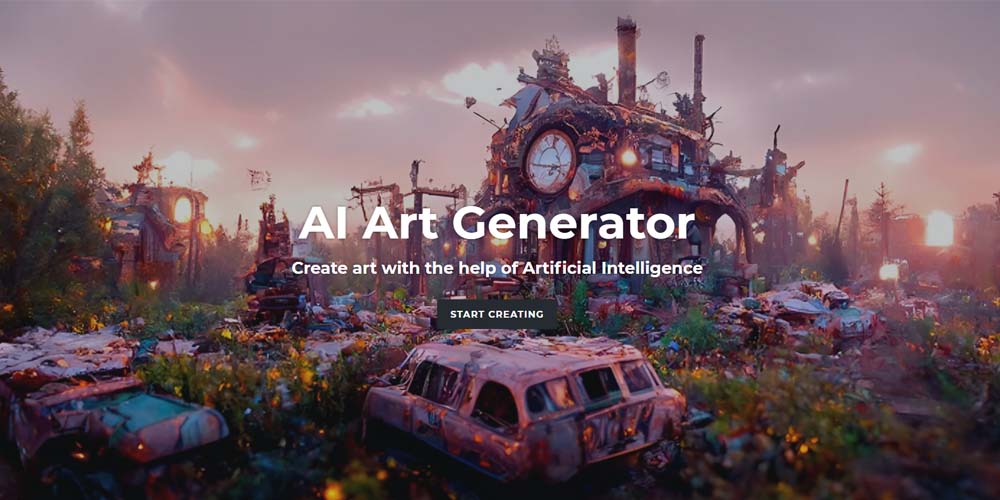 Nightcafe.studio is another free NFT generator that will help you to create hundreds or thousands of non-fungible tokens with Artificial Intelligence.
Most digital artists prefer this platform to create fantastic artwork since making it is straightforward.
They first create their artwork on photo creation software, such as Corel Painter, Photoshop, or Illustrator. Some of them prefer to create them manually. Second, they choose their digital file, i.e., images, video, etcetera, and choose the art effect style of their preferences.
In this sense, Nightcafe.studio world is similar to Fotor. It presents several art styles, such as the Van Gogh painting style mentioned early. This way, Nightcafe.studio will help you improve your artistic skills while creating unique digital tokens with a shallow learning curve.
One of the most vital points of Nightcafe.studio is that you can use it on multiple devices, such as tablets and smartphones. In this sense, this NFT creator considers mobile-friendliness as a relevant advantage.
The only disadvantage of Nightcafe creator is that you can only download a limited number of artworks daily.
Key Features.
Mobile-friendly.
VQGAN+CLIP for creating artwork from text prompts;
Text prompt-enabled NFT creation.
Filmora
Filmora, as its name suggests, it's a platform focused on creating and editing videos. It allows you to manipulate video with valuable tools such as color correction, audio ducking, and motion tracking and add personality and emotions. Besides, Filmora offers you dozens of interesting visual effects which you can learn to use thanks to multiple video tutorials.
Generating NFTs in Filmora is led by videos that will save you the coding experience. You can convert your videos in minutes. Besides, Filmora has several other tools that allow you to manage different data types, such as EdrawMax, a simple diagram software for any scenario.
Key Features.
Excellent and numerous visual effects.
A free trial version is available.
Several editing options and a user-friendly interface.
Bueno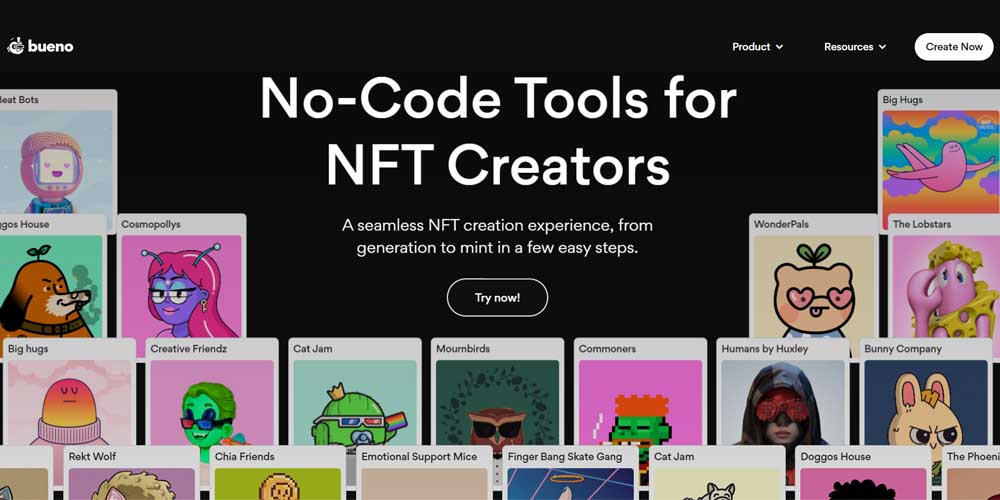 Bueno is a leading software for newcomers and beginners who want to learn about creating an NFT collection. It has multiple video tutorials, explanations, and tips that will lead you throughout the entire process. Just a few clicks separate you from the final results.
You can create your art and the layers and export them to Bueno to organize them better. Bueno will ask you how many layers you want to have and ask you for the rarity of the attributes.
Bueno will also explain to you what different smart contracts do and what is the best smart contract for your purposes.
A great thing about Bueno is that it's creating its own Microverse where you can use your unique artwork in a 2D context. Besides, the website has an exciting blog full of interesting data, such as classic techniques to create NFT manually and hundreds of tips and advice.
You'll need to pay for your NFT collection using the Ethereum Blockchain tech to use its credentials.
Key Features.
Multiple art generator controllers, such as rarity layers control, multi-character support, custom tokens, metadata compatible with several blockchain technologies, etcetera.
Custom mint pages.
Unlimited and free IPFS.
Sketchar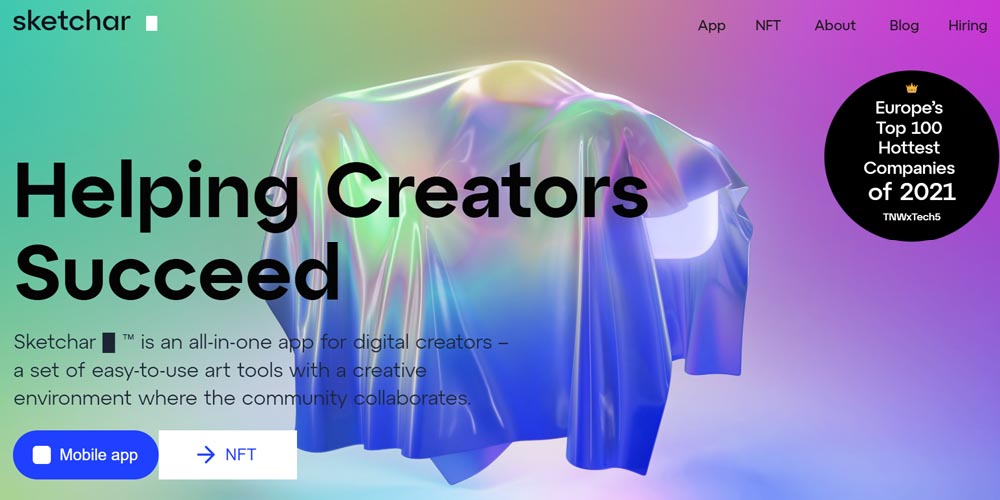 Sketchar is a no-code mobile art app and an NFT marketplace, a two-in-one application that contains easy-to-use tools to create any creative environment. The mobile app has full features for visual artists that help them improve their skills and creativity. It includes photo editing, shape creation, drawing tools, and more.
This tool utilizes the latest advancements in terms of AI to convert your images into unique NFTs.
One of the most significant differences of Sketchar is that it lets you add images and photos to augmented reality. This way, you can create unique new images you can experience differently.
Sketchar also has a great online community. Here you can discuss several related topics and share your ideas with other community members. The best part of this space is that you can check collectibles of other creators and get inspiration from their creativity and even from collectors.
Features:
Sketchar is available on Android and iOS devices.
Multiple tools, such as customizable brushes, to edit any image.
Let you add pictures to AR.
VoxEdit – NFT Creator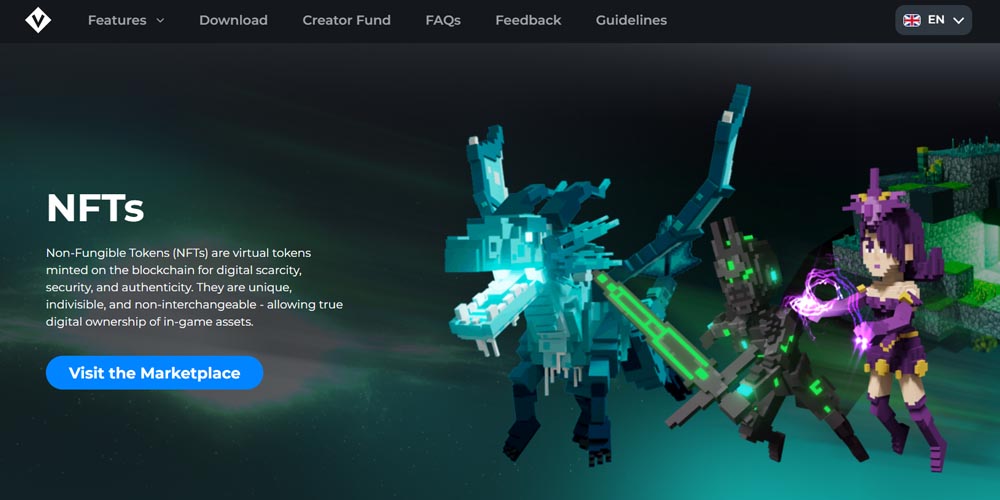 As you can imagine when you read the name "VoxEdit," this platform allows you to create, edit, and animate your own voxel-based NFTs. This microverse platform will also enable you to sell your digital artwork in the Sandbox metaverse. This way, users can utilize your NFTs in the way they prefer.
VoxEdit combines the editor used to create an unlimited number of shapes, with an animation framework to generate exciting visual effects and movement. Designing with VoxEdit is fun and does not require special skills or knowing code NFT.
With clear directives, users can create the voxed-based non-fungible token they prefer. Any idea can become true and sold on the market. They can monetize their NFTs and keep 95 % of their pay!
Features:
Voxel-based shape creator.
Sell, trade, and buy VoxEdit assets on The Sandbox's marketplace.
You can monetize your creations.
The Best NFT Generator – Final Thoughts
One of the most incredible things about NFTs is that practically anyone can create their own collection thanks to the NFT generator mentioned in this article. Besides, automatic metadata generation helps to mint your non-fungible token in essential NFT marketplaces on the Internet.
If you want to create your own NFTs, we encourage you to learn to use these platforms. Some have a steep learning curve, but the benefits will vary. Besides, some also have expensive pricing plans, but they still are worth trying.
Now, if you can learn more about these creative pieces of digital assets, you can read other high-quality articles we have in NFTmonk. Here we're continuously uploading useful information about NFTs, investments, and other related topics.