No doubt investing in the NFT world can grant huge profits if you know the tricks. One of the most common techniques for collecting pieces of an NFT collection is finding NFT airdrops.
This is not something restricted to digital asset creation and can also be seen in the crypto world, where the token holders use this method to promote a new NFT project or cryptocurrency. For existing holders and people looking for airdrop NFTs, numerous steps must be followed to ensure safety and guarantee that they won't be scammed.
In this article, we will show you the main steps for collecting an airdropped token and the benefits of doing NFT airdrops. Follow each step carefully to avoid problems like losing your assets.
What Is NFT Airdrop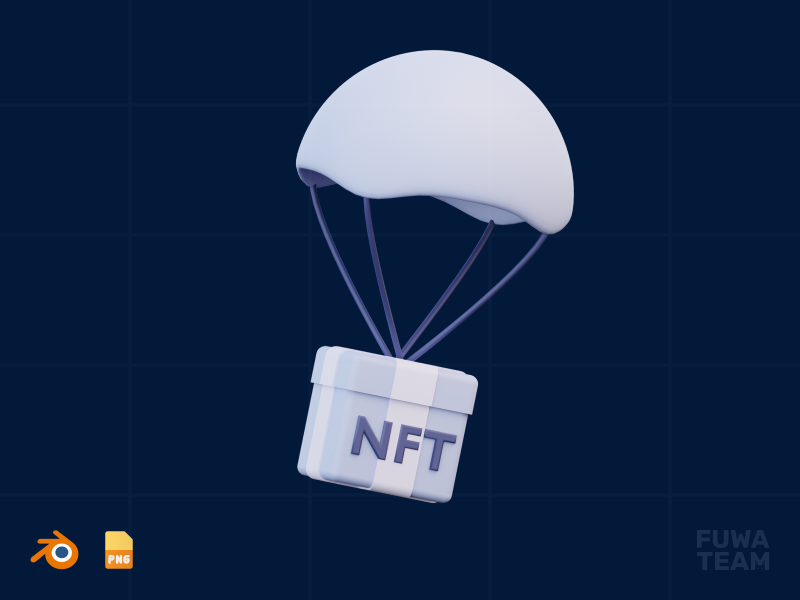 The airdrop is a technique that gives users one or more NFTs, usually for free. These upcoming airdrops can be given either to the public or specific whitelisted users.
Airdrops are usually composed of limited NFTs, and just some registered users receive the airdrop on their crypto wallet. The main objective of doing this activity is to raise awareness and visibility of a new NFT project and help hype it. It is a strategy used by companies and artists in all NFT marketplaces.
Why Doing NFT Airdrops Is a Good Deal
We all know how expensive some specific NFT collections can be. So why give them for free?
The main reason artists and companies do this kind of work is to do marketing. Some of these tokens are free and given to people through giveaways; others are only offered to users that match a series of requirements.
In both cases, this action is done to share a new upcoming collection and raise awareness. Moreover, doing this action also encourages these users to buy more pieces for their wallets.
NFTs can be expensive for new users because of gas fees and other factors, and giving one for free can be their chance to enter this world. These rewards are a common practice that has more upsides than downsides.
Types of NFT Airdrop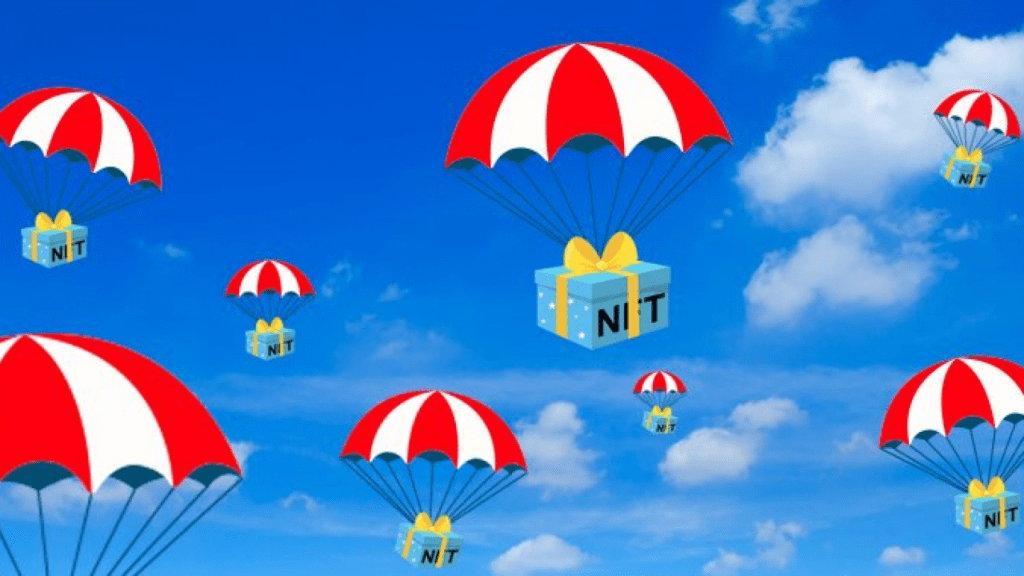 You can have different types of NFT airdrop running, and it is essential to understand their differences. Whether creating an airdrop or participating in one, you must ensure it is the kind you're looking for.
Here are the airdrop types you can find:
Standard Airdrop
As the name suggests, this is the most common type of airdrop you can find and is also the most simple to participate in. You can quickly do it by entering the website or platform where the airdrop is happening, like Twitter, for example.
After finding the platform, you just need to sign up for your crypto wallet, and you'll automatically receive the digital asset. It is important to notice that these airdrops are limited in time and units, so be as fast as you can to get yours.
Exclusive Airdrop
On exclusive airdrops, the user who wants to get the NFT given must complete specific tasks or requirements to receive it. These requirements can go from attending specific events to listening to a podcast episode.
It is also common, especially among artists, and is one of the best ways to generate organic engagement. You can define that one of the requirements is sharing a specific post. This way, you can increase the number of people noticing your work and gain more visibility.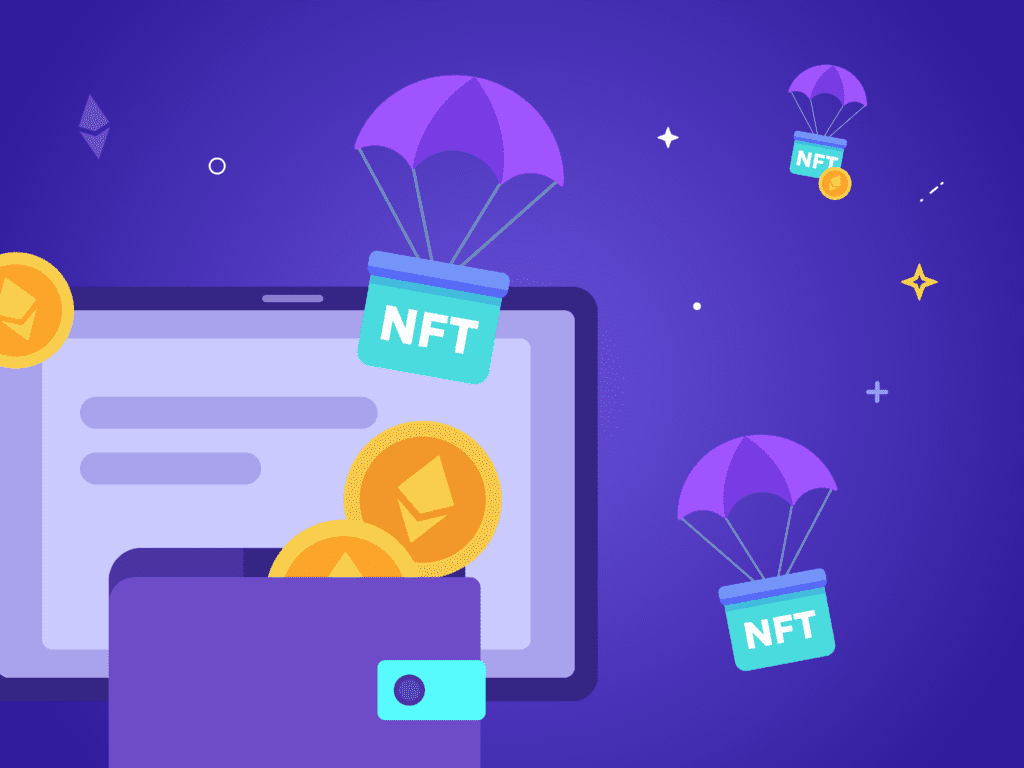 Raffle Airdrop
It is common to see this type of airdrop when the asset being given has a high value or is a rare piece. In the raffle airdrop, a group of wallets will be previously selected (whitelisted) before choosing a winner for the NFT.
To be selected for this kind of airdrop, specific tasks usually need to be completed, like in exclusive airdrops. There are also cases where you just need to sign in.
Holder Airdrop
The holder airdrops are NFTs given to users with specific NFTs and assets stored in their wallets. Numerous factors can determine the selection of who will receive the airdrop.
One of them is how many assets this user holds. It is a common practice among known artists, giving airdrops to users that already have their NFTs. The main objective in these cases is to increase the visibility of a new collection that will be launched.
Bounty Airdrop
The last type of airdrop is also a reward for users that complete specific tasks and requirements. The most common type of task is to share specific posts on social media.
It differs from the exclusive airdrop because, in bounty NFTs, the reward is open to anyone who completes the task. On the other hand, exclusive airdrops might be restricted to specific users and groups.
How to Get Airdrop NFTs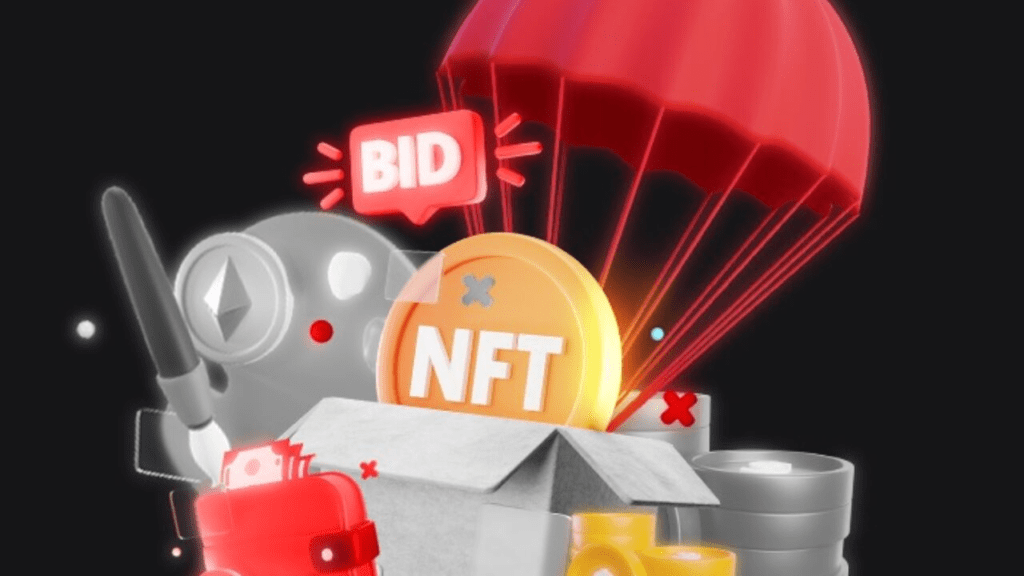 Claiming these rewards is relatively simple, and the steps will depend on the type of airdrop you're trying to collect. Go to the place where the airdrops are being delivered and sign up for your wallet if it's a public giveaway. If it's an exclusive airdrop or another type, pay attention to the requirements and see if you can participate in the giveaway.
Also, pay attention to the platform and who is doing these airdrops. Don't sign up your virtual wallet to any platform that is not trustworthy to ensure your safety.
Where to Find NFT Airdrops
There are lots of places where you can find NFT drops. The most famous is Twitter.
Following artists' profiles and NFT specialized accounts is the best way to get notified about new airdrops and whitelists you can sign up for.
Along with Twitter, other social media platforms have a high volume of profiles sharing NFT Airdrops, like Discord. Search for profiles and communities dedicated to sharing news about the NFT world.
Another great place for discovering airdrops of new NFT collections is the marketplaces. Accessing websites like OpenSea and Rarible is one of the most common things investors and collectors do to find these giveaways.
How to Make Your Own NFT Drop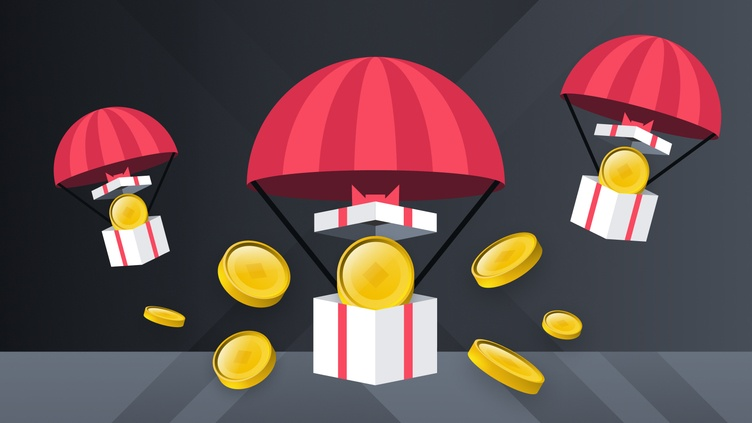 If you want to make an airdrop, the process is straightforward. The first step is to choose which kind of drop you'll be doing and then decide on the criteria and tasks for participating. Make sure to choose a proper platform for doing these airdrops.
After setting everything up on the platform, you must share the giveaway on social media platforms and marketplaces. The more people you invite, the more visibility you will gain.
Some platforms and airdrops require your wallet to be connected to a DApp for giving and claiming the reward. Remember to choose trustworthy websites and platforms for any process involving your wallet's connection to avoid scammers.
Keep Your Wallet Secure
We already mentioned the importance of choosing trustworthy websites when linking your account. But there are numerous factors that you must worry about when signing up for a whitelist or giveaway.
Pay attention to the necessary steps, and double-check everything before claiming your reward. This is important, especially if the NFT being given is too expensive or rare.
If you connect your crypto wallet to a platform that is not safe, you might be giving access to all your assets and crypto coins. Another way of preventing this is choosing wallets with advanced security features, like MetaMask and Phantom.
Final Thoughts
Airdrops are a great tool for increasing visibility and generating engagement for a new NFT collection. It is also a great way to start investing in the NFT world if you can't afford the gas fees.
Each type will require a different process to participate in, and the more people you get to participate, the better. Remember also to choose a good platform for doing the giveaway.
Now that you know everything you need, it is time to start looking for an NFT airdrop to participate in it. Remember to stay tuned in the main NFT-related channels to be the first one to know about recent releases and drops you can sign up for.