The photography market is constantly changing, just like every other industry. Back then, you needed to talk to an expert photographer to get a picture for research or an article. Digital art is now available online for anyone to purchase a picture's rights and use them on websites.
So, the market has shifted, but the need for high-quality pictures remains. Thanks to that, a new niche has appeared in the digital space thanks to the NFTs. You can now sell your art as non-fungible tokens on NFT marketplaces and make cryptocurrency money with your passion.
But is selling NFT photography as good as traditional online photography? Do places like Shutterstock or Adobe Stock exist for crypto? And most importantly, how can you start?
This article covers all you need to know about selling your photos as NFTs and doing business out of them. It doesn't matter if you specialize in landscape photography or any other; it'll still work.
Photographies As Digital Assets: How Does It Work?
Photography as a digital asset is a new terminology only discovered with the NFT apparition. Selling photographs as a digital collectible was only a dream a few years ago. Fortunately, the NFT space keeps growing, and users find new ways to create markets.
One of those new niches is NFT photography. This is just the traditional job transformed into digital files and sent to a Blockchain network via smart contracts, which will work as decentralized file storage. The only difference here is that each photo has the NFT properties which are:
Unique.
Exchangeable.
Identifiable.
Artists will spend time creating albums or preparing incredible landscape photos and selling them on a marketplace in the NFT world. Photography NFTs would become limited-edition prints that buyers can then hold or resell.
It's a great way to fund an artistic lifestyle while providing value to the digital world.

Types Of Photographies You Can Sell As An Artist
As an artist with some or zero experience in the NFT world, what should be your first NFT put for sale?
This highly depends on the type of photography you want to specialize in. For example, you could work on the following:
Vector artwork.
Everyday-thing photos.
Nature.
Animals.
Seasons.
Transport.
Portraits.
There are also more categories that you can find on NFT marketplaces, like the No Cross, No Crown non-fungible token collection, centered on displaying crosses in different cities.
Photo NFTs should be centered on specific topics that amaze people.
What Do You Need To Start Selling Photos As NFTs?
As with any business, you need a few things to start. Fortunately, none of them requires you to spend money on them. You only need time to set them up and start your photography business.
Photography Ability
The most important thing about selling photographs is that you can take amazing pictures that capture the essence of your soul and scenario.
If you're starting this business and are a rookie photographer, you can practice on your own or search tutorials on Youtube – like this 8 Important Composition Tips for Better Photos tutorial.
You can also look for communities to talk with other photographers and discuss photography best practices.
NFT Marketplace
Next, you'll need an NFT marketplace where you can sell each photo NFT you mint. We don't recommend you choose just any website; you should go for well-known platforms with thousands – or millions – of visits.
Some of them are:
OpenSea.
Binance.
SuperRare.
Rarible.
Atomic Market.
The thing with marketplaces is that you can't just list your images just like that. You need to consider the blockchain network it uses. It's not the same platform with Solana as it is with the Ethereum blockchain.
Not only because Ethereum gas fees are higher but also because the smart contracts are different, and the cryptocurrency used to pay for NFT won't be the same either.
As such, you should consider those aligned with your goals and expected profits.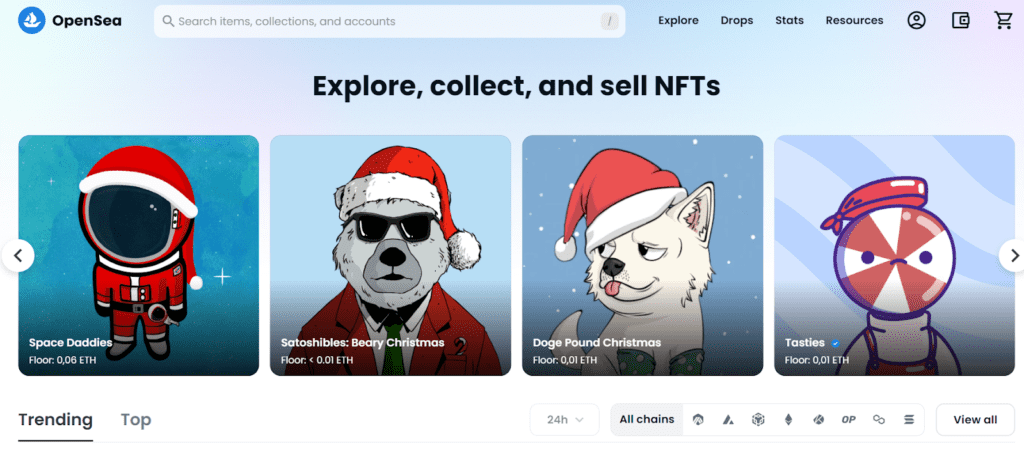 Digital Wallet
Last but not least, you need to have a digital wallet to make operations with cryptocurrency.
You probably have an existing wallet if you're into the crypto world. If not, you need to create a cryptocurrency wallet. It helps you interact with the blockchain and all spaces related to crypto and store currencies or NFTs.
Different digital wallets are available in the market, like the offline hardware wallet Ledger, which uses the blockchain ledger to store assets. There are also digital wallets like the Coinbase wallet, which has a standalone platform.
However, we recommend you use the Metamask wallet. This decentralized online wallet can be used as a Chrome extension or installed on your mobile device.
Metamask uses the Ethereum network as a predetermined network. This means you can interact with every platform that uses ETH and commerce on marketplaces like Opensea. You can also use other networks like BNB or Polygon. However, it's a manual process that requires tutorials.
Now that you have everything you need to start selling your pictures on the most popular NFT marketplaces, it's time to price them.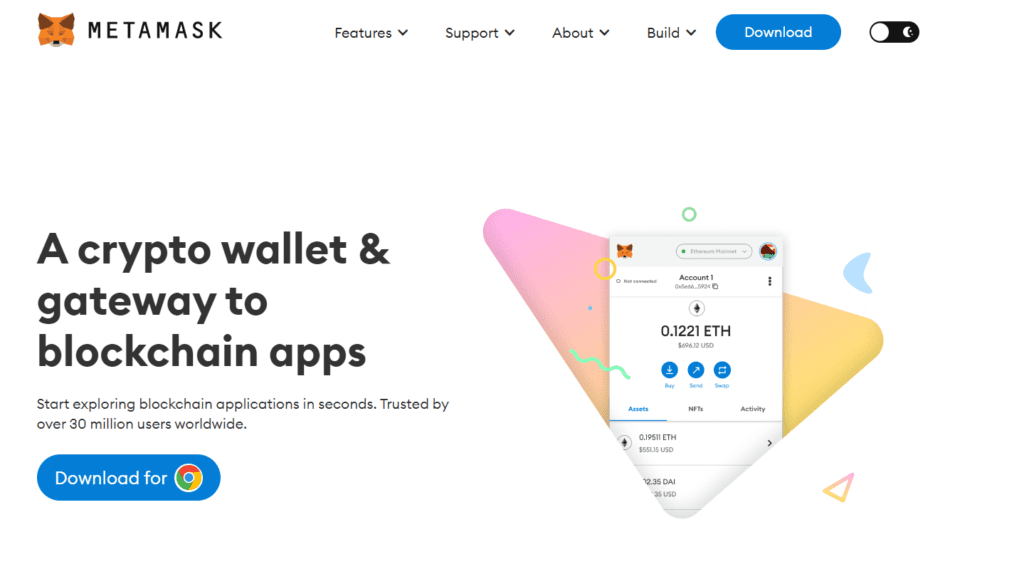 Establishing Prices On Your NFTs
Setting your prices may be one of the most challenging things you have to do to start a photographic NFT business. After all, the NFT markets feature many variables you won't find in a traditional market.
As such, when establishing a variable or a fixed price, you need to consider the following:
If you are a recognized artist or not.
If you have a previous audience behind you.
If you have success stories to tell with your collections.
If you've done your own research previously about the market.
If you've considered how much traffic previous websites or portfolios have.
When pricing your NFTs, you must consider whether the NFT platforms have two gas fees instead of one or how much it charges buyers and sellers. For example, considering OpenSea, this platform charges 2.5% for listing the NFTs.
Fees For Collectors And Photographers On The Blockchain
An important aspect of your price is the fees. For collectors and creators, you need to pay small "taxes" to interact with the blockchain.
This price will vary depending on how congested the network is. But how does this work?
Let's use Metamask as an example. Each time you purchase or list something, a small window from your crypto wallet will appear on your browser displaying the Ethereum gas fee you must pay.
You must decide whether to accept the transaction or wait until the network is less congested.
If the gas fee is high and you still want to publish your asset, consider adding it to your final price. However, in our experience – it's not financial advice – it's better to wait or use another platform with a less congested network, like the Binance Smart Chain. 

What Rights Are You Giving As a Photographer?
When you sell NFTs, it doesn't mean you're giving away all the rights to your creations. You're just giving proof of ownership of the digital asset you're minting. This means that the originals remain yours.
Of course, there can be exceptions, but they must be established first in smart contracts.
The buyer can still say they bought a piece of your pictures, resell them or hold them, but they aren't the owner of the digital file. This ensures you can still use them in magazines, as a portfolio in the crypto space, or as part of your artistic work.
Different Platforms To Market NFT Photos
Now that you know the principles for selling photos as NFT, let's see where you can publish your collections.
OpenSea
OpenSea is the leading platform artists work with. It's a decentralized website where people of all ages can upload NFTs.
Here is one of the best places to publish your photo NFTs. There's an entire section reserved for this kind of content, and it is constantly updated.
OpenSea is established on the Ethereum network, meaning you need to use the ETH cryptocurrency to publish your work.
But why is it the best option for you? Because:
You only have to sync a crypto wallet. It doesn't require personal details from you.
There is a "lazy minting" feature that helps you create an NFT in a few steps.
You can choose if you want to sell NFTs at a fixed price or a bid.
You can create external links to share your collection on other platforms.
The platform receives 23 million visits from all over the world, according to the SimilarWeb extension.

Binance
Compared to OpenSea, Binance is a centralized cryptocurrency exchange platform. This means that it's not as anonymous as other crypto websites.
Binance has multiple operations on its site, from trades to NFT exchange. This allows users to sell or purchase cryptocurrency while also using other features.
This platform is a reliable source of cryptocurrency for anyone looking for a trustable way to commerce with crypto.
Yet, it's not the number one because:
It has a KYC protocol, which hinders the anonymity of cryptocurrency transactions.
As a centralized exchange, you must deposit your crypto assets in the platform instead of withdrawing or depositing them directly from your wallet.
As an established worldwide exchange, it relies on governmental laws to operate.
However, there are benefits to using it, like:
You gain access to a place where you can quickly exchange crypto assets.
You can purchase cryptocurrency using traditional methods.
You can deposit or withdraw funds with low gas fees.
You can see all the details of your transactions on your account.

Rarible
Rarible is a decentralized marketplace for buying and selling non-fungible tokens (NFTs). This is a platform specially designed for artists.
Users can browse and purchase NFTs from artists, musicians, and game developers. The marketplace is built on the Ethereum blockchain, which accepts most wallets, including Metamask.
Rarible also allows users to create and list their own NFTs for sale. To do this, you can use a tool called "Mintable." This will help you upload content and set the terms of the sale, such as the price and the number of tokens available.
Overall, Rarible is a great example of a solid NFT because:
It has a vibrant and active community of NFT creators and collectors, allowing users to connect with others who share their interests and learn from experienced users.
It's a decentralized platform that makes selling and buying NFTs faster and better.
It's intuitive, which makes it easy for users that don't have experience creating an NFT.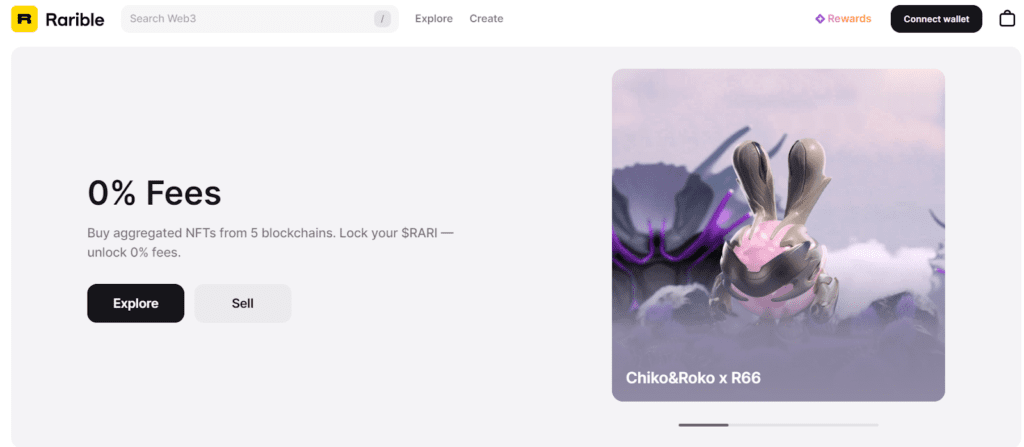 Step-by-step Guide To Sell Your Photos
We have developed an easy guide to help you start creating NFTs and create copies on the platforms you like. Don't miss out!
Choose The Blockchain Network You Want To Work With
There are several different blockchain networks to choose from, each with unique features and capabilities. Some popular options include Ethereum, EOS, and TRON.
If you're minting NFTs, we recommend starting with Ethereum-based networks. The service fee may be higher, but it's a solid blockchain used by most crypto adepts.
Set Up A Cryptocurrency Wallet
To create and sell NFTs, you'll need a compatible wallet with your chosen blockchain network.
There are several types of wallets, including software wallets, hardware wallets, and paper wallets.
We recommend you use Metamask. You can install the Metamask extension from the official website and create your account there. It's completely free. Just remember to save your seed phrase and don't share it.
This wallet will be the one that interacts with the smart contract and the marketplace you choose.
Add Cryptocurrency To Your Wallet
To interact with the blockchain, you must have cryptocurrency in your wallet. Fund your wallet by depositing directly into Metamask or purchasing crypto on exchanges like Binance, then send it over.
This process is almost instantaneous. You only need to pay transfer fees.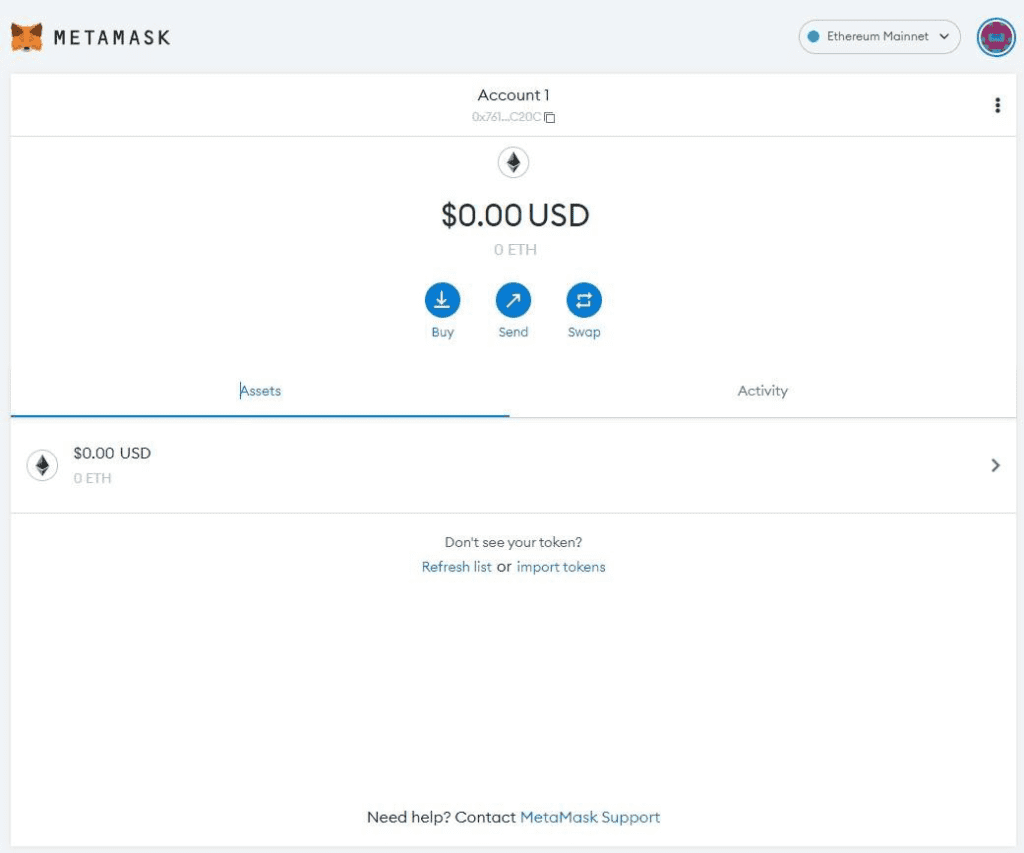 Pick an NFT Marketplace
Several marketplaces allow you to buy and sell NFTs, such as OpenSea, Rarible, and SuperRare.
Choose one that makes sense to you and aligns with your interests and goals as a creator.
We recommend you start with OpenSea. This platform goes straight to the point and doesn't have a KYC protocol.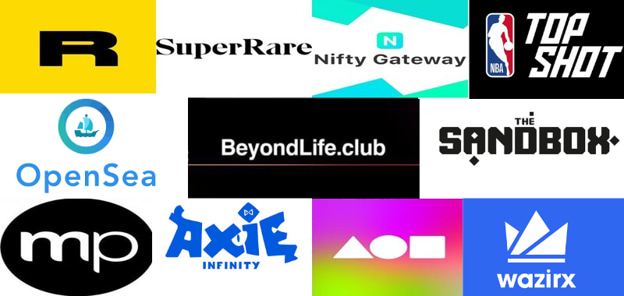 Synchronize The Wallet With The Marketplace
You must sync your wallet and assets to interact with the marketplace.
Taking OpenSea as an example, all you need to do is click on the little profile icon in the top right corner. A window will open so you can click on the wallet you're using.
After that, you'll be able to access all OpenSea features.
Create Your First NFT
Once your wallet is linked to the marketplace, you can start minting NFTs using the platform's tools.
This typically involves uploading your content, setting the terms of the sale, and clicking "mint."
In the case of OpenSea, you must click the profile icon from the step above and select "Create." This will take you to the minting section, where you must fill in all the information and click "Create" again.

List The NFT
As a final step, once your NFT is created, you can list it for sale on the marketplace.
You must set a price or a bid and additional details about the NFT. You can add what makes it unique, if it's part of a collection, and how long you took to make that picture.
This is the moment where you "sell" it to potential buyers and even say if there are multiple copies of it. Focus on explaining why they should own your NFT instead of selling the image.
How To Sell Photos As NFT – Summary
Selling photos as NFTs is a great way to diversify your art business. Whether you are a well-known photographer or a new one, you can start listing NFTs with valuable characteristics to the highest bidder – or at a fixed price – in marketplaces.
Making money with NFTs is a challenging path. It requires you to prepare a new wallet, pay listing fees, establish a small percentage of royalties and set up your creator profile in marketplaces.
But selling photos as NFTs is not only that. This "job" also requires you to create a community on social media – Twitter, Facebook, Instagram, TikTok – or even platforms like eBay to bring awareness to the crypto community. This will also ensure that everyone knows you're the copyright owner of your collections.
After all, if you create a modern Mona Lisa, you want to ensure everyone knows who crafted it.
Some of the most successful collections on OpenSea are:
Skylike.
No Cross, No Crown.
The MetaScapes.
Eternals x Eva Savagiou.
So, who knows? Yours may be at the top too!