Buying real estate is one of the best investments you can do in the real world. Properties give passive income in addition to increasing their value over time. This situation is similar when it comes to properties in the digital world. But What Is NFT in Real Estate? This article addresses this topic for most people considering purchasing a property in the digital land.
Differences Between Physical and Virtual Real Estate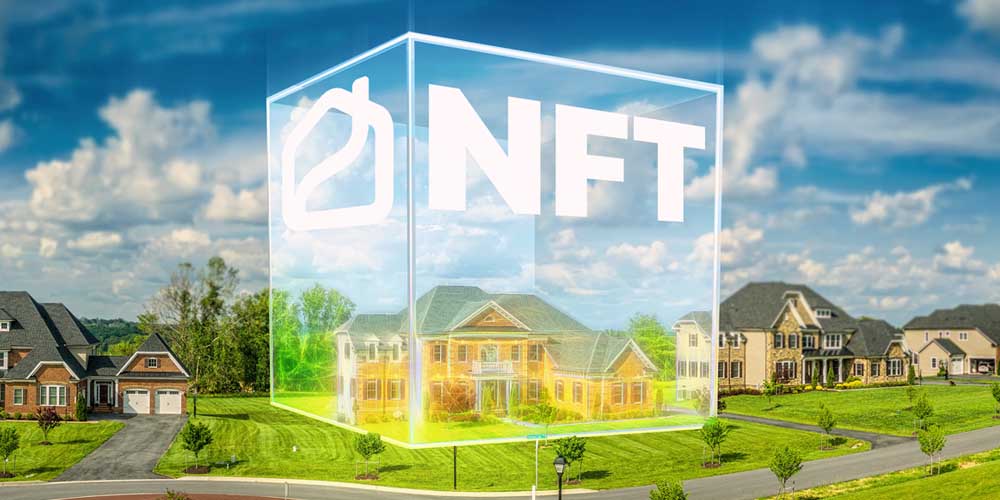 To remake differences between both stadiums of real estate, we need to mention five crucial features of traditional real estate.
Ownership. This is the first reason why investors put their money into building real estate. They want to be owners to receive royalties, alienate their properties or do whatever they want. Physical property in the physical world manifest through titles. In the virtual land, the record on Blockchain is the proof of digital ownership.
Fractional Ownership. A virtual property allows you to tokenize the real estate and sell portions of the ownership. In most cases, it's not possible in physical real estate. In virtual worlds, investors can share the ownership of a property.
Liquidity. In short, real-world assets are complicated to liquid due to many factors: the primary two are the price and the considerable paperwork. This does not happen with real estate NFTs since they can be quickly traded in the Blockchain. Besides, the Blockchain provides security, and investors are truthful.
Virtual Properties. This is obvious, but physical real estate is traditional, while digital assets are virtual properties in the multiverse or online gaming. Sometimes, digital real estate may have a representation as physical real estate NFTs.
Transparency. Physical real estate transactions commonly involve much paperwork, property documents, and intermediaries, such as agents, notaries, etc. This may make the process complex and even opaque physical real estate investments since you're not sure what formalities are legal and what are not. This situation does not happen with NFT real estate. In the digital world, Blockchain provides total process transparency and only charges you the correct transaction values.
Why Have NTFs Been Important to the Physical Real Estate Industry?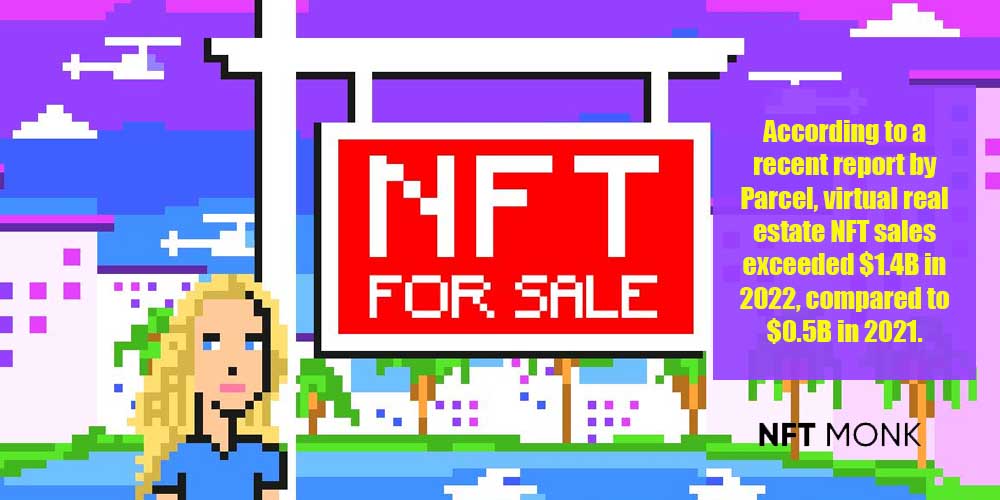 As mentioned above, some virtual real estate assets are linked to physical real estate in real life. Besides, some brands and entrepreneurs acquire pieces of land in the virtual world to have a replica of their headquarters. In this sense, the industry leverages real estate NFTs in the following aspects.
Ensure High-Speed Transfers
When people buy a physical property by traditional methods, initiating negotiations and completing the purchase can take several weeks or even months. These processes may be faster by using cryptocurrencies and avoiding intermediaries who hinder the process. Real estate companies and brands can save time and money and even bring a cheaper service to buyers.
Automate Processes Via Smart Contracts
Many real estate contracts bring multiple clauses that determine the future of the relationship between the owner and the tenant of the future owner. With smart contracts, a common practice in digital art and NFTs, several actions, such as payments, maintenance, rentals, and more, can be automated.
Just like in the case before, brands save a lot of money and time by using smart contracts that ensure the functionality of the transaction.
What Drives Property Values in the Metaverse?
The factors determining property prices are similar to those found in physical properties and other digital assets.
The first is location. Not all plots have the same value due to their proximity to interesting points, landmarks, and services. This also is crucial in the metaverse. What's more, since properties in the virtual world can be used as an advertising space, they will be more valuable in areas where people gather.
Project Details are also crucial when driving the prices of any digital asset. In this sense, the more details the property has, the higher the price will be. Your real estate structure should have a significant difference compared to other properties.
Another factor that drives virtual property values is supply and demand. Land lots tend to cost more on popular platforms like The Sandbox and Decentraland.
NFT Real Estate Use Cases
The type of property you buy in an NFT real estate project or a metaverse platform will determine what you can do with your investment. Below we're giving you four use cases for your NFT real estate.
Socializing
When you buy virtual land, you're purchasing an NFT space that will help you connect with other people, friends, family, and like-minded people. Think of your entire asset as a headquarter where you can interact with users of your interest. Many users host events where attendees play games and participate in unique activities.
Advertising
NFT real estate owners can offer their properties to brands that want to advertise their products on the metaverse. In other words, digital ownership allows you to monetize your property thanks to Blockchain technology.
When you enter a metaverse, one of the first things you notice is that most structures have brand logos. Brands use NFT real estate to promote new products, organize virtual launches, and offer unique customer experiences due to new technology.
An excellent example is Nikeland, an NFT and blockchain space established by the sports brand to offer customers new concepts, products, games, and more.
Gaming
Like other NFTs, digital real estate can also help improve the gaming experience of many NFT games. For example, developers can reward players with digital property in their creations. An excellent example is Axie Infinity, an online game that gives resources and crafting items to players with a property.
Work
Many businesses around the globe use NFT real estate as a virtual office or alternative locations where they interact with their customers. This is especially useful when online communication and remote work have become relevant for users and companies.
Which Are the Most Famous NFT Real Estate Projects?
NFT real estate projects mostly contain a vast land, multiple NFT features, services, an NFT marketplace, unique places, events, etcetera. Below, we mention some of the most exciting and vital for the future of virtual properties.
Decentraland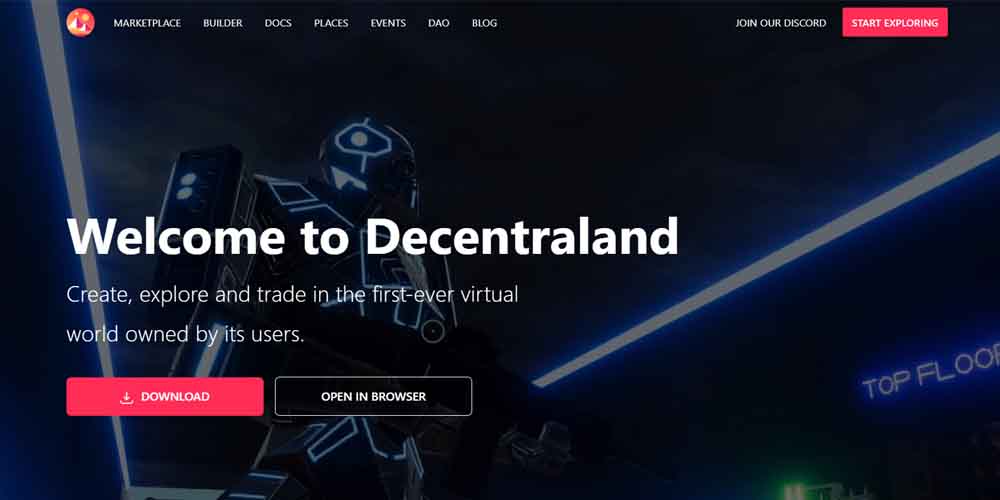 Decentraland is a virtual world owned by its users that allows its parties to create, explore, and trade lands and multiple items. Decentraland puts users in a virtual open world where they can interact with each other and everything that is happening in the world.
Decentraland contains thousands of marvelous structures, buildings, and scenes. In this real estate NFT project, you can find from an entire village emanated from owners' creativity to space adventures in a great environment. You can buy NFT real estate in these villages, departments, floors, houses, or a piece of land. It's up to you!
The Sandbox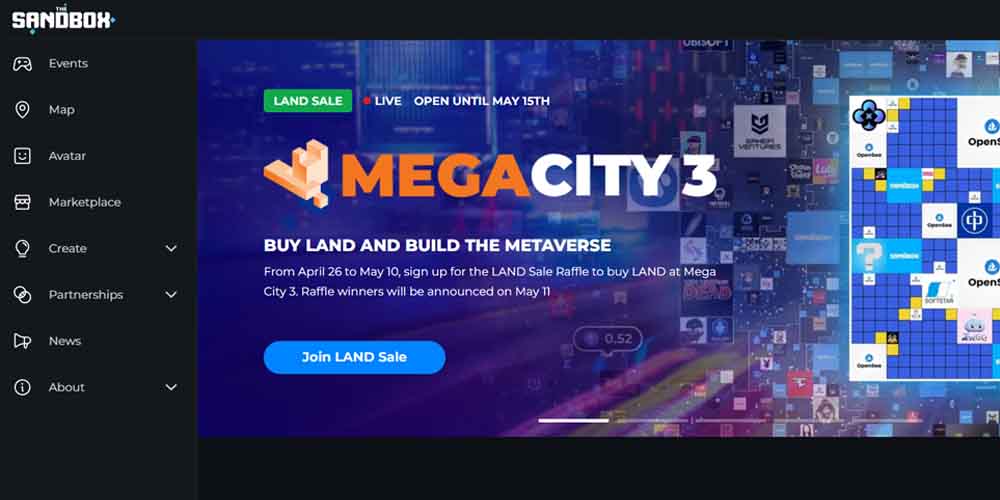 The Sandbox is, by now, a real estate classic. It's designed for enthusiasts to buy a piece of land to contribute to a big virtual city, eventually, a metaverse. Similar to Decentraland, In The Sandbox participants can select an avatar to traverse the open world, interact with other members, and trade items in the marketplace and even lands.
In The Sandbox, you have the same responsibilities and rights that ownership does in real life, such as the right of possession, the right of control, the right of enjoyment, and the right of disposition. But there is more! The Sandbox allows you to create your game within the project without coding and even create NFT thanks to the VoxEdit, NFT Creator.
Although The Sandbox is more a Metaverse than an NFT real estate project, buying and selling real estate in its university is accessible.
CryptoVoxels
Cryptovoxels is a metaverse built by players where enthusiasts can buy virtual plots, parcels, apartments, apparel, and art, among others, i.e., all kinds of non-fungible tokens. As its name indicates, all the structures of this metaverse are built with big voxels that give this world a similar aspect to Minecraft.
Cryptovoxels is a group of islands with multiple districts. The biggest island contains the most real estate projects, but most minor islands also have unique digital assets that property owners can enjoy.
This metaverse and real estate project has been gaining popularity recently, and multiple investors and new owners are arriving on the island.
Roblox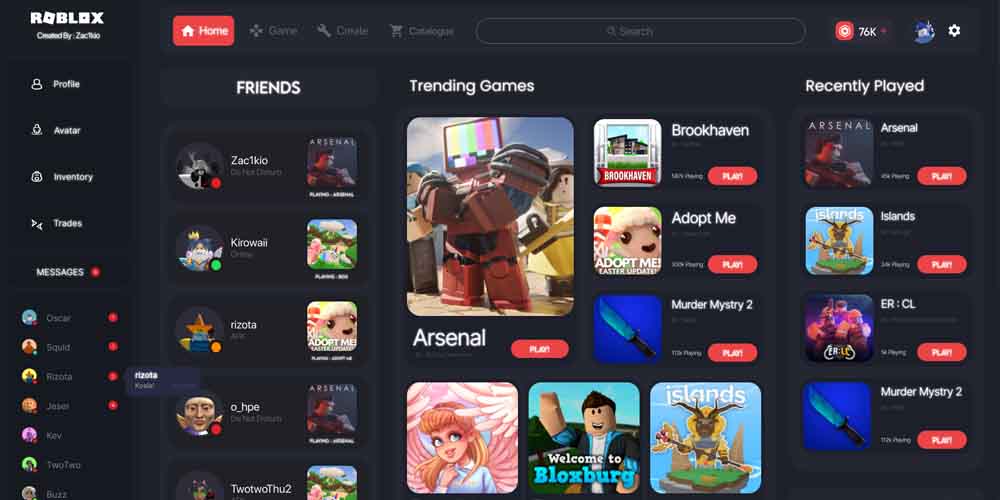 Roblox is an app where people can play and create their own games, buy a parcel and build whenever they want. In this sense, Roblox is a metaverse where people interact to exchange information, products and offer services. This also works for the real estate sector. For example, Paris Hilton, the reality TV star and hotel heiress, has created an island in Roblox with famous brands to embrace the metaverse and generate excitement around purchasing real estate and NFT products.
Advantages of Investing in NFT Real Estate
Owning real estate of this nature, you can save a considerable amount of money since you're a property owner not subject to traditional taxes.
As real estate prices, physical or virtual, are determined by the real estate market fluctuations, you have great choices for obtaining capital gains.
Being the owner of an NFT real estate allows you to trade, sell, or rent it wherever you are.
Every transaction is recorded in the Blockchain. This way, you can prove that transferences related to digital assets you've made are true.
Having real estate in the virtual world prevents you from losing your property to sinister or physical damage.
The Bottom Line
NFTs creators have understood that the future of the Internet and the virtual world is based on creating new cities in the metaverse that people can explore and take advantage of.
Buying and selling properties in these new virtual settlements is easy and brings multiple benefits. NFTs represent ownership of an item, and real estate works in the same way.
In NFT, real estate parties involved can celebrate the same agreements as in real life, getting profit from these. The buyer boasts ownership rights, and the other part, such as brands, can promote products in exchange for a reasonable payment.
In short, NFT real estate works similarly to physical real estate since, in the virtual world, you can buy land, an apartment, or any real estate you want. Celebrities have started to do it, and you should be the next one!