Music is an inevitable part of every human being. Even if you don't actively follow the music industry or go to concerts, you definitely have favorite songs that you can listen to forever. The cacophony of birds early in the morning, the rustling of leaves caused by a gentle breeze, the sound of a waterfall – everything has music in it.
We listen to it because it influences our mood. Whether you want to relax after a stressful day or want an adrenaline rush for your workout, you'd reach for the music. The music industry is evolving just like everything, especially its distribution.
You've probably heard of music NFTs, and you may wonder what they are used for. Simply put, it's the work of iconic music artists represented as NFTs on a blockchain network. This refers to songs and music clips released in a completely different format. But how do they work exactly, and what is their value? The following article will help you learn the fundamentals of music NFTs and how they work.
What is a Music NFT?
To properly answer this question, you'll need to understand the definition of an NFT (non-fungible token). NFTs are pieces of art sold as blockchain-based digital assets. Digital images, videos, music – you name it. At the time of writing, music NFTs are one of the fastest-growing ecosystems in the NFT business.
If you've ever bought tunes from music platforms like Apple Music, think of music NFTs the same way. However, there's one significant difference. When you buy a track on a music platform, you only have the right to listen to it, not own it. You're paying for the privilege to access the content you've purchased. But, when you buy a song from a music NFT marketplace, you get all of the above, including ownership of the file through an NFT thanks to blockchain technology.
You can consider it an investment as unique and original goods gain value over time. If the musician you're buying NFT tracks from becomes well-known, you've made a good investment. And even if he doesn't, you'd be glad you supported him because you appreciate his work. A win-win situation.
Are Music NFTs Necessary?
There are two main reasons for music NFTs to become mainstream. First, it's the transparency of data ownership and accessibility. Blockchains are decentralized, meaning anyone can participate with a fast internet connection and enough funds in their digital wallets. Cryptocurrencies don't have the same regulations and policies as a centralized banking system. Blockchain transparency is self-regulating by design instead.
Second, gaining fame as a music artist was easier before the internet era. For example, physical records sales are significantly worse compared to the '80s or '90s due to the increasing popularity of online streaming services. On paper, such channels look like an easy choice for music artists to reach a larger audience which should translate to better monetary benefits.
Sadly, they offer measly payments, even for artists with millions of fans. For many, the only way to earn fair money is touring and hoping the investment will pay off. Music NFTs revise the music industry's traditional revenue and ownership models by increasing fan involvement and removing intermediaries such as record labels. That's why many people create music and upload it to a dedicated music NFT platform rather than Apple Music or Spotify.
Types of Music NFTs
Music NFTs differ from each other and come with different levels of exclusivity. Here are the most common ones:
1/1 NFT. One-of-one NFT means it has been issued as a single digital asset. These are like real-life paintings with only one original. Such NFTs have a much higher price tag than others, but they're also worth significantly more when reselling.
Open edition. The most common music NFTs you'll find. It means you can mint an unlimited number of editions of certain NFTs. Don't confuse "open" with "unlimited," though. "Open" means that you can mint only for set periods. "Unlimited" means there can be as many editions as the creator wants.
Limited edition. The opposite of open edition. An NFT project is restricted to a limited number of editions, so you won't be able to mint anymore after it's over. Usually, such collections consist of 10,000 NFTs.
Each release type comes with its benefits and drawbacks. A 1/1 model increases the scarcity of an NFT, meaning it's worth more, but it's harder to sell one if it isn't a known project. Editions are less scarce, but there isn't a better way of building a community around a project. Since music artists tend to release exclusive offerings like ticket presales or exclusive merch, an edition is usually the best option.
Famous Musicians Who Released Albums as NFT
Many inventions required someone famous to popularize them and eventually become mainstream. The compact disc format, which everyone knows nowadays, was developed by Sony and Philips in 1976. However, the first artist to sell a million copies on CD was Dire Straits with its 1985 album Brothers in Arms. After that, CDs settled in the music business for good.
The same goes for NFTs. Below you'll find famous musicians who released their albums as NFT and made an insane income because of it.
Kings of Leon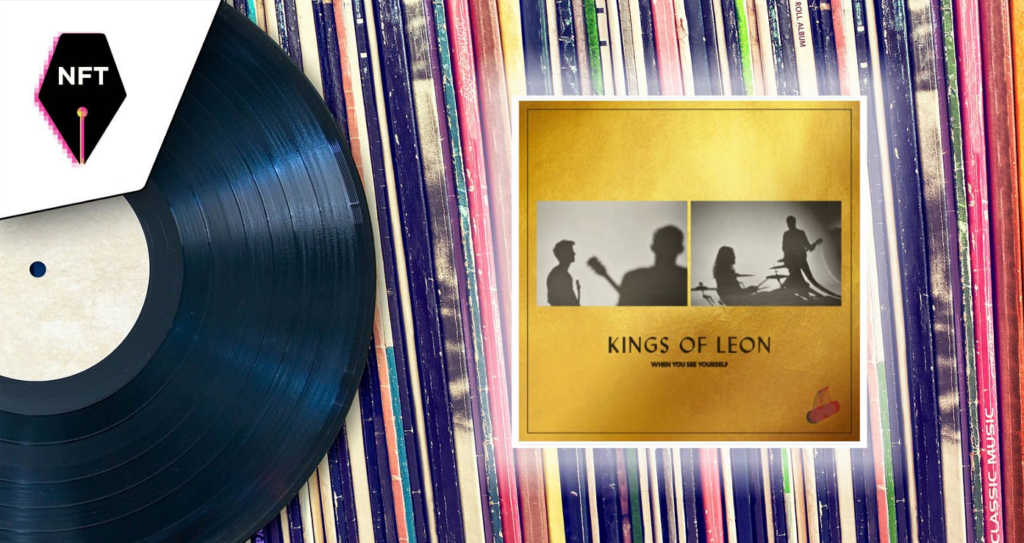 The famous American rock band has been with us for quite some time, originally formed in Nashville, Tennessee, in 1999. It's the first band that decided to release its newest album, When You See Yourself as an NFT, on March 5, 2021. They've also dropped three types of tokens as part of an NFT Yourself series.
The first included a special album package, the second gave the owner exclusive perks such as lifetime concert passes, and the last provided some exclusive art. They sold all their NFTs via the Yellow Heart platform and generated 820 ETH, equivalent to $1.45 million then. $500,000 from this pool was donated to Live Nation's Crew Nation Fund to support live music crews affected by the pandemic.
3LAU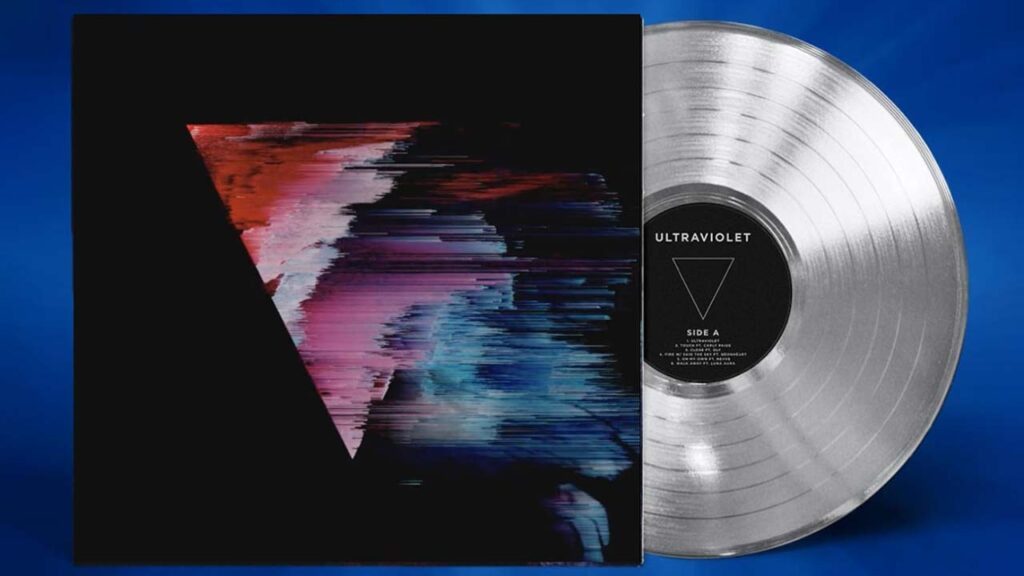 He's one of the first famous musicians who used NFT to sell his music. But instead of releasing something new, he re-released his 2018 album, Ultraviolet, in NFT. So far, 3LAU has sold over 30 NFT albums, and the number is going to increase, given the special privileges buyers acquire. Fans can redeem their NFT albums for physical vinyl albums, unreleased songs, unique merch, and many more.
3LAU hosted a special Twitter live stream, where his NFT album was put on an auction. The auction lasted for 48 hours and was concluded in February 2022. 3LAU earned a whopping 11.6 million USD during the event.
Tory Lanez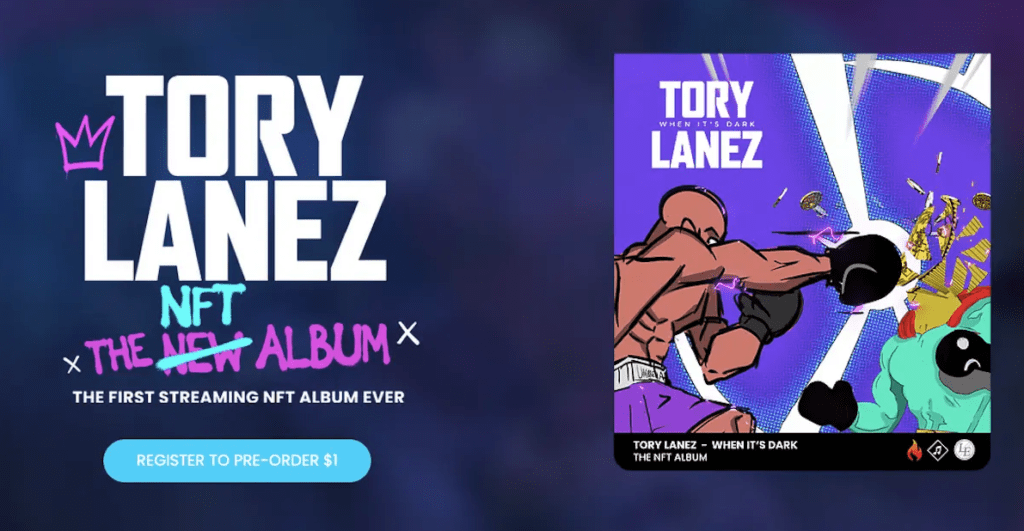 Tory Lanez is a Canadian rapper who became famous in 2013. He's been convicted of negligent discharge of a firearm, so his career hangs in the balance. However, he also made a pretty penny with his Playboy NFT album, released on March 4, 2021. He earned around $500,000 in 24 hours after the release. The NFT holders could listen to three previously unreleased tracks from the album.
Don Diablo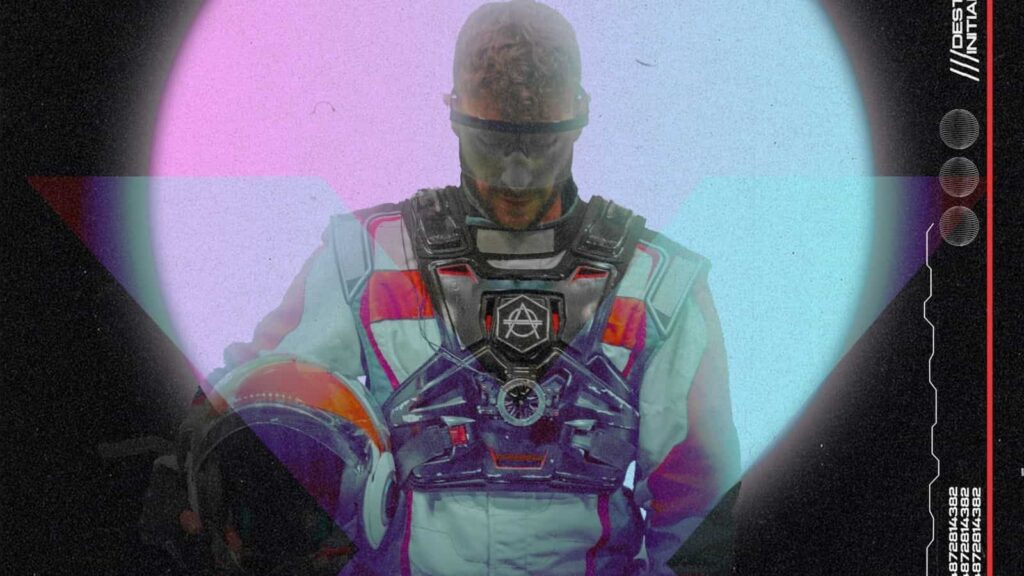 Yet another famous Dutch DJ who hit the jackpot with his own NFT. He was the first-ever musician to release his very first full-length concert film as an NFT for the highest bidder. The auction was hosted on SuperRare, and calling it successful is a major understatement. The concert film Destination Hexagonia was sold for 600 ETH, so he earned around $1.26 million from the auction. The winner also received a special USB stick containing the file.
Jacques Greene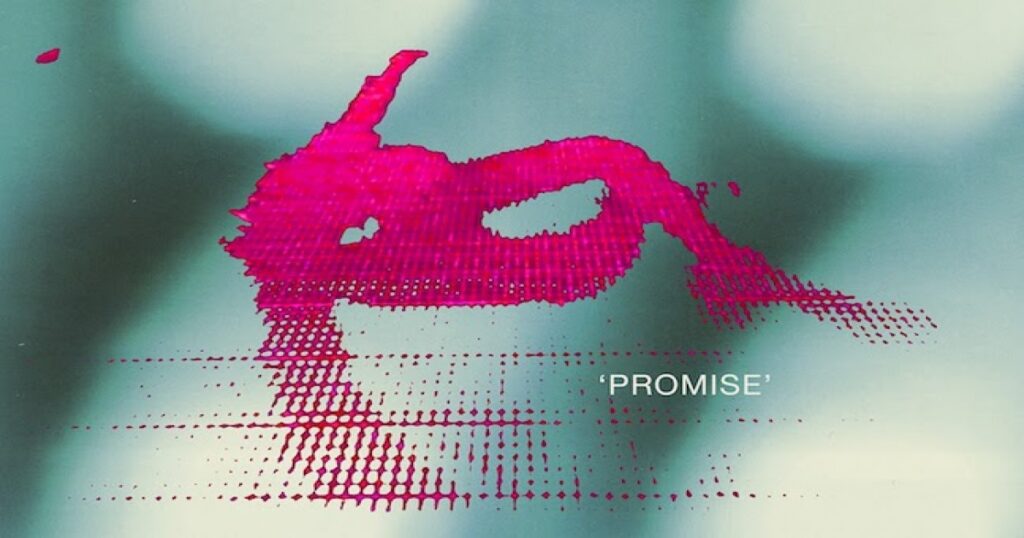 The Canadian electronic musician decided to pull the trigger and auctioned off the publishing rights to his single Promise. He said he got out of a long, pretty bad publishing deal and wanted to try something different.
He teased his fans with a 6-second teaser before the actual auction for promotion. In the end, the track was sold for 13 ETH, which was around $23,000 at the time. He definitely made an excellent decision to compensate for a bad record deal.
How to Earn via NFT?
Your music NFT collection can be worth a pretty penny if artists you bought them from have become popular. And since every NFT is unique and irreplaceable, merch and music in such form will only gain value.
A music album, exclusive audiovisual art, concert tickets, and even handwritten copies of songs' lyrics can be sold as an NFT. Apart from each token's authenticity and ownership rights, there are no intermediaries like third-party contracts with a record label. It means that all revenue goes directly to the musician.
So apart from the increasing value of each NFT you own, you're also supporting your favorite artist when you buy music NFTs directly from him. And when you decide to sell them, plenty of music NFT marketplaces are devoted entirely to music NFT space.
Music NFT Marketplaces

Every owner of NFT music should know these marketplaces if they're willing to sell their tokens. The platforms we've chosen are trustworthy, and they have been present in the NFT market for quite some time. Happy selling!
Catalog
A mix between music streaming service and NFT marketplace. Artists can add their own records to the evergrowing open music library, where anyone can buy it for the asking price or make an offer.
The biggest advantage of using Catalogue is the fact it's 1/1 marketplace. It means scarcity is high, so even bands that released their first NFT album have a chance to make money from their songs. It's one of the best places to collect unique NFTs from your favorite artists.
Sound.xyz
This one combines streaming with minting (creating new coins on the blockchain). The platform's main feature is open listening parties of new song releases alongside regular or limited edition NFTs.
It's not limited to separate songs but also entire NFT albums and several mixes. One of the most notable hosted mixes is Soulection+, which featured 18 artists and raised 33.3 ETH.
Async Music
This platform arose from the creators of the famous Async Art. As the name suggests, this one focuses on music rather than images. Async Music provides quite a unique approach to audio tracks.
Artists can upload separate audio tracks from each song, e.g., guitar, piano, vocals, percussion, etc. They can dynamically mint music, and fans can collect a song piece by piece to merge it into one master track.
Mint Songs
If you're looking for a really wide variety of artists, Mint Songs is the way to go. Instead of a closed or invite-only platform, they are completely open, so it's easy to find aspiring artists. Their core mission is to help artists build a reliable and constant income.
It also runs on Polygon, which means it doesn't suffer from high transaction fees like other marketplaces. A great place to start an NFT journey for aspiring artists and buyers.
Mint Song Collection Marketplace link
Royal
An NFT marketplace by an American DJ and electronic dance music producer – 3LAU. It was one of the first platforms where owners got rights to songs sold on the platform. Those who collect a Royal NFT can earn royalties from traditional streaming platforms like Spotify or Apple Music.
You can also purchase NFTs using crypto or a credit card, which is a unique feature by any standards.
OneOf
This one is based on the Tezos blockchain. It doesn't allow for independent minting, but it's an excellent source for high-profile NFT drops like The Game, Doja Cat, Alesso, and many more.
Tezos blockchain isn't as popular as Polygon, but there are a few Tezos marketplaces worth checking out, like Objkt and Kalamint.
NFTs Are the Future of the Music Industry
We can't predict the exact future of music NFTs. Still, given the fact that NFT albums, concerts, and music videos are selling for thousands and even millions of dollars, it's definitely bright. It's quite a revolution in the music industry, allowing artists to be completely independent of music companies.
Whether you're an artist or a fan looking to support your favorite band, knowing how NFTs work and what they are can benefit your music business know-how, especially when you own unique digital collectibles gaining in value.