Creating a Discord server is crucial to maintain constant communication between an organization and community members. This is even more important in NFT projects, where enthusiasts, i.e., artists, investors, collectors, and holders, must meet every detail of a particular NFT project.
But beyond creating a Discord server, building a Discord community is even more critical since success depends on the confidence, reliability, and exchange of information between stakeholders. For this reason, you need to learn How to Build NFT Discord Community. In this article, you will discover it!
>>This article is a part of an article- How to Build an NFT Community
What Is a Discord Community?
Discord is a chatting platform designed for gamers, but over time has become a platform for various communities. In this sense, groups create private and open Discord communities to keep them informed about the latest news on a particular topic.
A Discord community shares common interests, and all the community and server members share only information related to those interests.
On a Discord community, community members can be part of voice and video chats, send public and private messages, and publish everything they want, as long as they respect the community's rules.
Everyone can open their own server, invite third parties to join it, and bring new members. In this sense, Discord communities are highly democratic.
So, Discord NFT communities are the same but related to non-fungible tokens and the cryptocurrency world.
Finding an NFT Community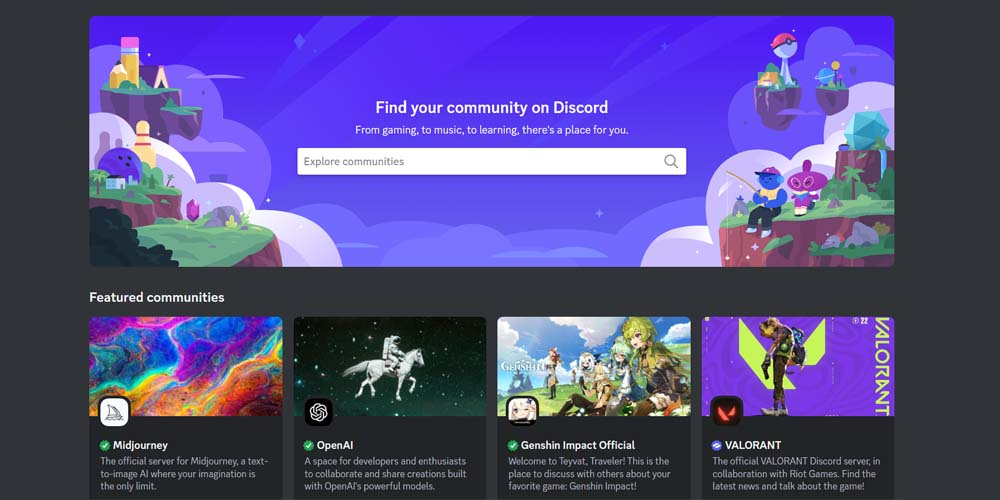 Finding an NFT Discord server is easy thanks to the built-in server search tool and involves the following:
Open the Discord app on your smartphone or go to the Discord website on your laptop;
Click the "Explore Public Server" icon located on the bottom left of the screen;
Here you have two options: find a community on Discord by typing your topic of interest in the search box, or select one of the categories you'll see, such as Gaming, Music, Education, and more;
If you find an NFT server interesting, click the "Join" button.
Some NFT Discord Servers Your Should Check
Before entering the channels your NFT server should have and the main subject of this article, we'll mention some popular NFT Discord servers you need to check.
Crypto Baristas Discord Server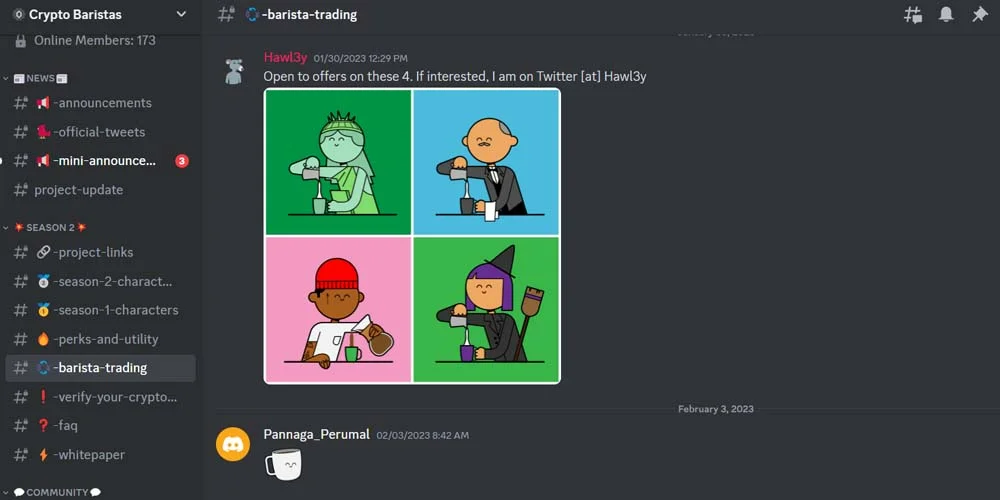 Crypto Baristas is an NFT project based on baristas and everything about coffee life. Crypto Baristas Discord server has multiple sections to organize information better and differentiate topics of interest. It integrates a section for news, where users can check the latest announcements, and a community section, where NFT enthusiasts can exchange points of view and discuss everything about the project. These channels are perfect for increasing community engagement.
MekaVerse Discord Channel
This Discord channel, like the Crypto Baristas Discord community – and like most Discord groups – integrates several sections for different purposes. In the MekaVerse section, you'll find channels for news, announcements, and Twitter interactions. In the Meka Market section, you can check Meka listings and general sales. This is the most crucial section for NFT holders. MekaVerse also has channels dedicated to supporting and collaborating with other NFT projects, artists, collectors, and more.
Flower Girl Discord Server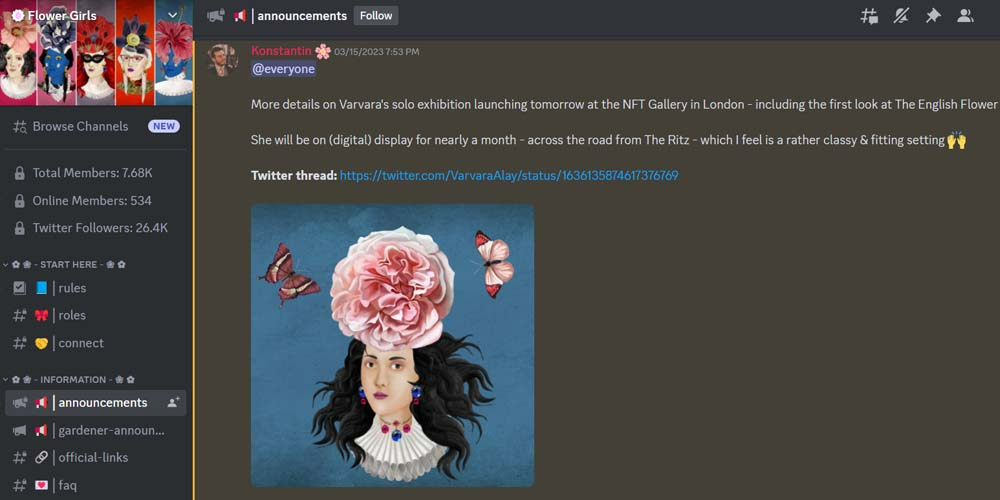 Flower Girls is an interesting NFT project containing images of multiple girls using flowers and plants as hats and customs. This Discord community has a clear section describing the server rules and roles. The channels for announcements are in the "Information" section, where users can also find FAQs and tools. An exciting aspect of this community is its integrated social media section to share the project's posts on Instagram, Facebook, Twitter, and other social media platforms.
Mutant Cats Discord Server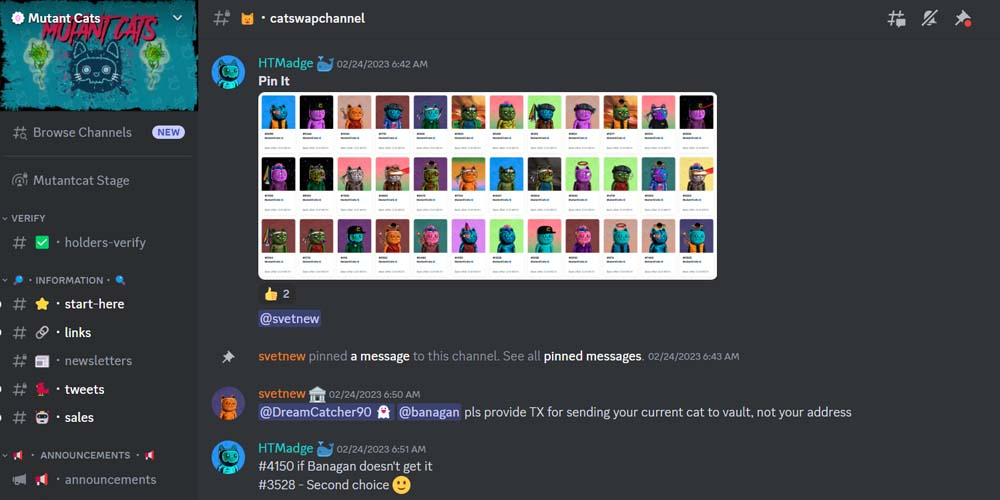 Mutant Cats is an NFT collection with multiple images of cats affected by mutations. The mutant Cats Discord community is a server containing just a few sections and channels. The main section is for informational channels of community building, newsletters, links, and sales. It also has an "announcements" section where Discord members can check news and community updates. In the "Mutant Cats" section, you'll find a specific channel for the gaming division and catswapchannel.
What Types of Channels You'll Need in Your Crypto Projects?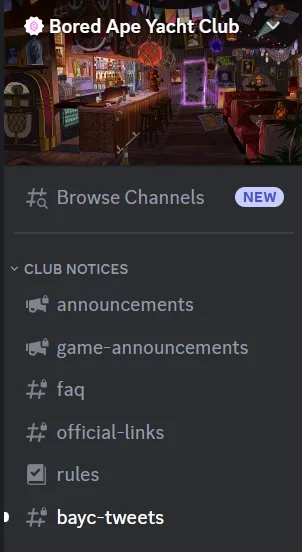 The Discord servers we mentioned above are good examples of what types of channels you can include in your community. You can always incorporate other kinds of channels, such as voice channels or channels that allow you to connect with other NFT projects related to yours.
General Information
As the name suggests, you'll organize the information channels in this section. For example, you can create stage channels for critical announcements, the project's general roadmap, creators' information, and where visitors get permission to be part of the community. It should contain the following channels.
Announcements
This is the channel where you publish and communicate the primary announcements from the team, NFT creators, news, NFT giveaways, and everything to keep the audience engaged.
Project Updates
NFT projects may change over time. Creators can add new pieces to the collection, create a new project, or start working with popular websites or NFT influencers. Every change in the project should be clarified here.
Roadmap
This is a common channel where NFT creators and managers promote their ideas for the future of the collection and other projects. In this channel, the NFT Discord team typically shares a complete project's roadmap or a link to a page or site where members can review the roadmap.
Official Links
In this channel, you share all the official links of your collection. These links must lead to crucial spaces to check different aspects of the project. NFT buyers appreciate links to the official website and news media to check interviews, articles, and social media platforms. You can also add links to the most popular websites regarding the project and NFT marketplaces.
FAQs
This is a stable section where you answer the most common questions of potential buyers and regular members. Some questions you to include are the following:
What is [the name of your NFT project]?
Who is the team?
How can I be part of the minting process?
How many NFTs will be minted?
Community
This is the section where discussions take place and where every member of the community can ask questions or share concerns.
General
It corresponds to the primary chat of the community. This is an open forum of the Discord group where all members can participate and interact with each other. Of course, always with respect and concerning the collection.
Buy and Sell
This channel corresponds to the open market of your NFT collection, where members can enter conversations about buying and selling NFTs of your project. In a few words, it is the right place where active buyers and sellers can meet to exchange resources and artworks.
Related Projects
Here you insert information about related projects of the same creators, projects you consider to help the entire NFT community, or famous projects, such as the Bored Ape Yacht Club project.
Roles You'll Require in Your Community
Discord communities boast several roles needed to manage the information and interaction between community members, including moderators and reaction roles. Let's check the main ones.
Team Role
Members of your team boast team roles. Members that fulfill this role are participants with permission to do almost everything.
The Moderator
Moderators are special members that constantly collaborate with the project. They moderate all the interactions on behalf of the NFT Discord community creators. Moderators are crucial to maintaining the community engaged, preventing hate opinions and off-topic discussions.
Members
All participants are given the role of a member to get permission to join the community. Becoming a member is the first step to ascending to other roles, such as moderator roles.
Discord Bots
Bots help you to manage all processes within your Discord community. For example, when new visitors want to join most NFT discord servers, they will probably have to pass a recognition test. Generally, a bot carries out this process, which asks you some questions about your identity. The bot may also ask you to solve a simple puzzle. Some bots you should consider are the following:
MEE6 Bot;
Collab.Land;
Dyno Bot.
How to Build NFT Discord Community – Final Thoughts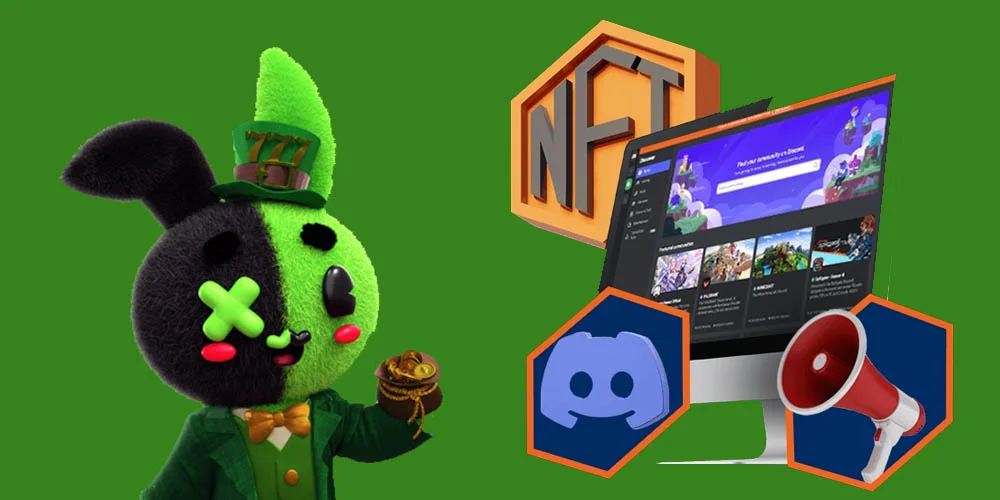 Creating an NFT Discord server is easy; it only takes time to create the Discord account, configure server settings, upload images, and create channels. The most complicated part is to engage NFT enthusiasts and call them to join your community.
To achieve that, promote your project well in social media and NFT marketplaces. Of course, your NFT project should be exciting and has excellent artwork. From there, people will attempt to go to your Discord server independently and be part of your online community.
Another piece of advice to attract people to your community is to celebrate giveaways, content, and special events for community members and make a great marketing strategy!