NFT games are becoming increasingly popular, so we've decided to add our few cents and see the fuss. And trust us, there is a lot to talk about.
The first thing you need to know is that, like everything in the crypto sphere, it's all about the stacks. NFT games are based on the play-to-earn concept, where you make money playing NFT games. The gaming world will probably agree that those are not triple-A titles, but in the end, are free NFT games that you can earn money with, so it balances out.
Of course, they're free to play, but like in the case of the famous EA blunder with Star Wars: Battlefront, you can advance faster if you use your real-life money. And then, it's all about deciding if you can earn more than you'd invest in your game. NFT crypto games are fun, but they can be competitive when the money comes to the spotlight.
If you want to play NFT games, remember to do it responsibly and respectfully.
What Are NFT Games?
As we've stated before, many games utilize NFT technology to add some earning bonus to playing itself. For example, Axie Infinity uses NFT to create a Pokemon-type creature that you can later sell or trade with other players.
There are mobile games where your avatar can be turned into NFTs; some games even have their cryptocurrency attached. There are plenty of ways to utilize this technology, and we will see how the most popular NFT games do it.
With New Year's just starting, we will consider some of the best NFT games to play in 2023. Of course, those circumstances may change as technology develops and new products come up. Some become less popular than others. In the end, play-to-earn NFT games are here to stay, so buckle up, and let's go with the list.
Axie Infinity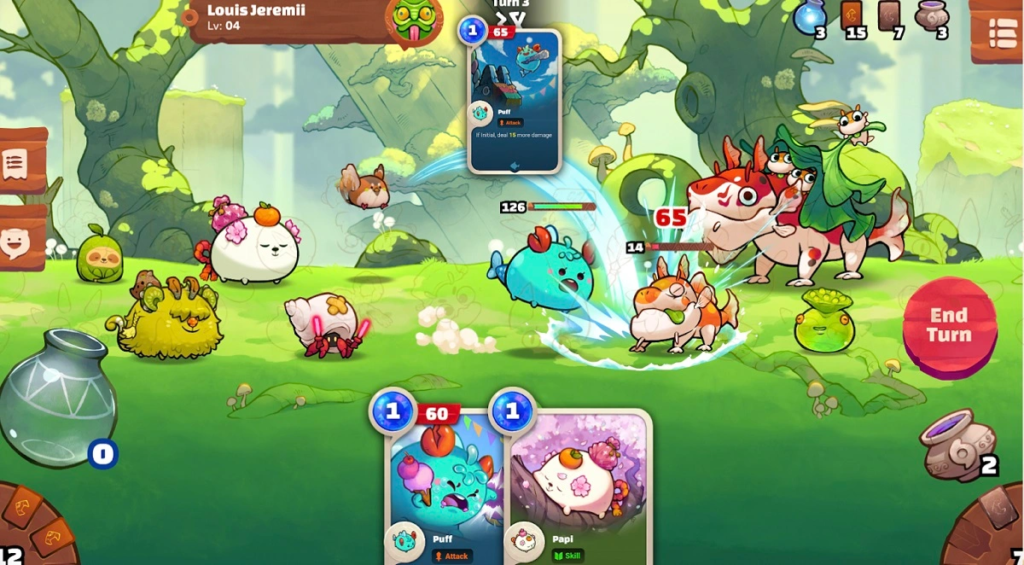 As mentioned, Axie Infinity is one of the most popular NFT video games ever created. It is the game you think about when mentioning NFT games. Work of art, some may say; some may think it's derivative from Pokemon and only a fraction of what the original was.
Well, whatever you feel like, you cannot say it's just another production with no idea behind it. At least it's what more than 2.8 million players are thinking. How does it work? You simply collect Axies, evolve and breed them, and make them the rarest version possible. Some traits are more wanted than others, so be sure to check out what are some of the most sought features.
Additionally, you earn an AXS token while you play that you can pocket and use to buy other Axies or further the ones you already have. Is it worth it? Well, the most expensive Axie costs 820 000 $. We don't know if it's significant for you, but that's a lot for 99.9% of humanity. Of course, let us not forget the 3.6 billion dollars worth of transactions made in a game.
But Is it Free-To-Play?
And before you start asking questions, yes, it is free to play. At least, in some ways, it is. Most straightforwardly, you need three Axies to start playing. The cheapest option costs around 0.004 ETH, so depending on the rate, around 8 dollars.
So it's not free to play if you don't know this unique trick! And we wanted to include Axie, as it is one of the most popular NFT games ever created. You can, for example, apply for Axie Infinity Scholarship! Sometimes, Axie Infinity players can lend their pets to other players to gather the rewards without having to play and leave a piece of it to the players.
The best way to accomplish that is to contact managers or players via Discord or Twitter. Then, you will receive access to game resources so you can start your very own adventure!
Alien Worlds
When it comes to Alien games, well, Alien Words is another one of those. But it is also an incredible space politics card game. Earn Trilium (TLM) and access the council to be even more influential in the planetary board.
It can be challenging initially, but after some time of going on missions and fighting battles, mining Trillium will be a piece of cake!
1.1 million players just cannot be (that much) wrong! So wipe out your deck, and let's duel!
Cryptokitties
Cryptokitties is one of the most popular crypto games ever created. Also – all about breeding. There seems to be a pattern there. Despite that, the game is still rocking and is one of the oldest on our list! With crypto and NFT being relatively new, you can say that it is five years old makes it a sage among others.
Well, it certainly does feel that way. Cryptokitties is an entertaining cat breeding game; each is an NFT, so you can pair with other cats and create even more NFT in-game assets.
Different cats are different; what an evident and accurate statement, after all. You can't sell an ordinary one for a reasonable price, but those scarce ones can go even for thousands of dollars! If you have a cat, there are a few to pay with Tether, but it's a small one, and the cat sale usually covers it. In the version we've played, you get the first two kittens for free, but it could have changed, as with everything in crypto. Nevertheless, the first few should be easily obtainable, so be sure to look out for those!
Chainmonsters
Chainmonsters is another Pokemon type-game. It's pretty simple; you go around, fight with Chainmonsters, catch them, go to tournaments, win those, catch some more monsters, go to the gym… well, you know the drill.
It's entertaining as it took quite a lot from an already well-developed concept, so it is no surprise that it is good enough to be played with no issues. All monsters are NFTs, so you can win pretty good prizes if you play games. You can then sell your monsters, but getting those high-value ones can be pretty tricky to obtain without some additional investment in the game. It's all up to you if you'd like to earn some crypto coins in-game. It's just a suggestion, nothing else.
Mir 4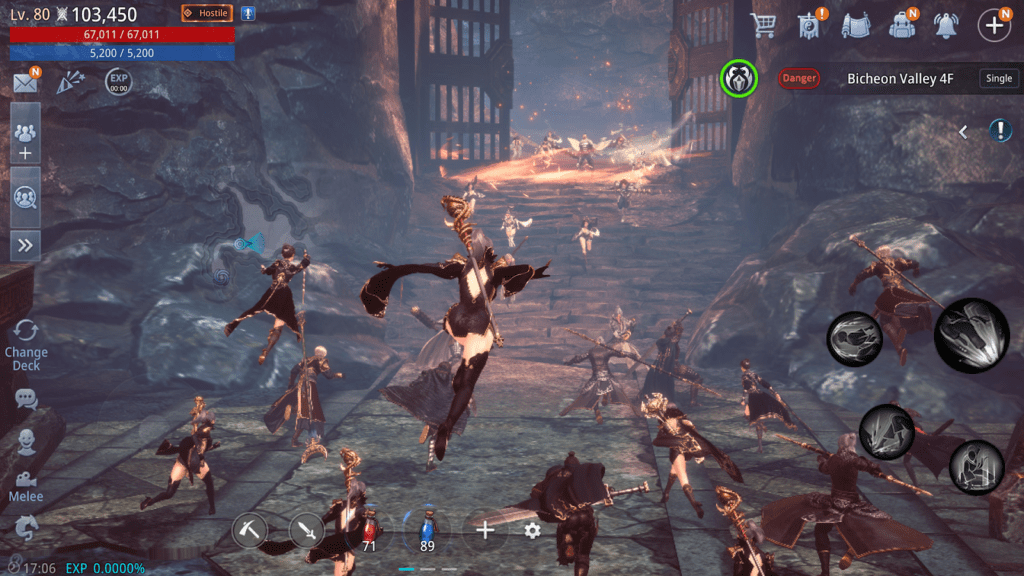 For a crypto-based game, Mir 4 looks pretty awesome, to be honest. It differs from the usual mobile NFT game quality we see here. Usually, it's a pretty legit action with some 3D graphics, nice anime-style visuals, and a pretty well-structured plot.
If you want to be impressed with an anime NFT game but also earn some money while playing it, Mir 4 is your weapon of choice.
Choose a class and fight with mobs and other players to earn Darsteel, an in-game currency. Why is it important? You can then sell your hard-earned Darksteel to buy yourself a new PC with some DRACO coins. It is one of the best examples of the NFT gaming space, so if you want to convince your friend or family that it is not a scam and you are playing games while also earning money – you can always count on Mir 4.
Tamadoge
Tamadoge is a game where you play as Doge, a pretty well-known dog in the crypto world. And as you can imagine, it took a lot of inspiration from the famous Shiba Inu. The game's central concept is, you guessed it, to breed and train your pet and fight against others.
The idea is pretty simple, and you have probably seen this one time and times before. What makes it unique is that it goes for the whole meme-crypto-game aspect. You can even get additional prizes when you are the top dog of the month!
It was one of the last few years' most interesting upcoming NFT games. The creator raised over 19 million dollars in TAMA coins.
There are three categories of dogs: ultra-rare, rare, and common. Like in most games of this kind, you climb the ranks in order to be better and better in the game itself. You can start playing for free, but, like in all cases, to really start earning money, you will also have to put some money into the game.
It may not be the best NFT game on our list, but it is indeed an NFT gaming project for which people have high expectations. We will see how it will develop in the future.
Coin Hunt World
Have you ever played Pokemon GO? Are you already suspecting it's yet another NFT crypto game that stole many ideas from the Pokemon franchise? Does it matter?
Regardless of your answers, you can still earn some coins and breath that well-needed fresh air while at it. Like Pokemon GO, you get a map with augmented reality elements that you can collect while strolling around the city, collecting keys. If you gather enough of those, you can get a trivia question. If you answer correctly, you get a reward.
It's a fantastic game if you don't like sitting at your computer all day and enjoy going for long walks through the city. And you don't even need to purchase in-game assets to be on top. It may even be the best play-to-earn game on our list.
Coin Hunt World is full of surprises just waiting for you to find them out!
Gods Unchained
Our another NFT game is a card game. But what a card game it is! It's just one of the most popular ones ever created. Well, at least when it comes to NFTs, so Hearthstone players, do not feel bad.
When you start, you get 140 free cards to get acquainted with everything, and after that – it's free for all! The best thing about this game, apart from the very well-structured gameplay, is that it immediately grants players complete ownership of all the in-game items they earn. You can then sell it or do whatever you want with it as soon as you acquire them.
As usual, in those cases, you have different types of rarity of your cards, different levels of digital assets you can get, and a lot of standard card-game stuff.
With the play-to-earn model, it gets a little more interesting, as your skills are rewarded with additional incentive to play further and be even better. Gods Unchained are a pretty fun game despite the whole P2E aspect.
You can get cards by buying and winning those in PVP games. To do so, you must summon monsters, use spells, and do whatever is necessary to empty your opponent's life bar. For each win, you get to experience that you can then exchange for a new pack of cards with each level.
The Sandbox
It looks and feels like Minecraft, but it's not. At least, the creators claim it's not. On the other hand, if every game where you put blocks on top of another block would be considered Minecraft, the concept would be Lego-related.
Anyways, The Sandbox is another big player on our list. It differs from the most popular game in the world because it is more of a platform creator than a building game.
Everything you can create can be then changed into ASSETS, which you can mint for NFTs and upload for sale. You can put one in one of the GAMES if you buy one.
The leading coin of The Sandbox is SAND. You can buy in-game items with them. You can also buy some LAND, which is short for…land. Like a real, digital piece of land. Those can be a bit expensive to get, though, but they come with some privileges too. Like, for example, letting other people build on your land, so the economic cycle continues. Moving on!
Splinterlands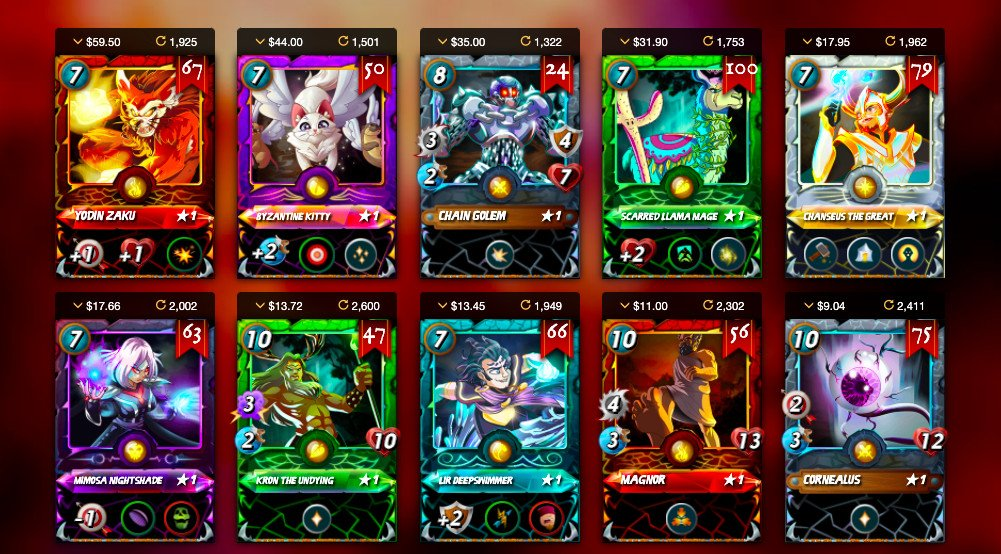 Splinterlands is another card game on our list. A bit more on the wacky side of things. It's free-to-play, but if you want to get into earning, you need to spend $10 to buy Summoner's Spellbook. You can't trade this later in the game; it's a one-time purchase that allows you to get into the weeds of the Splinterlands.
As usual in these kinds of situations, each card represents a different value, different man cost, rarity, and everything. If you acquire rarer cards, you can get even better ones. You can also trade cards with people or even rent them. Or sell them in most marketplaces that have NFTs.
Additionally, you can win prizes by participating in tournaments and ranked games. People tend to point it as one of the better-structured NFT games. You can have fun, win rewards and pretty much do anything that you do with traditional gaming titles.
It's definitely worthe checking out! One of the more fun games on our list!
Sorare
So rare! Get it? Well, if not, do not feel ashamed. It took us some time as well to crack it. Sorare is a fantasy football card game, as one would predict, that allows you to create your very own best squad. You can play with other managers during tournaments with real-life players' cards.
Not only that, the points you earn in this game are based on each player's real-life games and performances. So, if one of your favorite game genres is card games, and your favorite sport is football, then you can be more than sure that this game will rock you to your knees.
Of course, there are different types of cards that you can trade on NFT marketplaces or keep for yourself to increase your chances of winning tournaments. You would not let go of a unique Mbappe, wouldn't you?
As usual in those games, it's pretty cool and free to start, but if you want to make some strides in the game, you must make some in-game purchases.
Lucky Block
Yet another inspired game for the NFT gaming platforms! This one is familiar to all enthusiasts of Candy Crush-type games, Bejeweled, or casino games.
The main difference when comparing these games is that while playing Lucky Block, you can also win Lamborghini Aventador. Yes, it's an accurate price in the game, just like a 1 million dollar house. Well, to be honest, it's unlikely to get one of those prizes, but it's a possibility, nevertheless.
The central concept is this: every competition starts with a new Lucky Block NFT collection. You play games, and the winner is picked at random. Hence – the lucky block. You can purchase tickets with the LBLOCK token (there are two of those, so be sure to choose wisely). You can also play for free but without the ability to get any prizes.
As it is a casino-type game, enjoy it responsibly and never enter the competition with money you don't have.
Guild of Guardians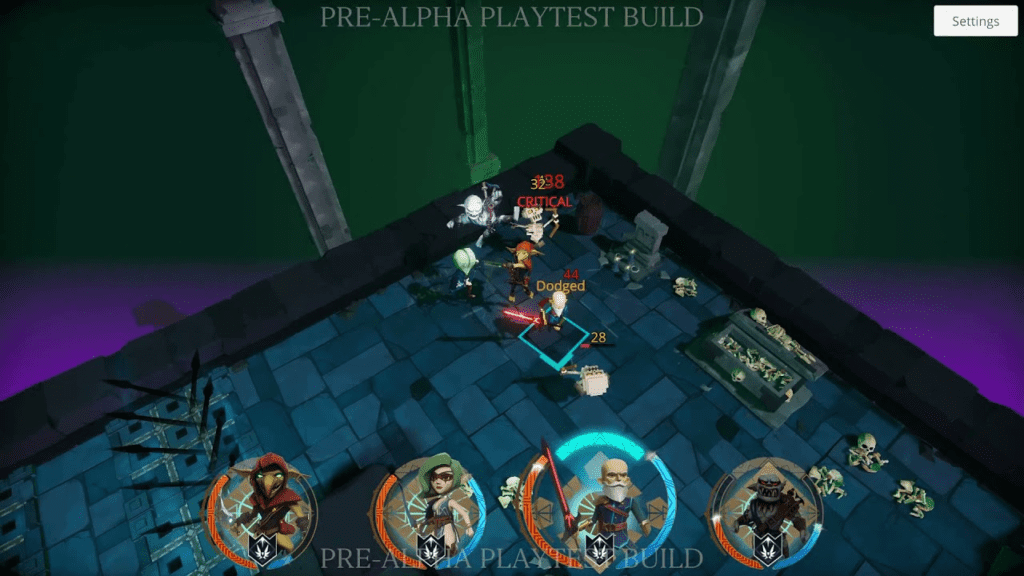 Some say this is the single best NFT RPG mobile game. You create a team of guardians and fight with others to get the best (NFT) rewards this world has to offer!
You just have to log in and get the free hero that you can later develop into a powerful beast! The first one is free, but you can't sell it. You can get additional ones by playing with or buying them on the market. If you have a lot of heroes of the same category, you can combine them into one evolved hero.
Additionally, you can mine resources, sell them, do daily tasks, and just be good at the game to compete with some tricky bastards. It's one of the most exciting games, as you can see how much effort was put into creating this. It's not your everyday mobile game that someone did after hours for a few bucks; it looks and feels like a legit title.
As usual, in those cases, you can't get much ahead without getting more advanced heroes. It is, after all, play-to-earn, so it has to be at least a bit pay-to-win. Guild of Guardians is definitely something to look forward to playing. And if you can earn some money while doing so – it's a bonus that no one will complain about.
The Parallel
Another great addition to the card game community. The Parallel is much more than that, though. If you remember the old and gold Ogame, you may get similar vibes to this one. The best thing about this game is that it allows you to feel like you're a part of the more extensive community. It's a metaverse full of space exploration and possibilities.
NFT elements in the game are called Paragons. They can be acquainted with Runes that form the building blocks. They influence your attributes, power, earning yield, runic energy, and many, many other resources you have available in the game.
You start with The Rune Hunter Series, which introduces you to the game's universe, plot, and how to earn money.
Unlike many games on our list, this one is all about the vibes it's sending out. It also has something that many new games lack: a deep and intriguing universe that is still yet to be discovered.
PirateXPirate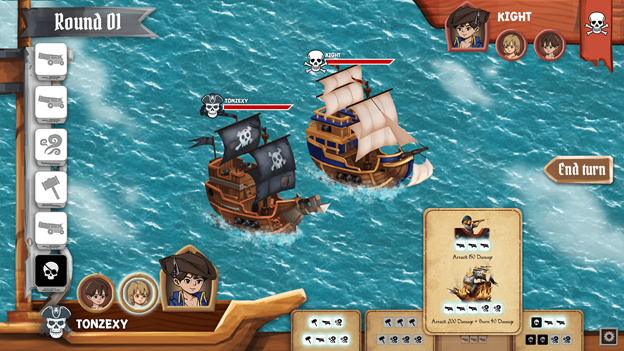 If you ever wanted to be a pirate while also earning crypto coins simultaneously, you must have had many weird dreams during childhood. Nevertheless, those can come true now with PirateXPirate! It's a brand new NFT game that utilizes PXP tokens to create the best pirate experience you will ever have (in the NFT game).
For starters, it looks stunning with great drawn graphics and well-structured gameplay. The concept is pretty simple – you unlock other parts of the pirate ship and fight with others to be the very best like no one ever was. You must choose the ship, the crew, and everything that may enable you to get a giant ship with even better crew.
The fighting system is based on dice, so be sure you have a lot more equipment to "dice off." It's a mechanism similar to what you might have seen in RISK of all games. The game feels rewarding, and to this day, there are not many good play-to-earn games like that.
Unlike others, it does not feel like it only wants your money but also gives you some fun experience. One of the more exciting blockchain games, for sure.
Illuvium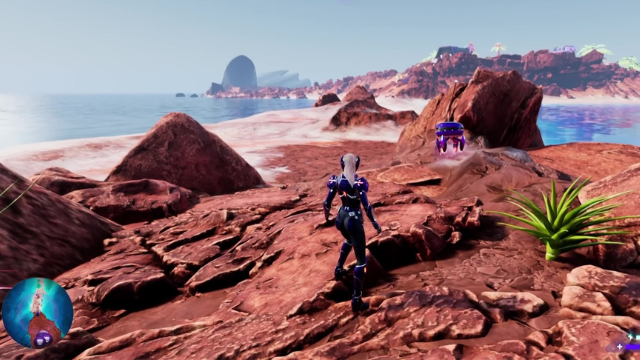 This game has everything that many NFT games strive for and is also polished to perfection. It has an open world where many people can play at once, in-game transactions that matter, and play-to-earn features that feel immersive.
Also, we have our old friends collecting monsters plus card game combo that we all know and love. The game looks astonishing, at least from what we've seen in the gameplays already published, but it takes NFT gaming to a completely different level.
Players go around this open world and collect Illuvials, creatures with unique abilities. You can train them, level them up and sell them if you want to. Of course, you can always set some of them free for no apparent reason, as every good Pokemon trainer would.
And after collecting all those monsters in your pocket, it's time for a duel! This looks much more simplistic, like a fighting scene from Heroes of Might and Magic 5. You fight on the Leviathan Area against other players or monsters to win prizes and get fantastic NFT cards.
Will It Change The Industry?
It is probably the closest to an AAA game in the crypto world. We will be waiting for this project to develop further as it is still in the beta-testing phase, with only some people being able to get into action. Traditional games – watch out, there is a new one in town!
Despite everything that people are saying about P2E games, as they can sometimes be a tad simplistic, this is definitely not the case in this one.
P.S. There's also a free-to-play element of Illuvium called Illuvium Zero, a city builder, where you create your alien city. It's fun; you should check it out if you like those games.
Battle of Guardians
It's a fighting game where you can get in-game rewards. And it is built on the Unreal Engine. It's something for sure.
For starters, it is a unique game on our list, so it's only fair that we would take some time to explain it in more detail than another hatching game or card one. In Battle of Guardians, you pick your character and fight with other players. There are multiple arenas, players, and moves to get your opponents with.
Story
The game's story is something you only see in the gaming industry and anime. A long time ago, people lived with Guardians, a godly tribe that protected them. Unfortunately, technology started to replace the once-beloved Gods, and people started acting like Guardians were not necessary anymore. So they left.
After a few thousand years, humans decided – oh well, what a jolly morning, let's open the gates to hell. And so they did. As you can predict, opening gates to hell can have severe consequences. Like whipping most of humanity. Fortunately, Guardians returned and are now fighting in Mortal Kombat-style duels with demons.
Modes
There are a couple of modes you can play. The first one is a story, pretty self-explanatory, you fight with demons, 25 stages, and after each one, you get some in-game currency. The second is Arena, PvP random fights with rewards and rating upgrades after each win. The last is a Bout, a tournament where you fight with other players to get some big bucks.
STEPN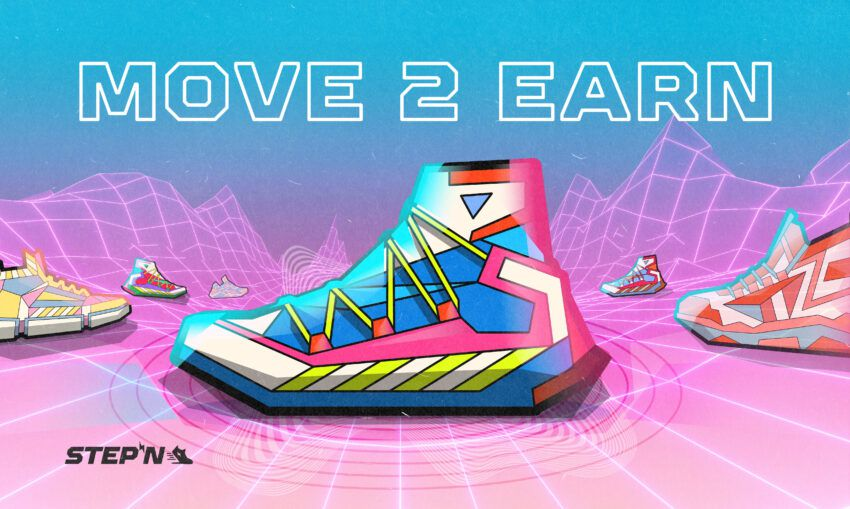 STEPN is another game on our list that combines real-world activity with earning money in the crypto sphere. How does it work? You can make some rewards if you walk, jog, or do whatever involves moving your legs. It uses your GPS location to determine how much you have moved.
There are multiple ways that you can participate. You can be either a jogger, walker, runner, or trainer. Then, you can put on some sneakers. The better sneakers you have, the more points you get with a special multiplier.
It is good for your health and wallet as you earn prices by moving around. It is one of the top NFT games with a cap of 375 000 000 dollars, so there is much potential! You can exchange your sneakers on the market for an NFT or earn the in-game cryptocurrency by doing daily tasks and improving, among others. It's an adventure game among new NFT games!
Idle Cyber
Idle Cyber is an exciting frontier defense game based in the year 2088. Everything changed after Judge Days when people started fighting with Termin Cyborgs and building great walls to protect themselves.
To save humanity, you need to protect people within those walls and kill all the Cyborgs. You lead a squad of mutants. Their code name is Cyber Defense.
So, you know, a pretty basic Terminator plot, but also – a pretty good game. It's a frontier defense with RPG elements and many possible ways to earn crypto during the process. It is not the best on our list, but it's developing. If you are a fan of these kinds of games, it does not disappoint, that's for sure.
Decentraland
Decentraland is a game in the same sense as The Sims or other similar titles. It does not have a higher goal or anything; it's a place where you can chill out, buy land, develop it, create a world, and just feel like you're at home in this metaverse.
It's a place where people come to talk, buy stuff, and earn crypto. Games like this are really for everyone. Mainly because if you have a piece of land in the game, you can put whatever you like there. You can create your own game on the Decentraland property or sell other games while in this game.
It's an ultimate metaverse/crypto/open-world experience for sure. One of those rare times when virtual reality platforms can get connected to real-world initiatives. Like opening your pineapple store or selling t-shirts online.
Zed Run
Next on our list – Horse Racing! We can see from your reaction that you did not expect that development. Well, neither did we. Zed Run is one of the more exciting titles in the sphere, especially if you are a fellow horse racing enthusiast.
You can buy new equipment and horses, train them, give them upgrades, and do whatever you can to win races. And if you win, you earn rewards that you can use to upgrade your horses and get even more money from your virtual pets.
The game is pretty advanced and set in the future, so these are not everyday horse races you may encounter in a more traditional game. This is horse racing in the future. That changes things.
If you like unusual racing games, definitely give this one a chance. It's very well-crafted.
Blankos Block Party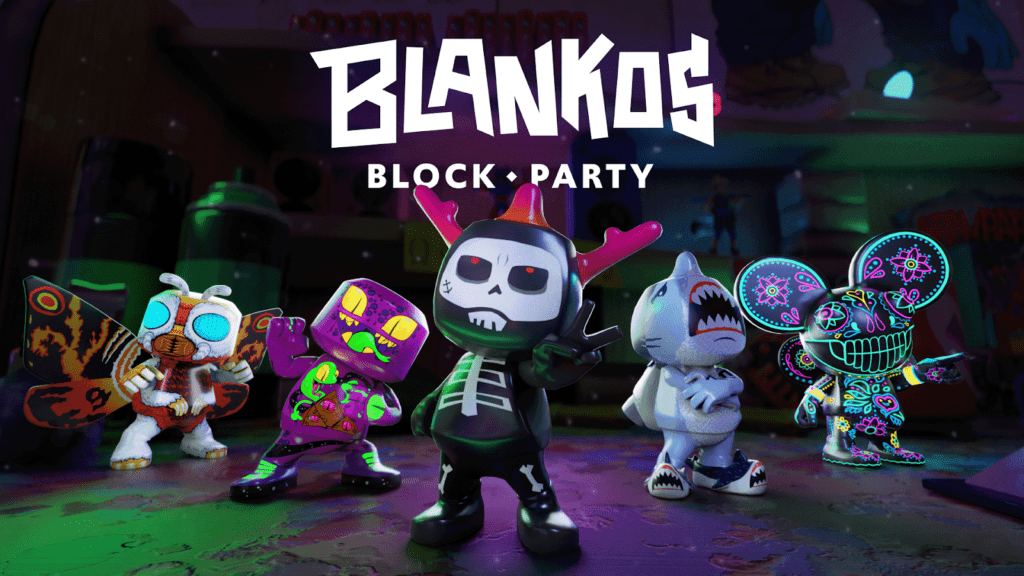 Meet Blankos – humanoid types that are ready to do everything. This one can remind some players of a little game called Fall Guys. When it comes to its gameplay and design, it is heavily inspired by the famous production that makes the waves a few years ago.
What is different about this one? Blankos can have other in-game perks that will help you in dire situations.
It's very well done, developers did not take any shortcuts while making this game. It feels organic. It has excellent gameplay and creatively-designed characters. Even though they do not have many differences, you can see which and even guess what some of their abilities are.
It has a lot of heart to it. Earning crypto is a lot of fun with those little guys running around. You get prizes after each win, and if you manage to get one of those rarer Blankos, you can also sell them on the NFT Marketplace.
Best NFT Games Free-To-Play – Conclusion
We've come a long way, but we are finally concluding. Thank you for checking out our article on the best Free-To-Play NFT games. It was a pleasure creating it for you, for sure, as some of those games are already great or look promising for sure.
In the beginning, all of those games were pretty basic, but they are getting better and better. Graphics, sound design, music, story, everything gets better each time. Of course, there is an overwhelming amount of hatching or card-collecting games because those are the easiest to monetize. In the end, those games are created not only to entertain people, but also to make some money so the creators just had to go for the most obvious strategy in order to create some sick NFTs with different rarity to them.
But we also get some creative ones and even some games that go in a different direction artistically. So, if you are still unsure about this gaming industry, give it a shot. The worst that could happen is that you will play a sub-optimal game. And that is not that bad of a thing after all.
If you want to learn more about the crypto world or NFTs, please check out other articles on our site. We have a lot of information on various crypto-related topics, so feel free to browse through those. Anyway, we hope you had a great time, and we will see you at the next one!