Cryptocurrency has emerged as a rapidly growing market in recent years, and with it, the need for discussion and analysis has also increased.
That's why Discord, a popular messaging platform, has become a go-to platform for crypto enthusiasts to:
Connect
Share information
Discuss the latest developments in the crypto industry
Discord servers dedicated to cryptocurrency offer a wealth of information and resources for traders, investors, and blockchain enthusiasts alike. They are a hub for analysis, market insights, and real-time discussions about the latest news and trends in the crypto space.
Whether you're a seasoned trader or a newcomer to the crypto scene, joining a Discord server helps you stay up-to-date with the latest crypto and blockchain technology while connecting with like-minded individuals.
This article covers how you can find the best crypto trading discord community. We explore their features and what you can expect when you join.
The perfect discord server for you awaits!
What Is a Crypto Discord Server?
A Discord server is a community where people speak about multiple topics – usually gaming and crypto trading ideas, transactions, and news.
The platform has a massive 6.7 million active servers you can join; a big part of them are crypto-related groups. Each discord group has:
Unique admins and staff
An established set of rules
Steady user flow
Servers have channels and chat rooms where you can speak to people and discuss group-related topics. Most crypto discord groups have sections like:
Non-fungible tokens
DeFi
Trading signals
Crypto coin exchanges
Crypto markets
Crypto ecosystem
Educational resources
Still, crypto discords can have other channels based on their rules and topics.
Overall, communities in the crypto world are consistent and engage for hours. This makes crypto servers a great place to discover crypto projects and good trading strategies. Some famous crypto personalities and companies join them to keep the community close.
Benefits of Joining Crypto Discord Servers
The best crypto discord must be helpful, easy to navigate, and with people willing to network. Conversations should be valuable and give insights into the cryptocurrency market.
Let's break them down:
Updated Information About Current Crypto Events
A crypto Discord group is an endless source of information. You can find data about trade signals and exchange opportunities.
The right online community would have content about new crypto events to help you determine where to invest and choose entry and exit points to get profits. These servers are key contributors to the crypto nation.
As all things crypto are constantly changing, a cryptocurrency Discord server must provide updates on crypto-related topics.
Intuitive Navigation
A good Discord server is easy to navigate through. The platform has lots of information, so it's already hard to do. You can easily lose track of conversations, which would be crucial if you're reading a technical and fundamental analysis to make a crypto investment.
This is why Discord groups have multiple channels. You can use the groups' left navigation bar to find channels dedicated to what you're looking for.
For example, if you want to read crypto-related information about risk management, find a Discord channel called "investments" or "personal finance."
Networking Opportunities
The best crypto Discord server has an active community in the cryptocurrency world. Here you can discuss and learn about exciting topics and find people with the same goals as you have.
Talk to people and ask questions about the information you want to learn. For example:
Investing
Trading
Technical analysis
Technical indicators
Free signals
But there aren't only people from the trading community here. You could also find influencers who provide detailed information about their strategies and share educational material with crypto traders.
If you have the expert advice of active traders, start threads and meaningful conversations about crypto topics that engage people and make them interact with you. Get the attention of those personalities, which would lead you to have more serious discussions.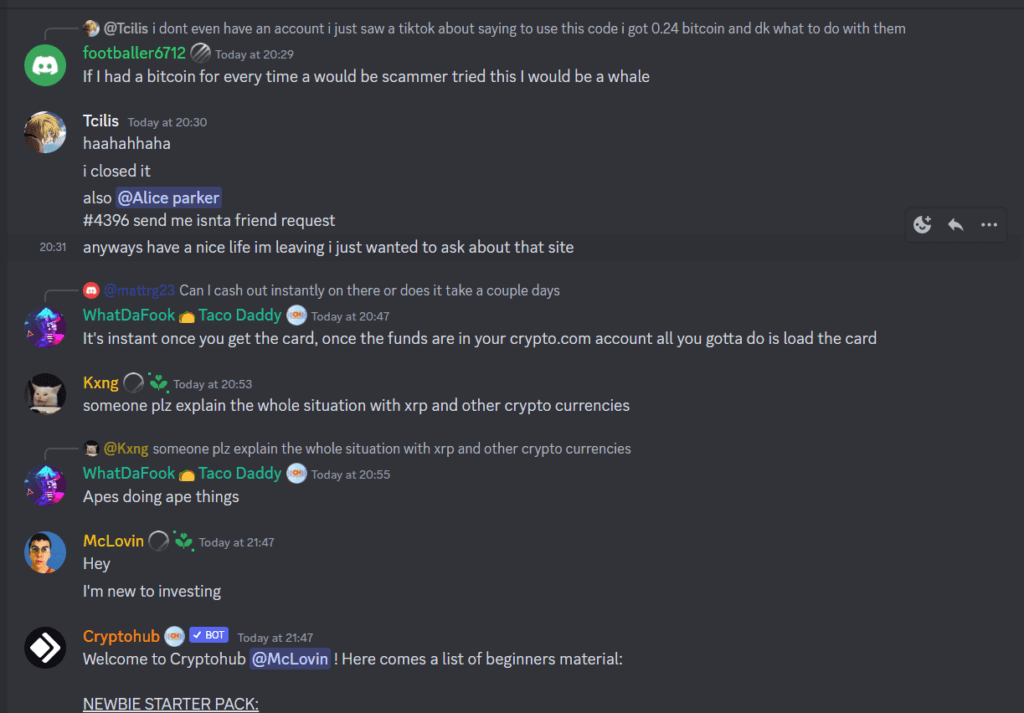 [Optional] VIP Access
Some Discord servers have a VIP area that people access with a premium membership. This is similar to the affiliate system you can also find.
You can find VIP memberships on a trading group focused on yield farming and investment advice. Member groups must pay to access the best signals and channels where serious traders discuss solutions.
You may even fraternize with crypto whales if you access the right Discord channels.
Considerations When Looking for a Crypto Discord Server
Now that you know the reasons for joining the best Discord servers, what should you look for?
A helpful community and an easy verification process are important. You must also consider the fan base, knowledge access, and daily activity in chat rooms.
Here are the detailed considerations you must follow to find the best public or private servers on Discord:
Followers Size
Find Discord servers that have a large community and active members.
This will help you have various informative discussions with other users, which translates into:
Discovering more about decentralized finance and market updates
Gathering information about pump signals and the current bear market
Using an open platform to find digital assets opportunities
A massive following base means people trust what the server does and says. Use the huge community to measure how reliable the community is.
Knowledge Diversity
Whether you have experience in the crypto community or not, you should know if a Discord server has new and old members.
This means that group members are friendly and you're dealing with a welcoming community. New users have the knowledge to share and vice versa, so try to open discussions with them to get insights about upcoming trends and more!
Online Activity
Discord private and public servers have something in common, they require activity to be valuable.
Whether to get information about digital currencies, retail funds for future investments, or further assistance, the longer common, premium, and other VIP members stay online discussing detailed analysis and trading opportunities, the better.
USP Matters
You shouldn't join a Discord server just for pleasure, especially one that takes place in the crypto market.
Why?
You have community members that do anything in their power to make informed decisions and drive the rest in the right direction for investments. They share knowledge, timely news and have similar interests.
Each person has something of value. And you should be one of them too. Whether it is knowledge, strategies, or in-depth analysis capabilities, try your best to give something back to the community.
Channel Diversity
A good server features multiple channels where other members discuss relevant information for you.
Let's say you're wondering what the current ADA price is, what is the newest Satoshi's exchange, or what's happening to the Ethereum-based community. In that case, you can quickly go to the proper channel.
Extra Features
Various Discord servers offer extra features for an additional payment. Premium members would get special consultations, unique trade signals, etc.
Some other servers use features as rewards.
Best Crypto Discord Servers
We have gathered the best crypto Discord servers that you could enter to. So, whether you are a new crypto adept or an experience trader, you'll find the best for you!
Elite Crypto Signals
Elite Crypto Signals is a classic crypto Discord server you would go to hear topics related to the cryptocurrency world. Some of their founding members have been in the industry since 2012, which makes it a great place for people with a market knowledge base.
It's focused on early investors and provides trading signals based on technical analysis.
You can access it for free and interact in the general chat, but if you want to make profitable results, you must go for premium access. You won't only get access to the premium channels, but you'll also:
Find new and accurate information about trades
Receive daily trading signals
Talk to over 200 experienced analysts
This pass costs $40, so if you're looking for a place to profit with specific coins, this server is for you.
Cryptex Commonwealth
The Cryptex Commonwealth community is centered on giving information related to long-term investments. It's a group similar to Mega Signals, but it allows new members to enter.
This is not where you would like to be if you're interested in short-term projects. Instead, it's great if you:
Want to be with cryptocurrency enthusiasts
Learn about the latest happenings
Receive mentorship from members on several channels
Read technical analysis with timely information
Join the Cryptex Commonwealth community!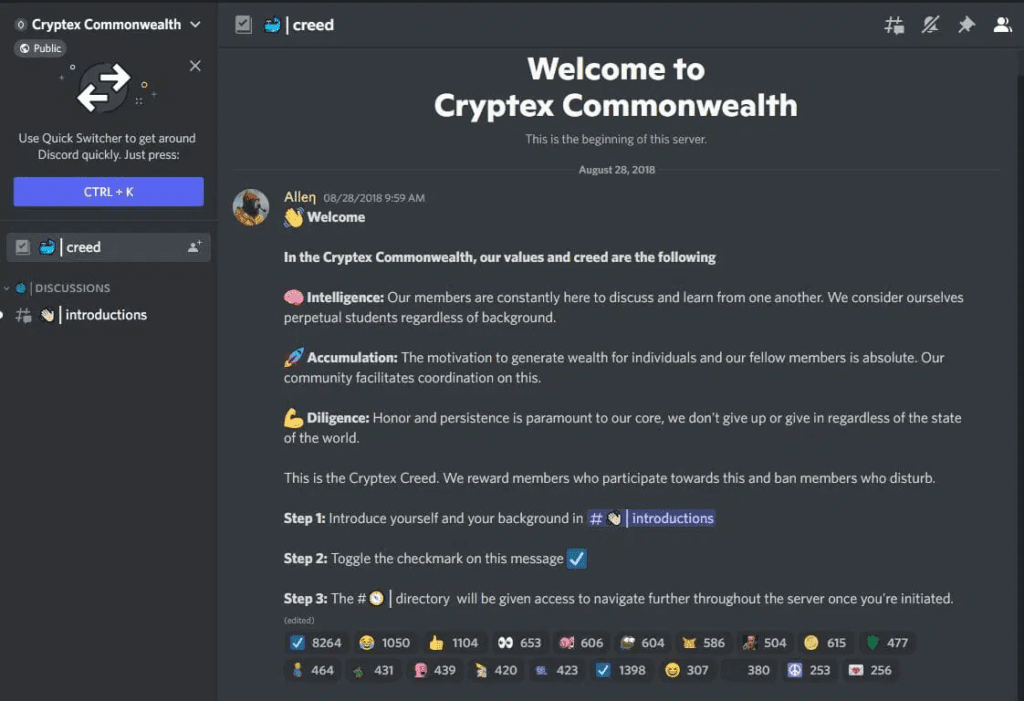 Axion Crypto-Community
The Axion Crypto Community Discord has an average of 4000 members active daily and 56,000 in total. This big family keeps growing and includes members from different backgrounds.
Entering this community gives you several benefits, such as:
Join a thriving community where members share reliable information
Receive good entry and exit point signals to make profits
Receive crypto trend notifications
Access to a crypto hub with free knowledge
You can also access VIP subscriptions for $20,99, which grants you on-demand analysis and premium chat access with like-minded people.
Join Axion Crypto Community now!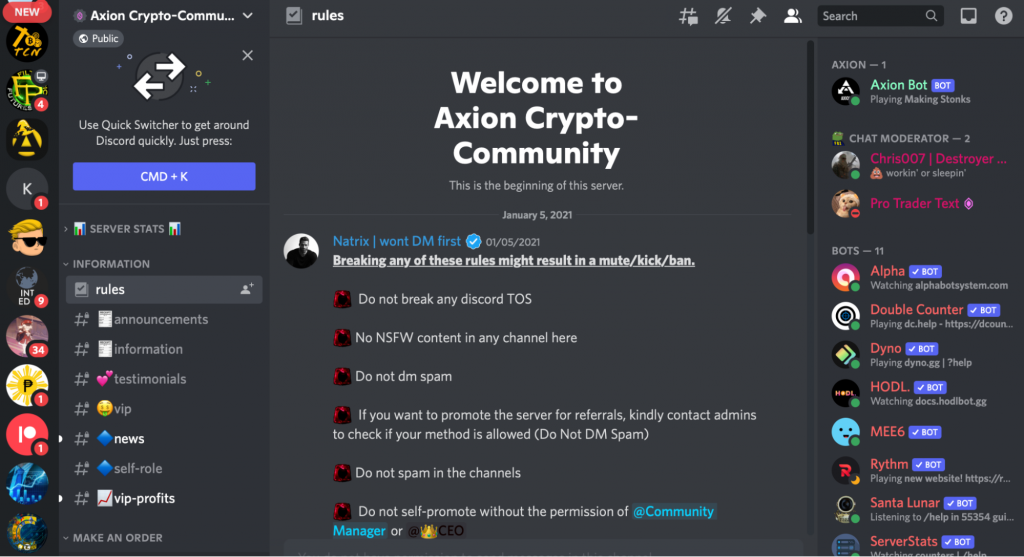 Spacestation
Spacestation is one of the oldest and largest communities that started as an ETH server. It currently holds 15,000 members that are constantly discussing all things cryptocurrency-related.
By joining this community, you'll:
Learn about the latest trends in ETH and other cryptocurrencies
Discuss topics like ETH miners current market, or similar topics
Instead of investing, this community provides knowledge on different topics related to crypto you could use.
Join the oldest ETH community created!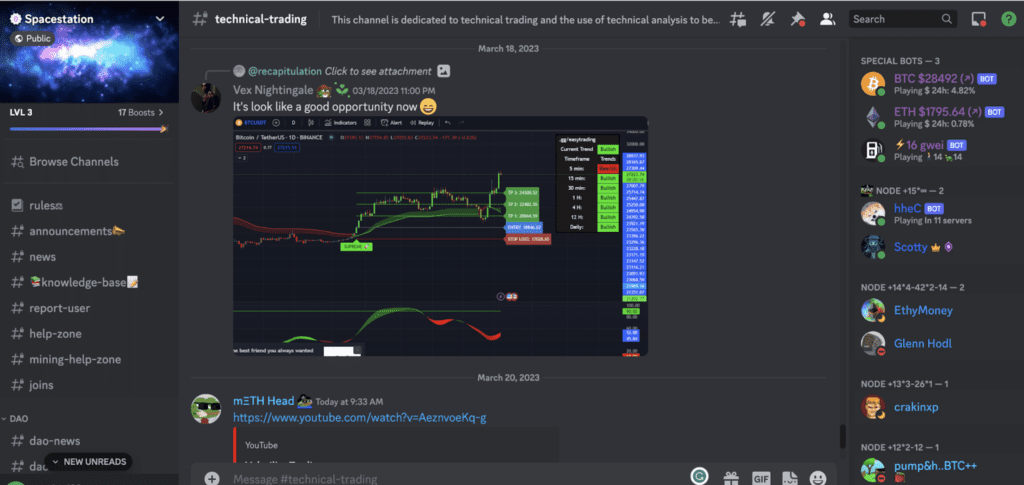 Cryptodra
Cryptodra is a 2017 crypto community that uses derivative markets, data-driven information, and order books to generate insights about the crypto market.
Members in this group are expert traders and focus on providing key signals to sell or buy. It currently holds 2,000 members and has a premium feature that allows you to improve the signals' quality.
Access Cryptodra now!
R/cryptocurrency
This Discord crypto group started as a Reddit channel. But after its success, it expanded to a more technological platform — Discord.
Its channels constantly change and add new features to free and premium users. Admins created an excellent platform that:
Uses bots to replicate current crypto coin prices
Deliver announcements
Established a level cap strategy. The more level you have, you'll unlock channels for more serious conversations
Provides charts and technical analysis
Gives free resources
It's not a bad community to start with if you're beginning in the crypto world.
R/cryptocurrency awaits you!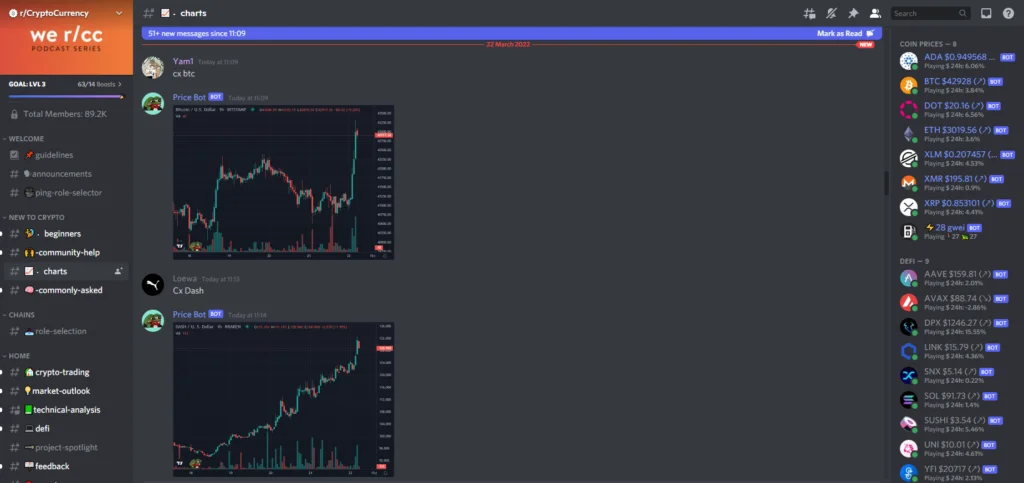 Wallstreetbets
The Wallstreetbets crypto Discord server is a unique group. It became famous for taking advantage of a Wall Street movement that made millions of members.
That's when everyone wanted to be part of this server, and it currently holds 563,000 members, with 37,000 average users online discussing a huge amount of information.
Members receive access to multiple channels that include entertainment, investment, fitness, and hobbies. You can also access a premium subscription to enter exclusive channels and other benefits.
Join Wallstreetbets now!
The Crypto Nation
The Crypto Nation is a popular Discord group dedicated to discussing and sharing information about cryptocurrencies, blockchain technology, and the digital asset market.
It has 1,145 members and a mix of investors, traders, developers, and enthusiasts who share their insights, knowledge, and experiences in the fast-paced world of digital assets.
When you join The Crypto Nation you:
Get access to a user-friendly group with members who love to learn about crypto
Solve real-time questions about trading and the crypto market
Find networking opportunities
Access to a limitless source of information with guides, how-to's, and more
Join The Crypto Nation!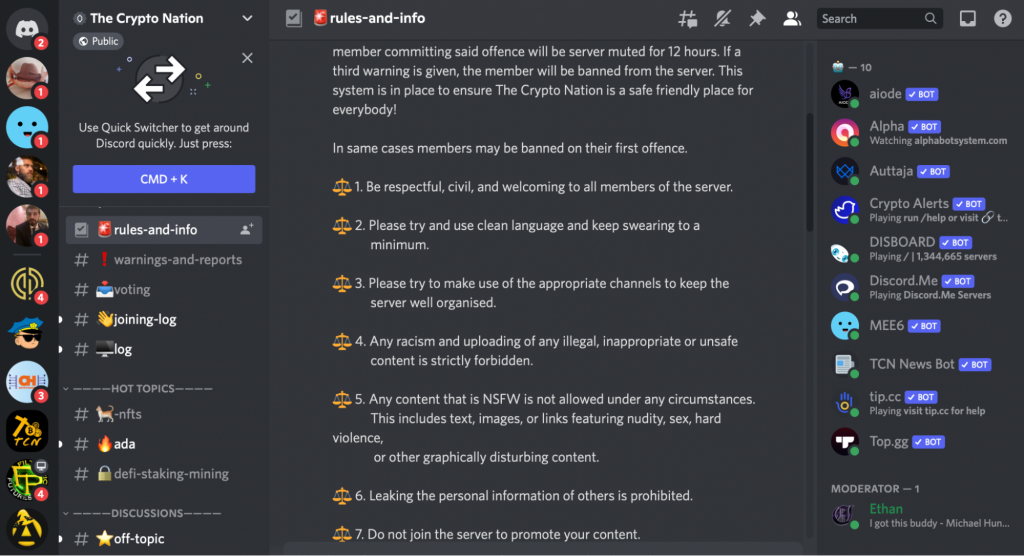 Cryptohub
Great place for new enthusiasts who want to learn more about the crypto world. With 22,300 users and an average of 1900 active members, this is one of the largest communities of NFT enthusiasts.
The server gives you:
Guides about trading and exchange knowledge so you can understand all they will discuss in the channels.
Trading signals on futures
Occasional giveaways
It also has APY, NFTs, memecoins, and other benefits for premium users, which you can access for $15/month.
Join Cryptohub!
Filthy Rich Futures
This Discord server is focused primarily on futures trading within the cryptocurrency market.
Members can expect to find discussions on trading strategies, technical analysis, and leveraging techniques.
The Filthy Rich Futures community includes experienced traders and analysts who share their insights and trade ideas, which may benefit those looking to improve their futures trading skills.
With 17132 members and 1330 users connected daily, Filthy Rich Futures is a must-have to become an expert in crypto matters.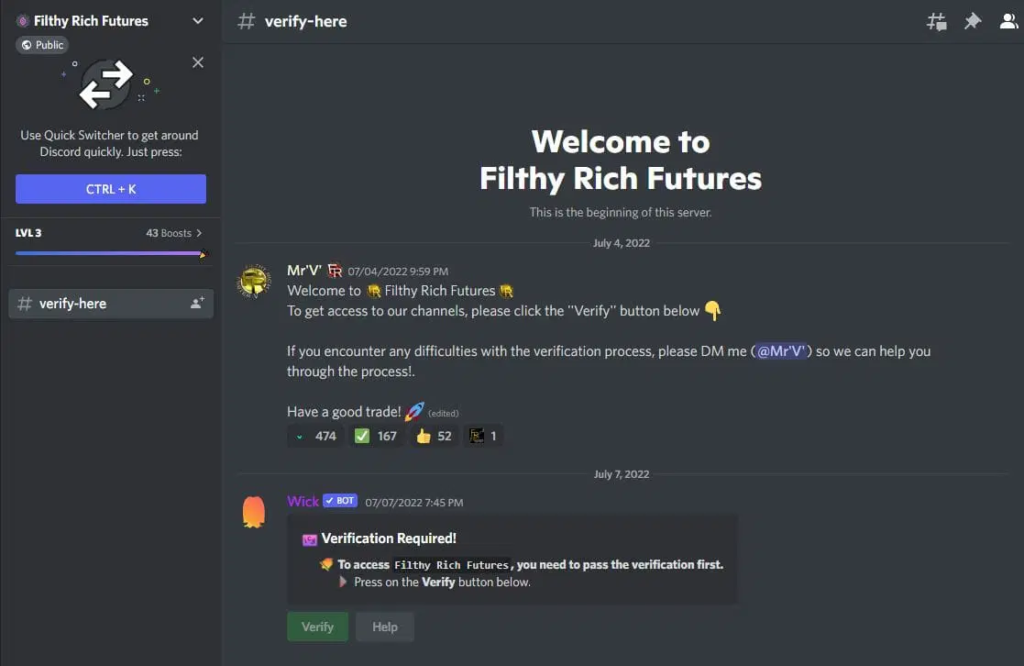 Larva Labs
Larva Labs is a well-known digital art studio that has produced some of the most famous NFT projects, such as CryptoPunks and Meebits. You are probably new in the industry if you haven't heard of them.
Their Discord server is a hub for NFT enthusiasts, artists, and collectors.
It's a place to discuss the latest news and trends within the NFT space, share experiences, and discover new and upcoming projects.
The community welcomes experienced collectors and newcomers to the NFT world.
Join Larva Labs now!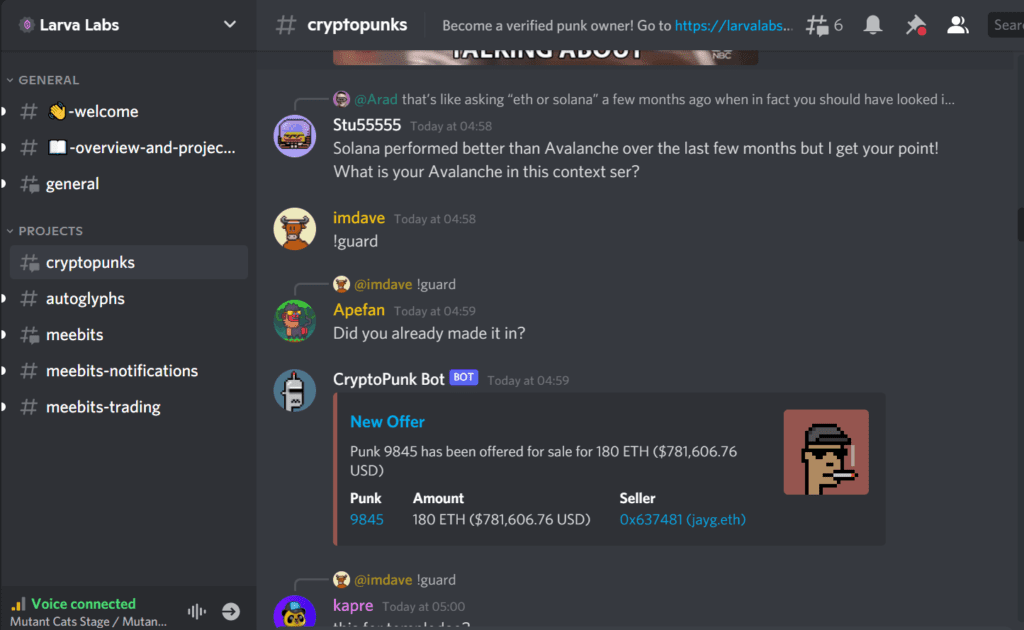 Cracking Crypto
The Cracking Crypto Discord server is a community of almost 13,000 members focused on providing educational content, trading signals, and market analysis for the cryptocurrency market.
The group's moderators and contributors are seasoned traders who:
Share their knowledge of trading strategies
Risk management
Technical analysis
Members can expect a supportive environment to learn and grow as crypto traders.
Join Cracking_Crypto now and be part of intense conversations!
Mylol Crypto Community
Mylol Crypto Community is a diverse group of cryptocurrency enthusiasts – similar to Big Pump Signal – Bitcoin Investment Group – where you discuss various aspects of the crypto world, including trading, investing, mining, and project developments.
It's an excellent place for beginners, experienced investors, and developers.
It's the server where you can discover a friendly and supportive environment for learning, networking, and discussing the latest trends in the cryptocurrency space.
Join 1206 members in Mylol Crypto Community now!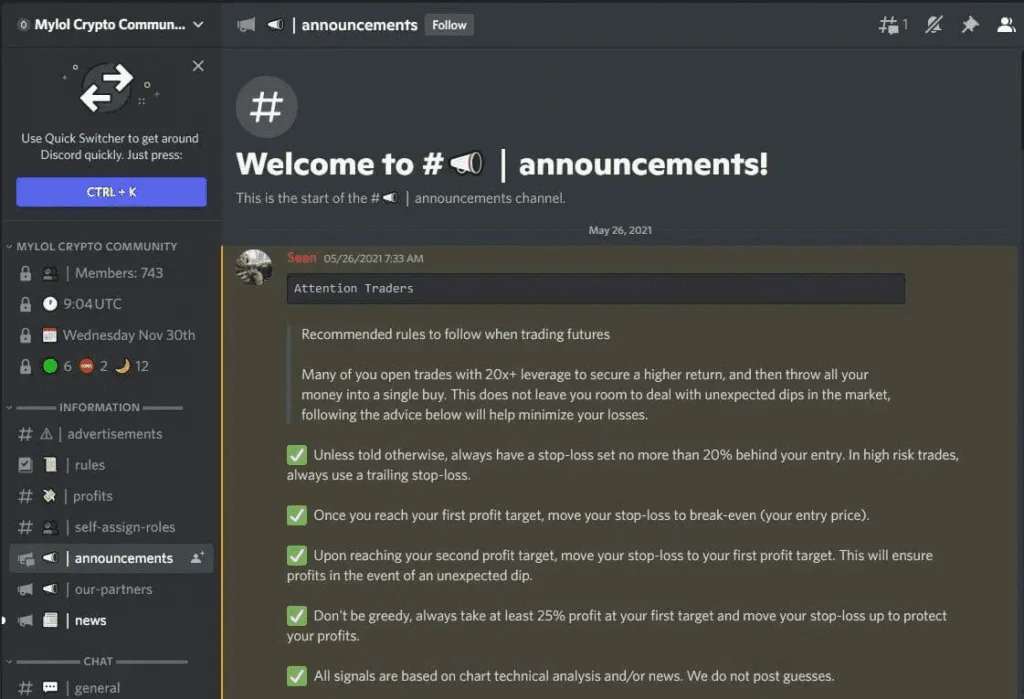 Best Crypto Discord Groups – Summary
Finding a reliable and informative community to engage with as a cryptocurrency enthusiast can be a game-changer. Based on our experience and community opinions, we have listed the best crypto Discords that offer a balance of expert insights, valuable resources, and a supportive community.
The right Discord cryptocurrency groups have active and friendly users to help you navigate the ever-evolving crypto market.
In the list above, experienced traders and investors are willing to share their knowledge and insights into market trends. You'll also read up-to-date news, cryptocurrency analysis, and opportunities to collaborate on research and investment strategies.
Try these crypto communities and gain access to top-class knowledge!