NFTs are getting deeper into the fashion industry. Big brands are capitalizing and leveraging NFT fashion to promote their collections and reach new markets. But what exactly is a clothing NFT, and how does it work? And more importantly, how can you become an NFT clothing tailor? In this article, we answer all your questions.
What Is a Fashion NFT?
NFTs are transferable digital assets that prove the ownership and authenticity of a digital piece of art through blockchain technology. Commonly, NFTs are linked with images, but they also reach physical objects of the real world, such as artwork and now fashion.
In this context, and just like apparel in real life, fashion NFTs can take many forms, such as digital clothing you can wear in the metaverse, or twin clothing of a fashion item in the real world.
Why and How Fashion Brands Are Capitalizing NFT Wearables?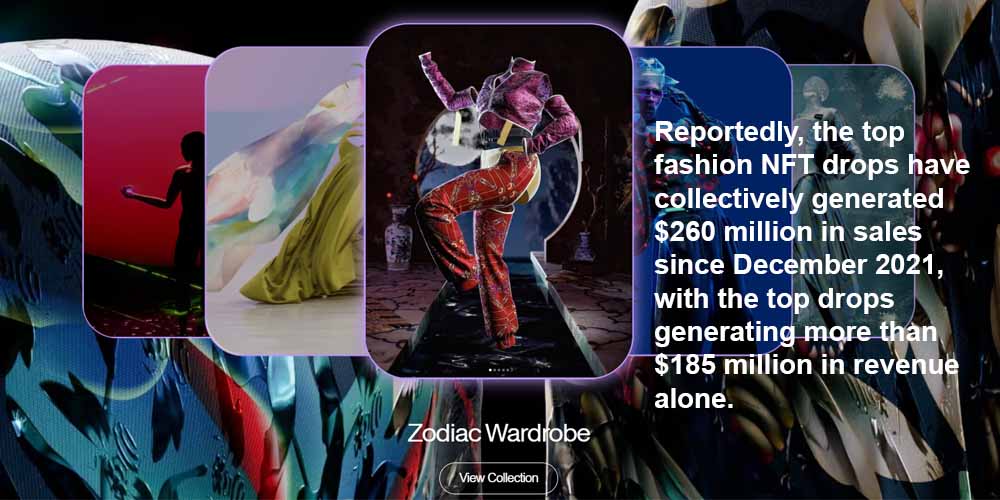 Fashion businesses noticed that digital fashion is an opportunity to reach a new generation of buyers and shoppers eager to create and collect unique pieces of digital apparel. Besides, a fashion brand also sees digital fashion as an excellent opportunity to create a different marketing strategy and promote its casual sub-brands.
Metaverse Clothing
Regular and luxury brands have found the opportunity to reach new markets and customers in the metaverse. The metaverse brings them new marketing channels to sell their real clothes and digital goods.
Brands like Gucci, Burberry, Dolce and Gabbana, Louis Vuitton, and Ralph Lauren have immersed themselves in the metaverse. It is expected that it will soon reach mythical games and other products.
Virtual Reality Clothing
New technologies enable metaverse users and general customers to wear purchased NFT clothing. With augmented reality and virtual reality, users can superimpose customized shoes, own garments, and any other NFT clothing.
Digital Copies
Many brands are looking for combinations of digital and physical NFT items. This way, customers can wear other non-digital things in real life. An excellent example is the Nike-owned RTFKT's "Cryptokicks" tennis shoes with their physical counterparts. Some of these products or accessories can be limited editions or have exclusive access. This way, they can sell them at a high price.
Virtual Stores
Regardless of having a physical store and copies, it would help if you had a virtual replica of your physical space. Your virtual store must be easily navigable and three-dimensional to check the merchandising in real-time in the virtual world.
You can also organize a digital trip and showcase some exciting aspects of your brand for all interested people worldwide. Generating attention through unique images in your virtual store can attract many potential buyers.
How to Create NFT Clothing – Step by Step
Creating NFT clothing involves two alternatives. One: you can hire a fashion designer. Two: you can make the fashion item or collection by yourself. Then, you can continue with the next steps.
Select the Articles you Want to Turn Into NFT Clothing Items
The first step is to decide what you want to digitize and turn into an NFT. Maybe you have a particular interest in some fashion or wear. Shoes? Sport Outfits? Luxury dresses? Make sure you make the right choice. This way, the process will be smoother and more accurate.
Remember that any clothing can be converted into a digital file or NFT. Then, selecting the preferred physical fashion as a starting point is just a matter of preference.
Remember that you must first own intellectual property rights to turn a clothing item into a fashion NFT.
Design the Physical Version of Your Own NFT Clothing
Now you have decided what type of NFT collection you would convert into NFTs, it's time to work with the designer, tailors, or on your own. Make sure you have all the resources you need, including equipment and tools to build a prototype of your fashion item.
Determine the Blockchain Technology You Will Use
Upon selecting the digital asset of your preference, you can start to mint your NFT. To do this, you must determine the blockchain technology that better fits your fashion item. Currently, the Ethereum technology is the most used for NFTs.
Set Up Your Digital Wallet
Setting up your digital wallet is essential to minting your NFT clothing. This step is fundamental to minting and paying Gas Fees. Some of the most popular are Metamask, AlphaWallet, and Coinbase Wallet.
Design the Digital Version of Your Physical Item
Now it's time to create the digital version of the physical item you previously made. Take as many photos of the physical object as possible and download them on your computer. Improve the quality of the images of the NFT with Photoshop or any other image editor.
The idea is to tag real clothes, bags, accessories, and owning garments and register their images and data to create the non-fungible token.
Show Your NFT to the Audience
To promote your actual fashion items, you can adopt several strategies. The first is to create a trustworthy and proper website to introduce all your creations. Ensure your website has a unique style in harmony with the type of your NFT clothing.
Getting your social accounts on Twitter, Facebook, and Instagram is fundamental since these platforms will help showcase your digital data.
Furthermore, getting your website will help you to communicate with NFT buyers, which opens the door to more loyal relationships.
Collaborate with Fashion Brands
Collaborating is optional, but this can bring a positive influence and environmental impact on your project. Even if you get stronger collaborations, your NFT will become more valuable. Try collaborating with small and big brands to spread word of mouth.
Choose the NFT Marketplace to Mint Your Creation
We mentioned that you need to choose the NFT marketplace to mint your creation and get your wallet. You should do it now and upload your virtual garments to the NFT space.
The most popular NFT marketplaces are OpenSea, Rarible SuperRare, Larva, and Axie marketplace. Once you've decided which is the right place for your fashion pieces, create your account and establish the fixed price.
Remember that you'll need to connect your account with your blockchain wallet before minting NFTs.
Many NFT platforms offer good conditions to showcase and trade your non-fungible tokens. We recommend OpenSea since you can quickly sell and get a reasonable price for your creations here.
Upload Your Item or NFT Clothing Collection
Now it's time to mint your fashion to virtual worlds. This step is probably the easiest on this list. You will find step-by-step instructions inside the platform, so you won't have problems minting it. The final product will be a marketable NFT offered to the global audience.
Establish the Sales Process
The last step of the minting process is to decide how to monetize your own NFTs.
Most platforms offer different ways of monetizing your creation; through a fixed price or via a timed auction.
At this point, you need to set the minimum price and royalties. Remember that to get good money on your NFT sale, you must set a reasonable price.
You can also take an unlimited auction approach. This option provides you with a limitless offer that you can manage.
What Is the Future of NFT Fashion?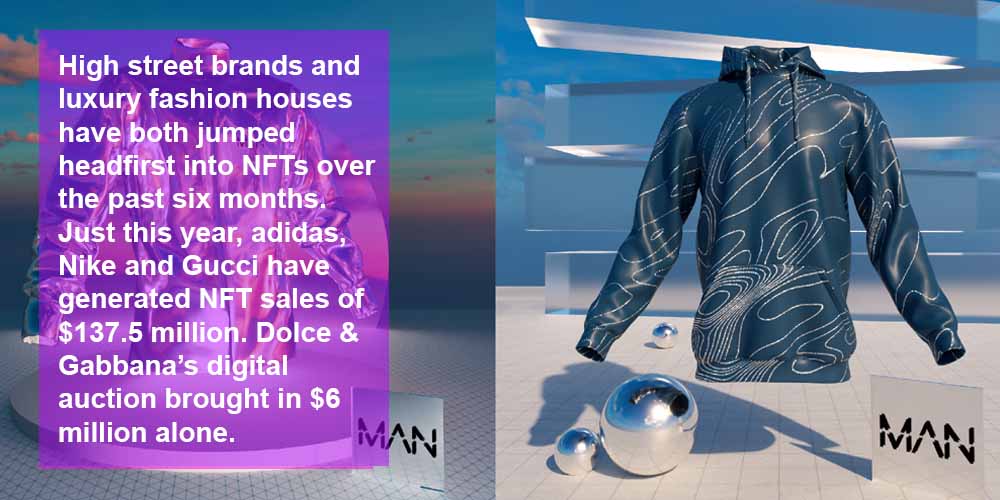 NFT clothing gained popularity due to its authenticity and nature. Still, there are two main reasons why the future of NFT fashion looks bright: they increase customer loyalty and minimize the impact of fast fashion, which is very common nowadays. Besides, the interest of creators and designers grows every day since they can showcase their creations in the crypto universe.
Luxury brands will likely create an NFT fashion in the future and leverage this new technology to increase their sales.
Even small businesses or individual creators will start to explore the NFT fashion world by adopting this model to check the possibility of increasing their reach. They may convert any piece of clothing into an NFT as a unique digital item.
If you want to learn more about NFTs and related topics, read our other articles on our blog.